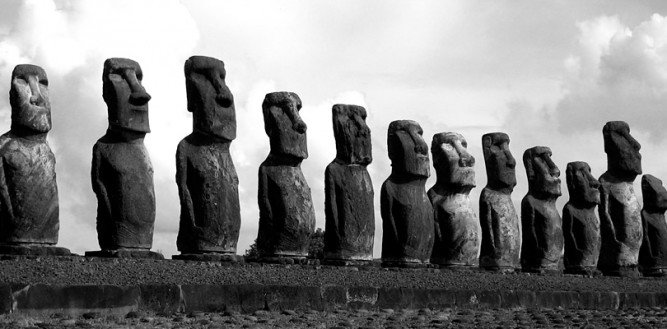 The pyramids at Giza. The Great Wall of China. The Taj Mahal. UNESCO World Heritage sites are almost universally hot travel destinations, and with that distinction comes the nuisance of modern day crowds. As a seasoned traveler I like to believe that crowds no longer faze me. I've grown to expect the throngs of tourists, the tour bus traffic, and the self-loathing I feel in hypocritically despising their presence.
Recently I found myself on Easter Island, standing amongst the iconic moai statues that have been the centerfolds of thousands of glossy travel magazines. This time the crowds surprised me — because there weren't any. A combination of geographic isolation and timing — my trip came just weeks after a major earthquake hit Chile and tourists, myself included, cancelled or rescheduled plans en masse — allowed me to come face-to-giant-face with these icons. And I pretty much had them all to myself.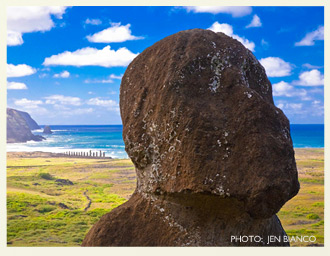 Easter Island is, from a tourism point of view, is geographically undesirable. It is the most isolated inhabited place on the planet. It's a five-hour flight from Santiago, Chile or Papeete, Tahiti. Known also as Rapa Nui and Isla de Pascua, the tiny (66-square-mile) speck of a volcanic island is mostly barren. But Easter Island punches well above its weight in world-class travel allure.
Its remote location is the island's greatest blessing and biggest curse. Limited flight schedules and the National Park status that covers a third of the island pretty much guarantee it is never going to be overdeveloped by major hotel chains. And while flight poses logistical difficulties for visitors, it's a far less daunting trip than the one undertaken by the intrepid eighth-century Polynesian sailors who found it in the first place.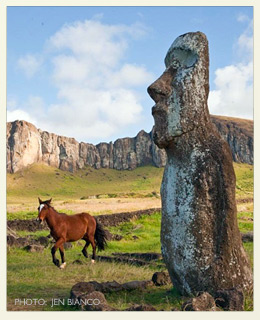 The Rapa Nui people, five thousand strong, mix elements of Polynesian tradition with South American custom. Unlike so many other exotic destinations where the locals play up ancient rituals for the benefit of tourists, Rapa Nui culture is the real deal. During the annual Tapati festival locals, clad in loincloths and body paint, race down the slope of an extinct volcano on sleds made from banana fronds. To be allowed to participate in it is a great honor, and one the Islanders take very seriously.
Easter Island's biggest draw, aside from its enigmatic statues, is its undeniable soul. There's a spirit of genuine place that can be felt everywhere — in the surf, in the tribal customs, in the pride of its people when they talk about competing in the "banana triathlon," or even just pour you a pisco sour. Standing among the island's mysterious moai statues, I can't say I missed the crowds. But I did find myself wishing more people could visit this amazing place. Maybe there's room for a bus or two.
Editor's note: it's not entirely a coincidence that we've recently added an Easter Island hotel to our listings: the incomparable Explora Rapa Nui.