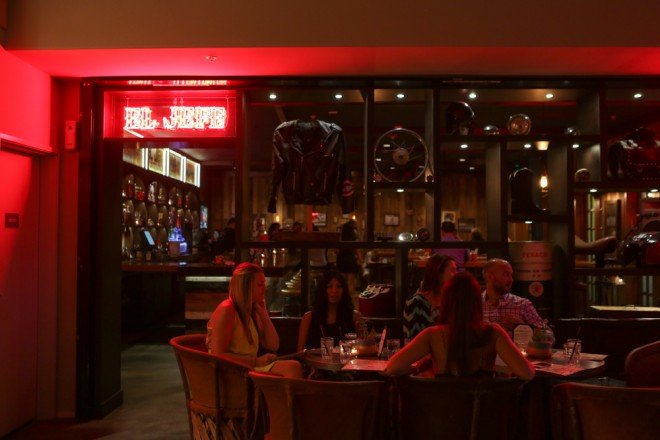 El Jefe has excellent tacos & tequila
On our girls weekend in the desert, we decided to head to The Saguaro in Palm Springs on Saturday night. I'm a fan of the margaritas at El Jefe and we thought that tacos and tequila sounded like a good time.
The drinks were great, and the small plates were delicious and inexpensive. None of us were adventurous enough to try out the cabrito (goat) or lengua (tongue) tacos, we all enjoyed the others versions. The pescado (fish) tacos were crispy and delicious, the carnitas tacos came with smoky black beans and pineapple-habenero salsa.
Elisa singing, Claire dancing, and Erina prepping to play some mean ping-pong
Our group ordered a few ceviches which were well received. The skirt steak nachos were slow to arrive but tasty ($11). The queso fundido- made with duck confit barbicoa and poblano chile was a real standout, with the cheese not overly oily ($12). Tacos (3 small tacos per order) cost between $7-$9.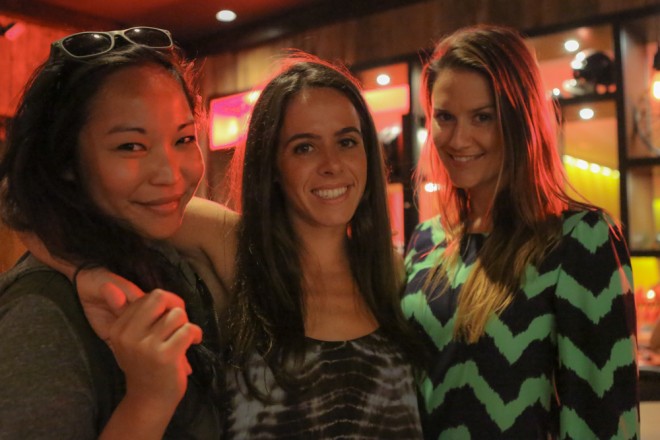 Smartflyer lovlies Erina, Lauren and Claire
The margaritas were a big hit with the ladies of Smartflyer as well. The pineapple and watermelon margaritas were popular with our group. Cantina margaritas (the house standard) ran $10, with the fruit-infused versions cost $12.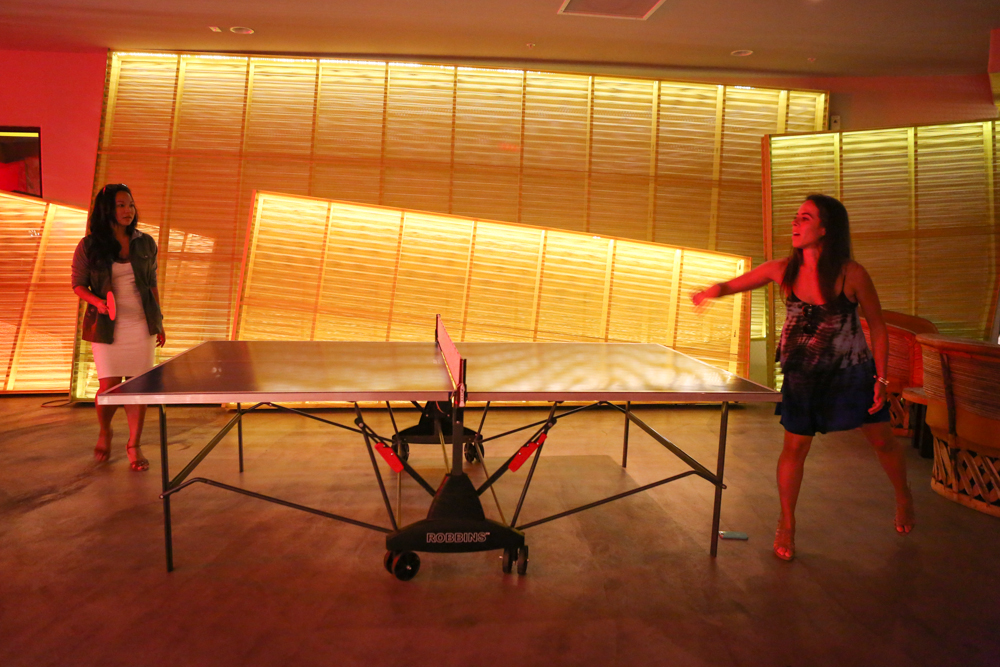 Smartflyer girls Erina Pindar and Lauren Saiger Machowsky get their ping-pong on

The food and drinks at El Jefe aren't the only reason to head to The Saguaro Palm Springs. The hotel is adored by millennials for it's happening pool scene and outdoor movie screenings– Uncle Buck was showing the night we were there.

Erina and Lauren played table tennis in the Saguaro's technicolor lobby
El Jefe also has good live music… and all of us are music fans. Chad Gregory was performing the night we were there and he was great. His original stuff was enjoyable and he also does a great cover of Tom Petty's "Mary Jane's Last Dance." Chad is also a nice guy. When he found out Elisa Chacon could sing, he invited her to perform a song with him.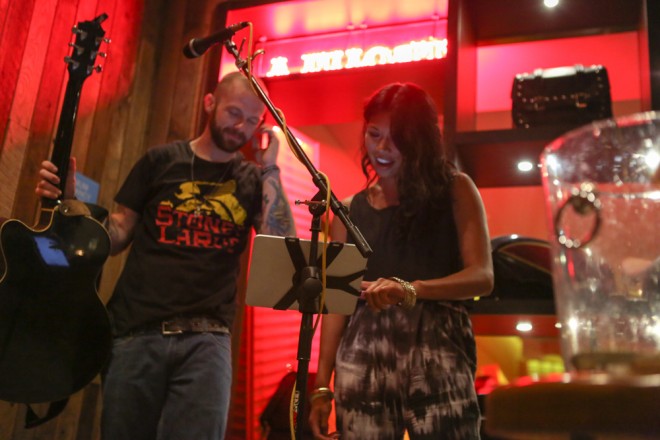 Chad & Elisa prepping at the mic. Not only is Elisa sweet and beautiful, but she has some seriously killer pipes
Elisa is smart and lovely and and has asurprisingly soulful and powerful voice. During her performance, some diners at El Jefe asked us, "is she famous?"

The Live music at El Jefe was very enjoyable, and Elisa was a huge crowd pleaser
We had such a good time at El Jefe, I'm pretty sure I have to stay at The Saguaro next time I'm in Palm Springs. I'm very curious to try Tinto, the Saguaro's other restaurant with cuisine by Iron Chef Jose Garces. Tinto also was mentioned by Chef Chris Mitchum at the Hyatt Regency Indian Wells when I asked him what restaurants in the area he liked.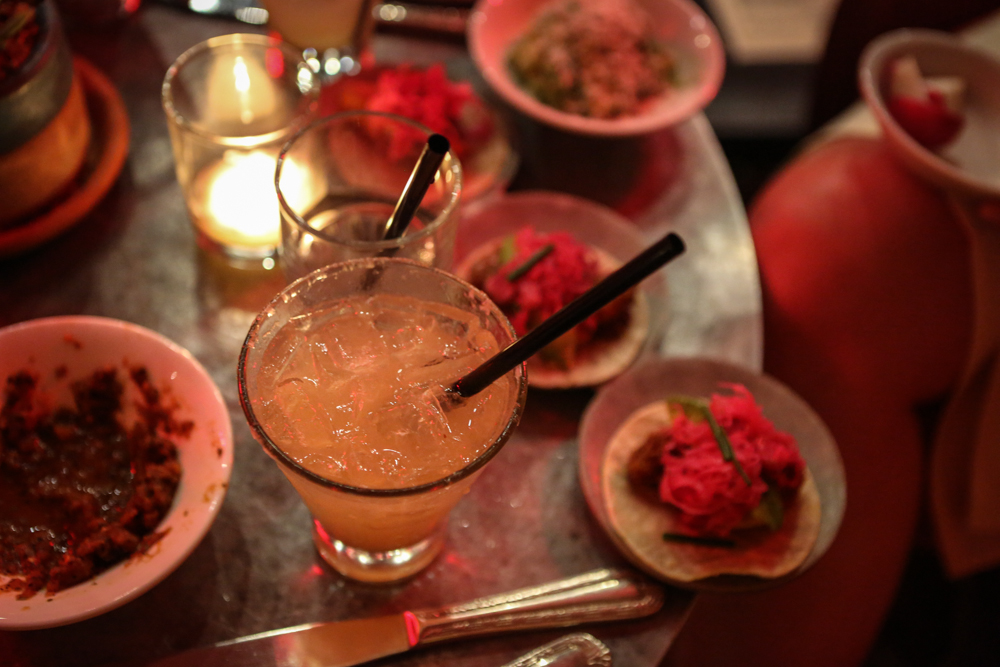 Good margaritas & tasty tacos at El Jefe
The patio at Tinto and the outdoor movie screen at The Saguaro

The Saguaro uses  bold color choices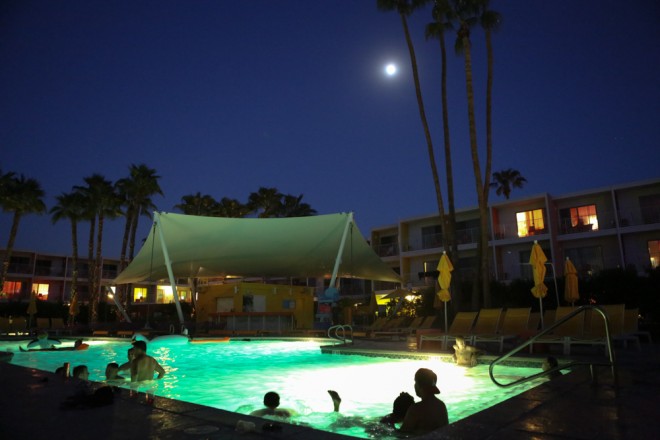 Saturday night pool scene at the Saguaro Palm Springs
You can check out a calendar of upcoming events at The Saguaro Palm Springs on their Tumblr blog or see more on their Instagram account @thesaguarops

1800 East Palm Canyon Drive
Palm Springs, CA 92264