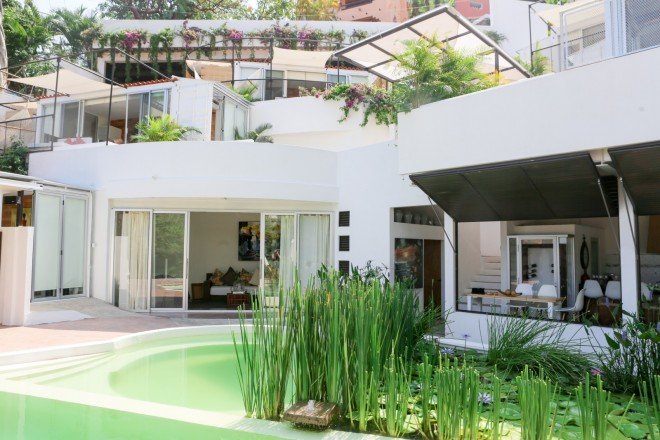 A view of the chic and green Nemi Eco Villa in Puerto Vallarta
One of the highlights of my recent trip to Puerto Vallarta for the NAJTA conference was the opportunity to tour some of the newest hotel properties in the area. The standout was the Nemi Eco Villa, a chic, contemporary and green property located in a quiet residential neighborhood called Amapas which is situated close (3 minutes drive or 10 min walk) to downtown Puerto Vallarta and a 10 minute walk to two favorite local beaches – Playa Los Muertos and Playa Conchas Chinas.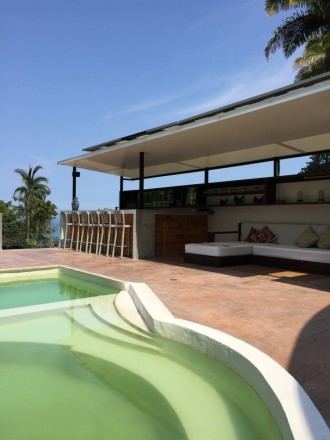 The bar and outdoor space near the pool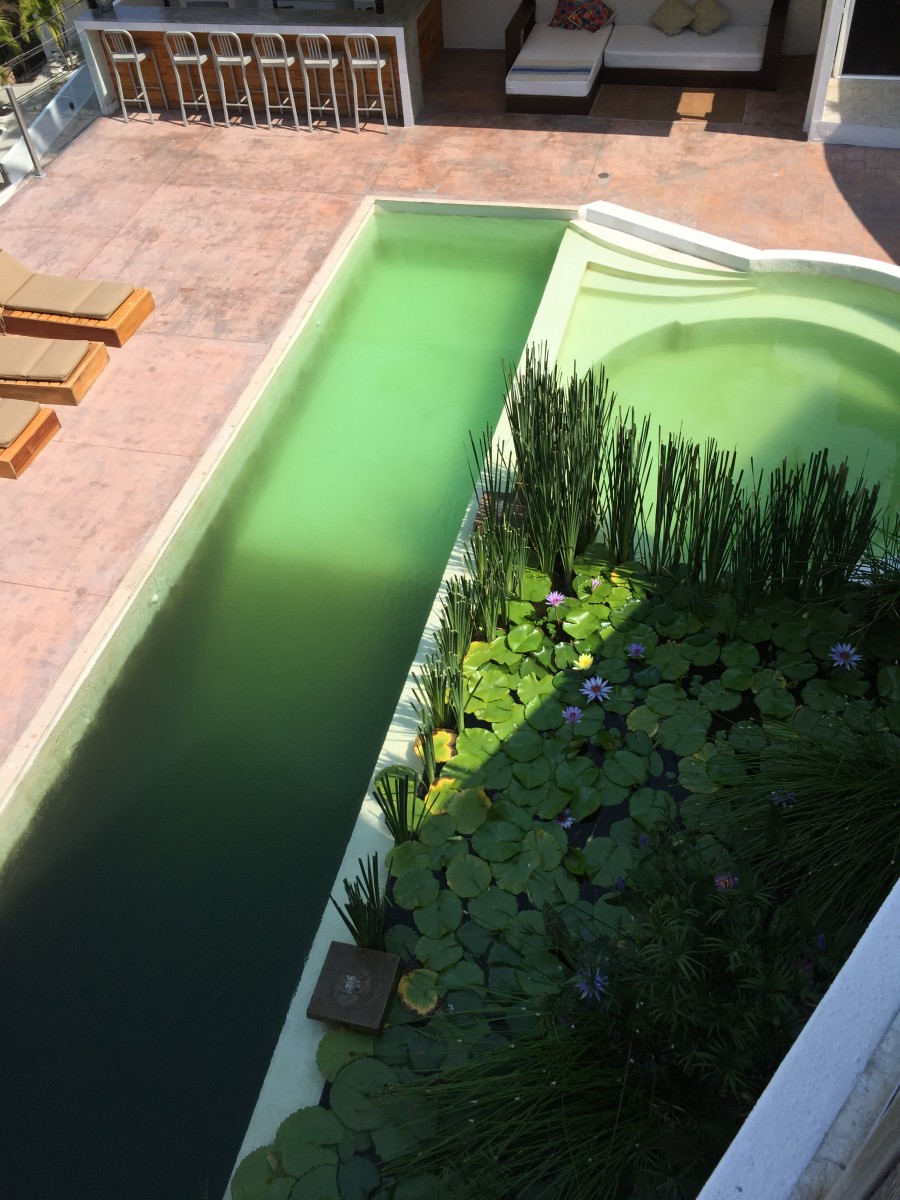 The gorgeous naturally filtered pool 
I usually gravitate towards hotels because I like having concierge services and amenities at my disposal. But as part of a couple who sometimes travels with other couples, the private villa experience has always seemed appealing at first glance. It's when you look closer and find that not all the rooms are equivalent and read the fine print when the appeal fades.
That's where Nemi Eco Villa succeeds– this was the first property I've seen that I could easily envision renting out the entire six bedroom, eight bathroom property for myself and friends, and I think it would work for everyone. Even better, if you have enough people to fill the 4-6 bedrooms, the Nemi Eco Villa goes for $800 for 4 bedrooms during the low season to $1500 for all six bedrooms during the high season, with a three night minimum.
This is about the same rate you'd pay at a generic, forgettable name brand hotel in the Hotel Zone.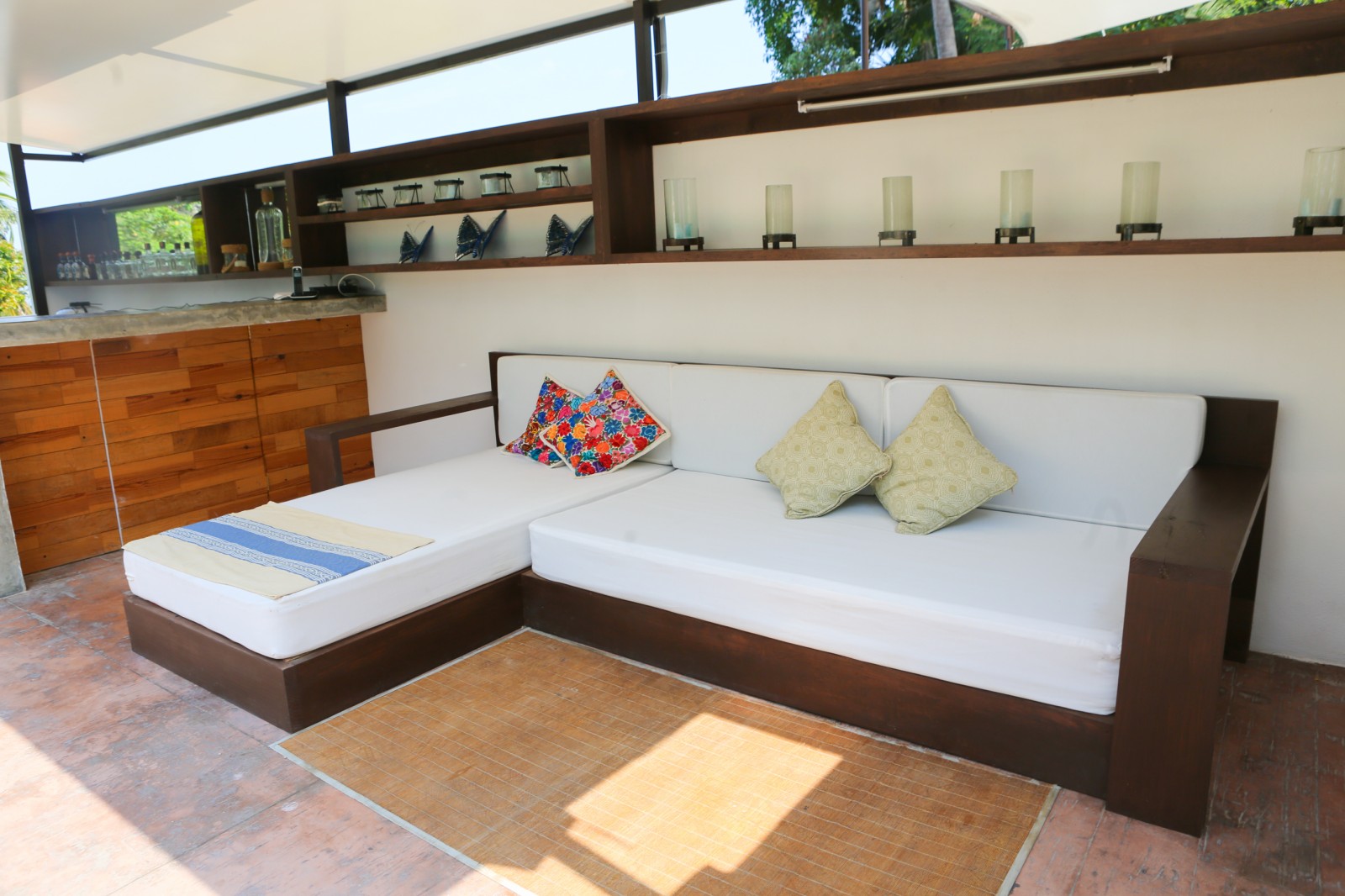 This sofa is crafted from repurposed shipping pallets
Nemi Eco Villa started as a passion project for the then Chicago-based architect who had duel citizenship and his wife, who were drawn to Puerto Vallarta's vibrant ex-pat community. The villa, which can be rented as 4-6 rooms, was built by Max Living and Design and consists of rooms build from re-purposed shipping containers off site. The furniture includes custom sofas built from reclaimed wood from shipping pallets. The property features speedy wifi (great for those wanting to stay connected), solar panels, a 40 foot naturally filtered pool, and grey water toilets.
None of these green choices make the property any less luxurious, instead they make this the ideal choice for tech and design savvy travelers in their 30s to 50s who a villa experience and those who are interested in these new technologies and systems.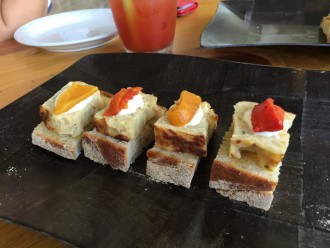 Staff can order food from local restaurants like Tapas Barcelona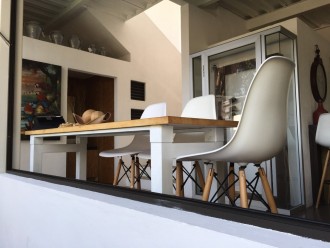 A dining area in the main living room
Nemi Eco Villa also comes with staff. There is a housekeeper, gardener, and houseman and bartender. You get a chef for daily gourmet breakfast and afternoon snack/cocktail hour. Food & beverage are not included in the room rate, instead the staff just gives you the grocery bill. The chef can be hired to prepare dinner on site as well, although most guests prefer to go out to check out the thriving local restaurant scene. Staff can help with reservations and sourcing additional needs (like a driver).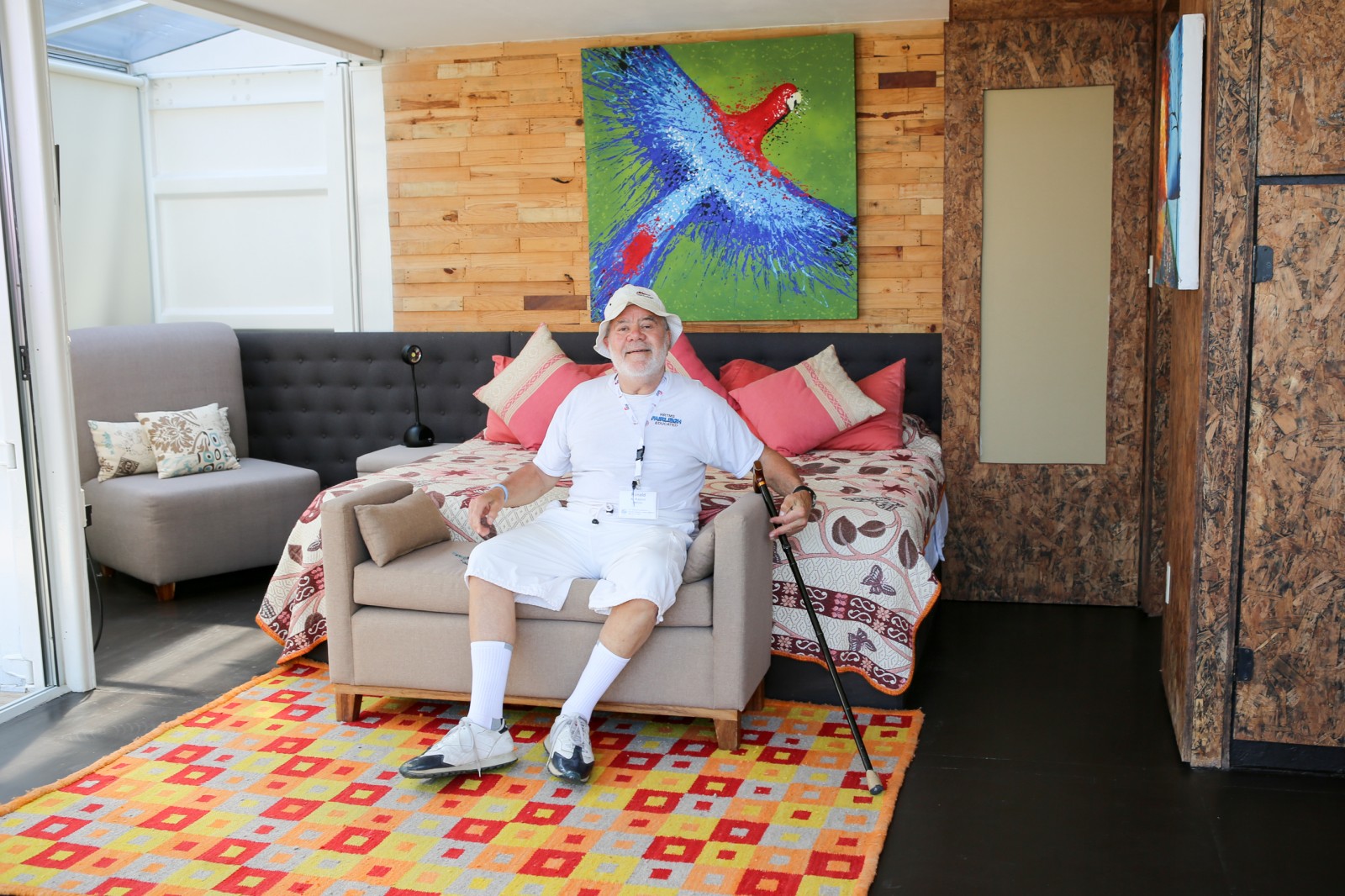 Ron, a fellow NATJA journalist, kicking back in Pod #3
The entire villa can be booked for private events such as weddings and books up a year in advance for holidays like Christmas and New Year's Eve. With such great on-site amenities and a reasonable price point, Nemi Eco Villa is a great fit for those who want a luxury villa experience that is contemporary, cool, and cutting edge. This place is ideal for destination parties like birthdays or holidays, or a get together with friends and family.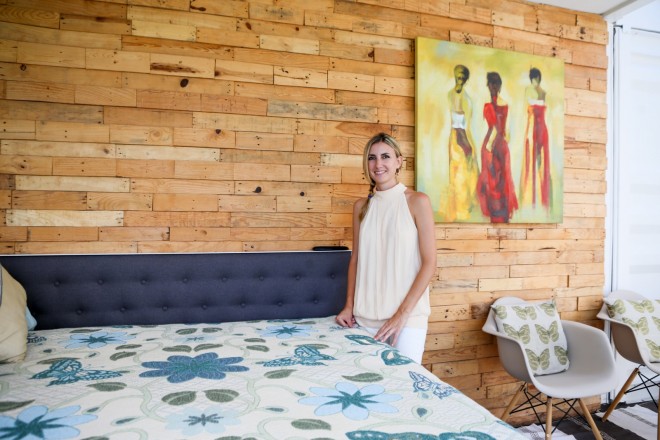 Nicole, one of the owners of the Nemi Eco Villa, in a queen bedded pod
All the bedroom pods feature queen or king beds and have features like outdoor hammocks and showers. Bedroom pod #3 was originally the prototype and is the master suite.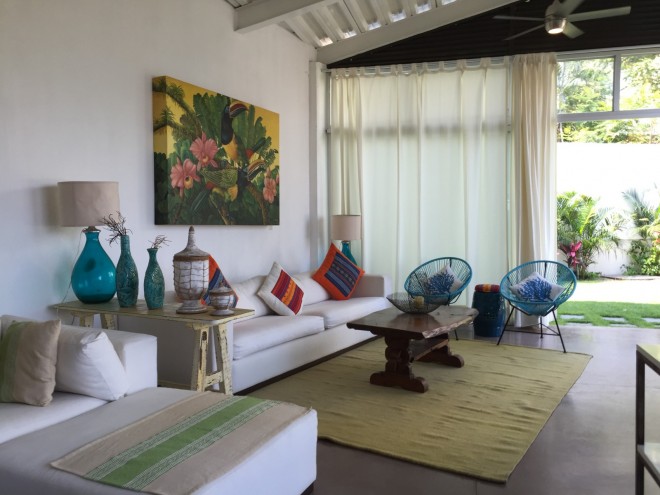 The stylish and airy living room
The main level features a living room, kitchen, the dining area and a communal lounge, a bathroom and tons of indoor/outdoor space around the show-stopping naturally filtered pool, whose distinctive green water is filtered by sand and plant life and is devoid of chemicals and chlorine.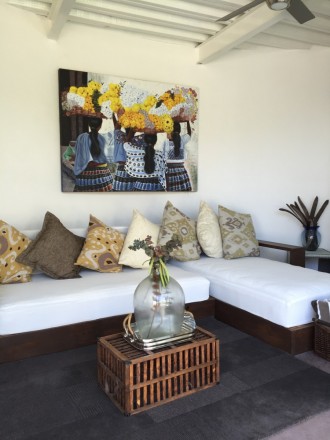 The poolside lounge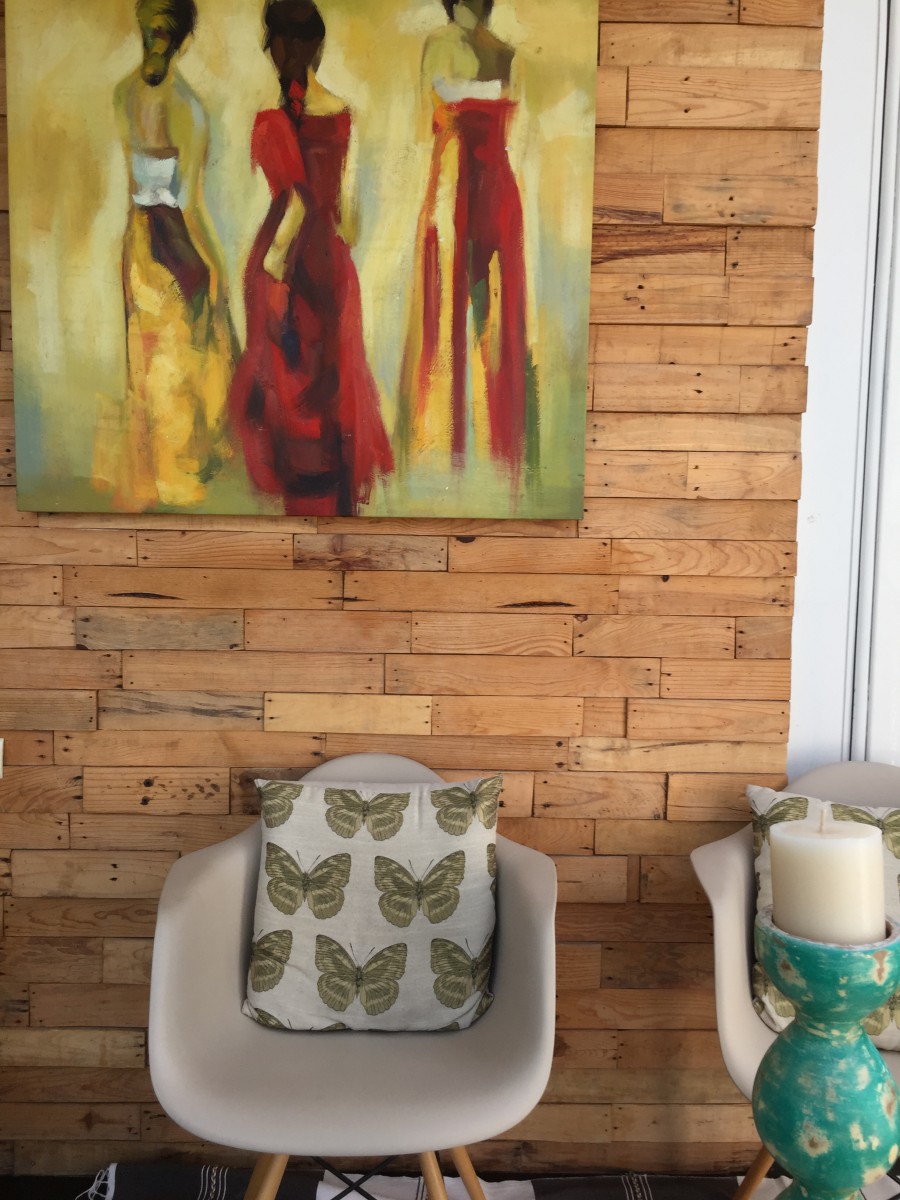 Local fabric and art in a bedroom pod
The villa is comfortable and crisp and features a lot of local touches like fabric and artwork. There are energy efficient air conditioning units throughout the villa for when the tropical cross breezes aren't enough.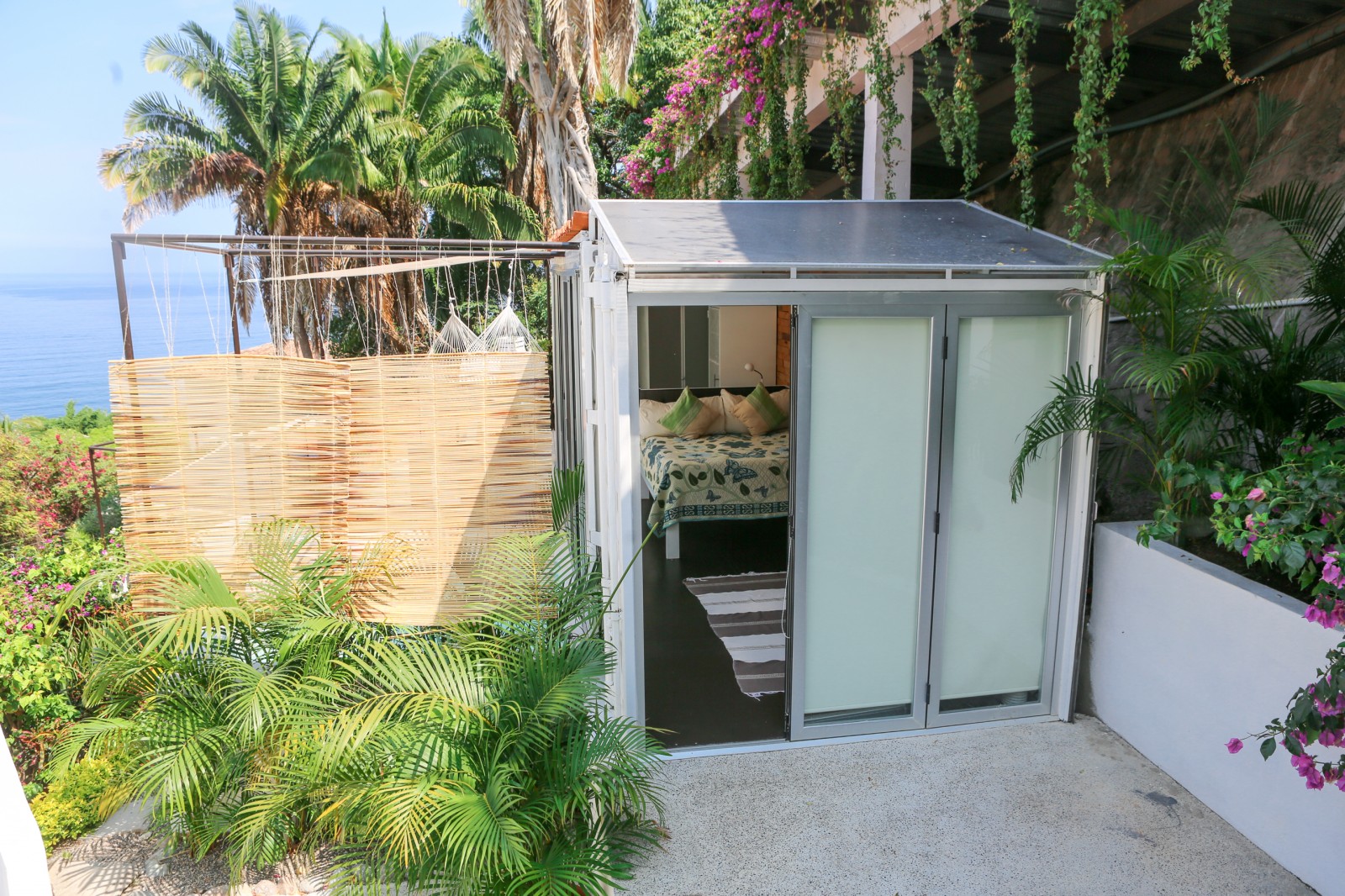 Looking at one of the bedroom pods from the outside
Some rooms feature outdoor showers and hammocks. The master pod has a small kitchenette and the most luxurious bathroom, which includes grey water collection and bio-digester. None of these features feels preachy or intrusive.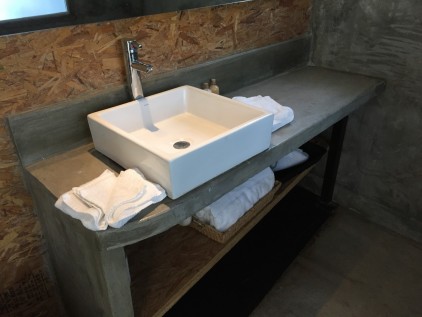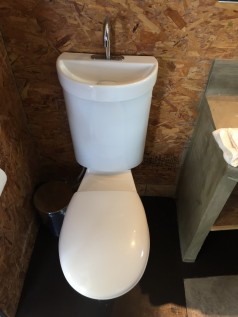 Bathroom details from bedroom pod #3
All these eco-friendly details are attractive and bold choices which allow guests to consider if some of these green technologies might work for them back home.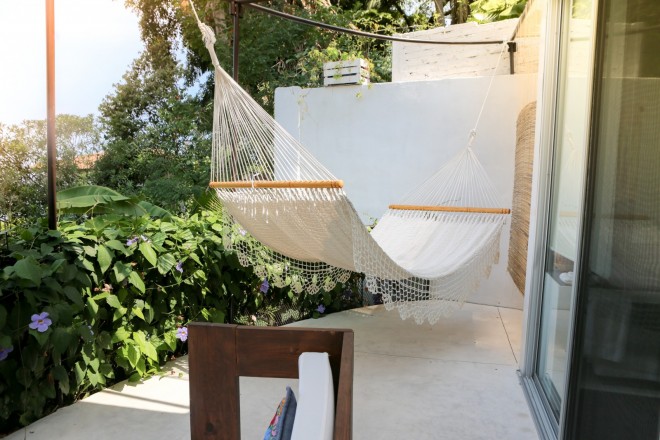 A hammock on the terrace of one of the bedroom pods
Nemi Eco Villa has a passionate and cool couple of creatives behind it and they want their guests to be happy. That vibe is what you feel at Nemi Eco Villa, once you get past the cool "wow" features.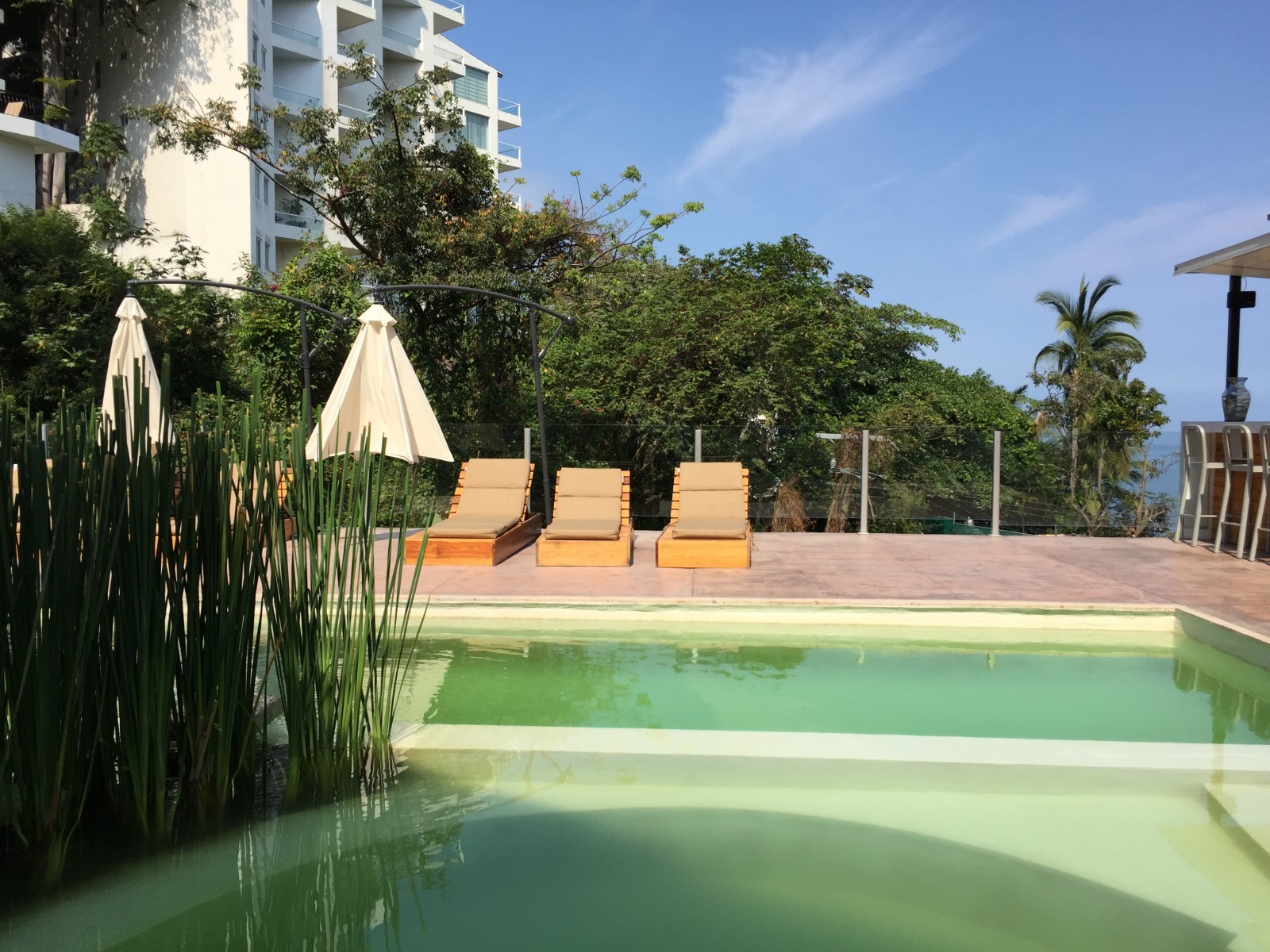 Another gorgeous view from the Nemi Eco Villa
Nemi Eco Villa is a very intriguing private villa at a very accessible per room rate. Now I just have to decide who I'm inviting when I book this place, and how long we want the bartender to stay to make margaritas by the pool.
Address: Calle Gardenias 223
Puerto Vallarta, Jalisco 48399
Email: info@agavevillasmexico.com
Much thanks to NATJA for arranging the New Hotel Infrastructure tour in Puerto Vallarta. Without them, this post would not be possible.