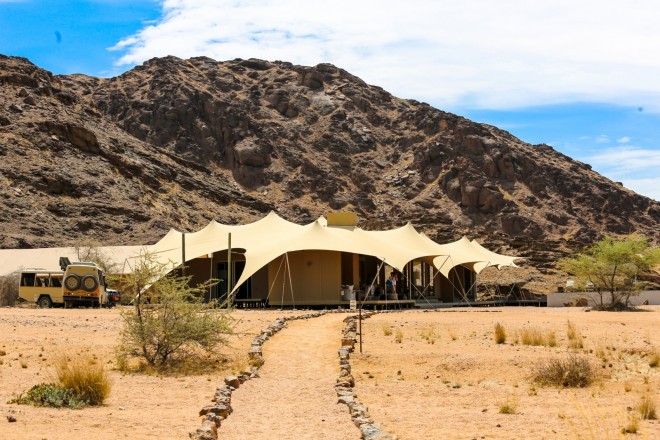 Desert glamping in Namibia at Hoanib Skeleton Coast Camp
My recent trip to Namibia was the first time I traveled with Wilderness Safaris and I was truly impressed with everything about Hoanib Skeleton Coast Camp. It's brand new, having opened in August 2014.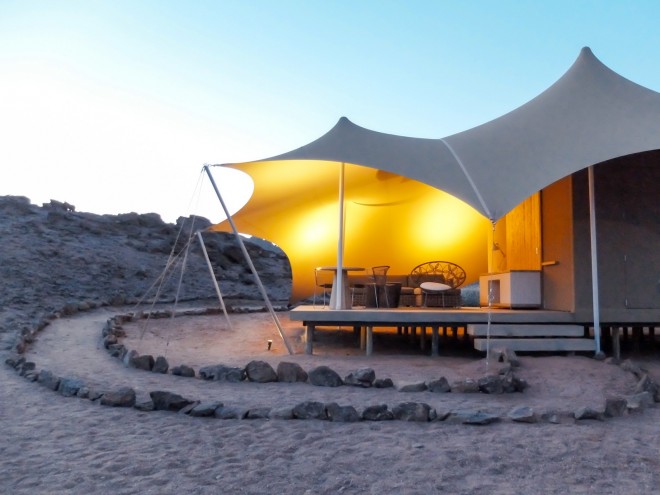 Twilight outside tent #2 at Hoanib Skeleton Coast Camp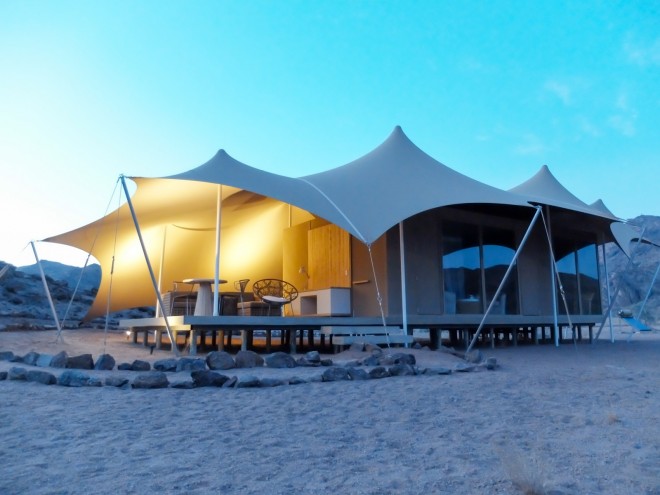 Impressive, elevated tents at Hoanib
Namibia doesn't allow permanent camps, instead they grant land concessions for a number of years. So everything about Hoanib will be able to disappear without a trace to help conserve Namibia's natural environment.
Visiting the Roaring Dunes was one of the highlights of my stay at Hoanib
While the tents may be temporary, the camp is still amazingly stylish and comfortable. The guest tents have a genius design. They are built on platforms elevated over the sand, which helps keep their interiors at a comfortable temperature both day and night.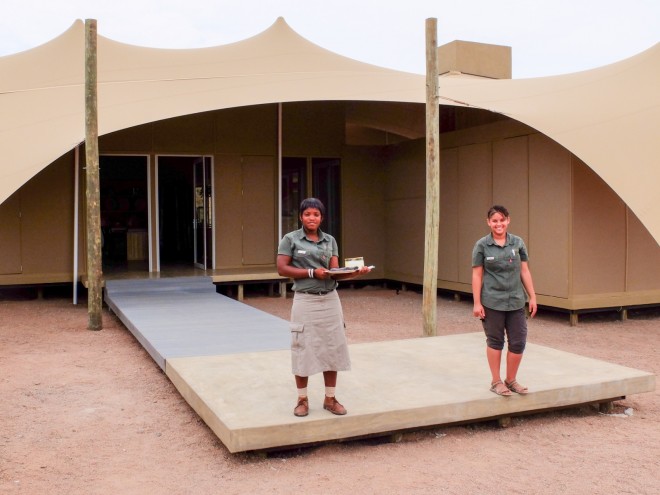 The Hoanib Staff waits to greet you with cool towels and fresh lemonade
Hoanib Skeleton Coast Camp is run with Wilderness Safari's ethos and commitment to the 4Cs – Commerce, Conservation, Community and Culture. The staff is committed to contributing meaningfully to the wildlife and the people of Africa. The staff is great and this attitude makes you feel really good about spending money here.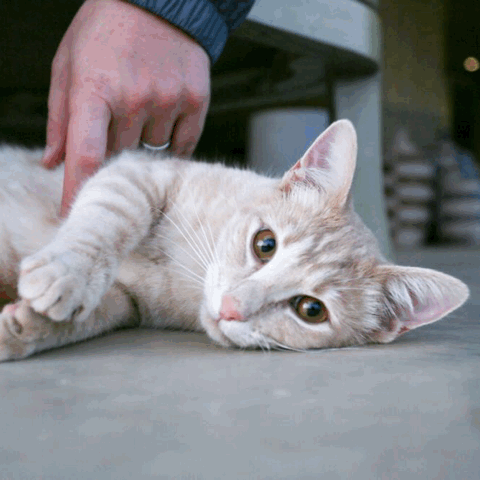 Bella, the resident cat at Hoanib Skeleton Coast Camp
General Manager Clement Lawrence and his team are all warm, personable, and take very good care of you. The service style is laid-back and unobtrusive. This is perfect for the modern luxury travelers who don't want to feel like a Colonial with a staff fawning over you all the time.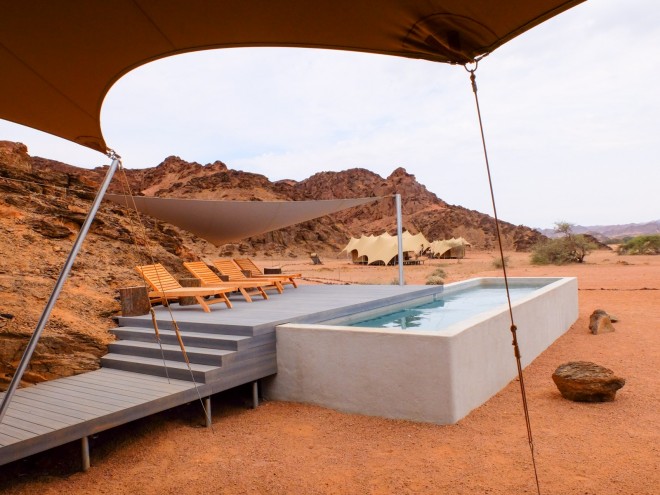 The pool is perfect for cooling off on hot days in the Namib desert
Emms, our guide and tracker was incredible. He was friendly and warm and just plain fun to hang out with and have a chat. Fatima keeps things the ship running tight back at camp. There are only 10 tents, so the camp feels intimate.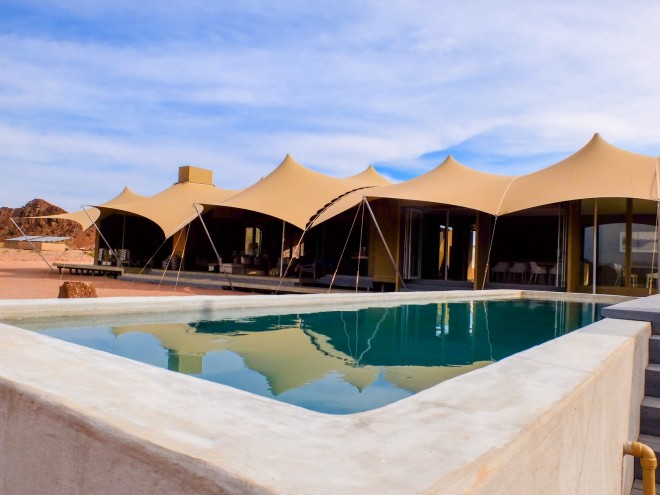 Looking from the pool into the dining pavilion
Located in the private the Hoanib River Valley in the Private Palmwag Concession, the property is remote and way off the grid. It's luxurious for sure, but you're glamping.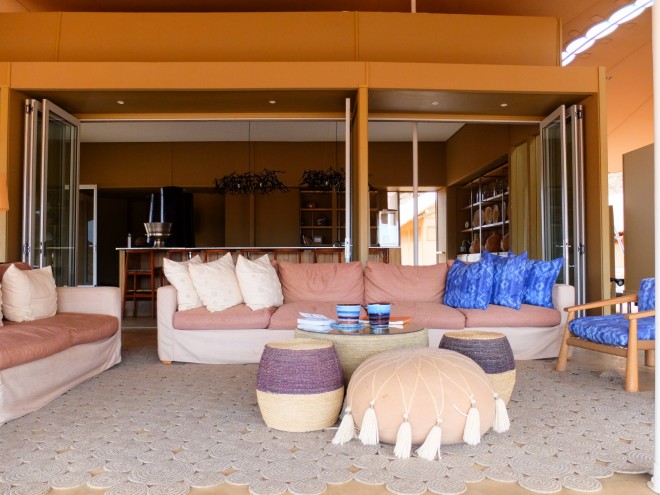 The living room in the
There is no wifi, phone service, or television. With your days filled with game drives and wildlife walking through the camp serving as "Namibian television." I did not miss being connected. That being said, we did pack our own satellite phone for emergencies.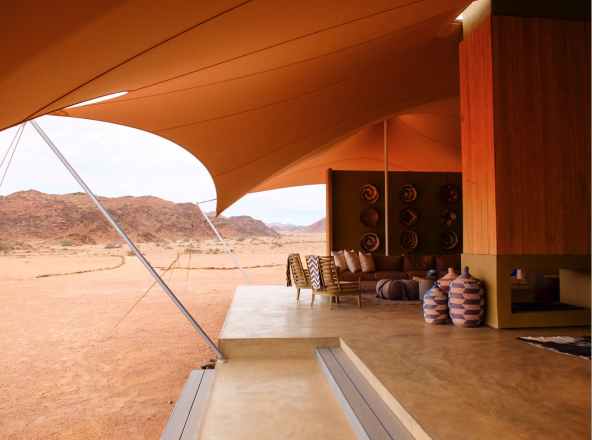 The main tent looks gorgeous against the desert landscape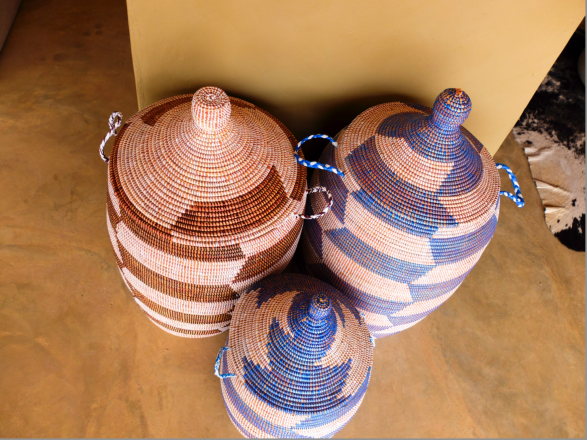 Zulu baskets
Clement let me know I could send an email from the office if it was necessary.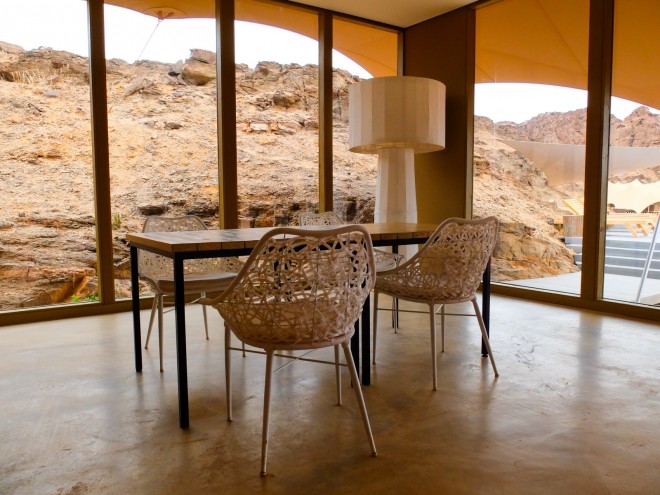 Table in the dining tent facing the gorgeous rocky landscape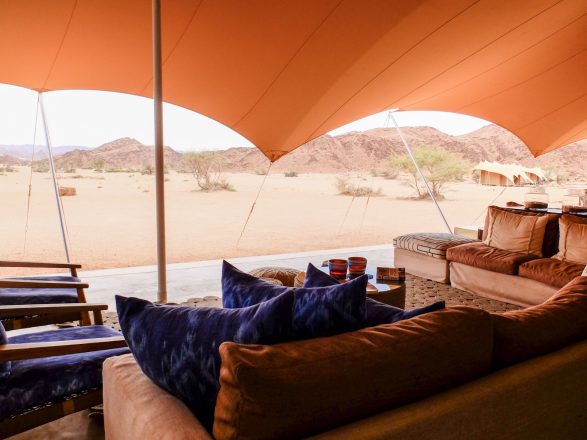 The communal living room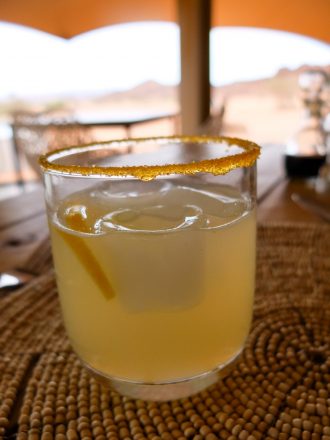 The fresh lemonade was my personal favorite beverage
You're not exactly roughing it here. The bathrooms were spacious, chic and had plenty of hot water heated by the solar panels that surround the camp.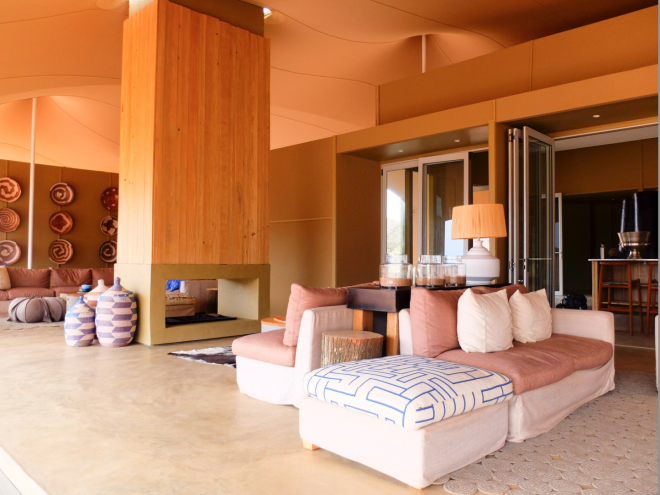 I loved the modern safari chic vibe of Hoanib's communal living room
Your days are filled with Game Drives and wildlife viewing (the elephants were my personal favorite), and adventures like visiting the Roaring Dunes along the Skeleton Coast.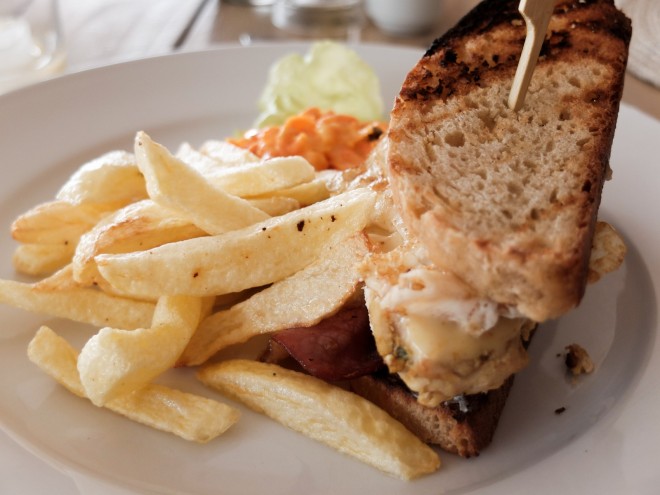 A club sandwich & chips for lunch
Hoanib is one of Wilderness Safaris Classic Camps, which is their second tier of luxury. It felt plenty luxurious to both me and my husband.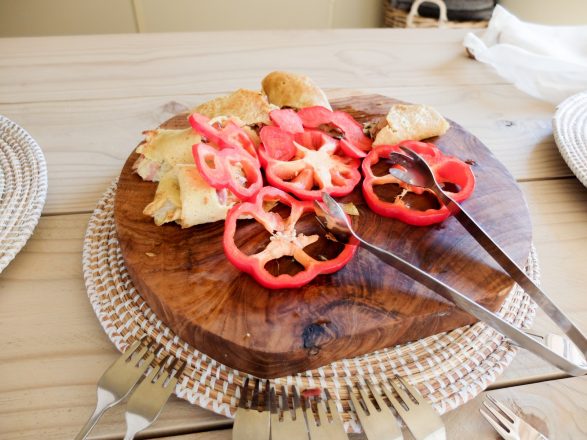 A view of the lunch buffet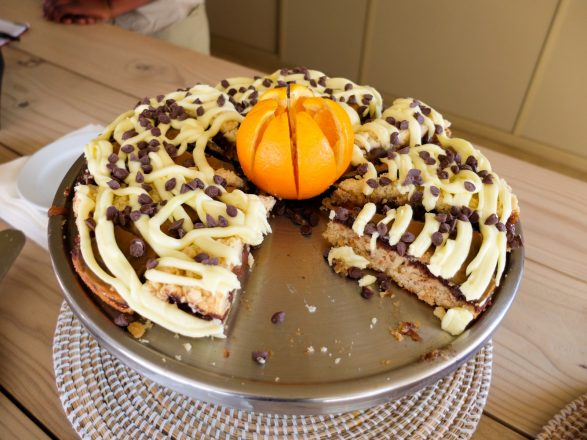 A pastry at lunch
This means there are fewer selections for entrees at lunch and dinner than you'd find at one of the Premier Camps,  but we felt well fed and still had plenty of options and never went hungry.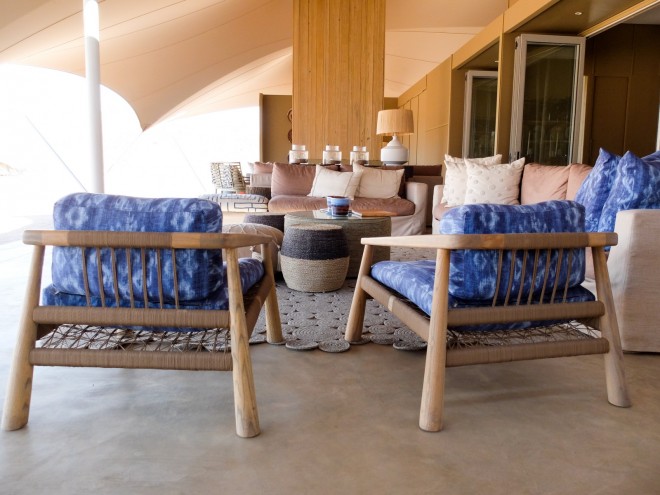 Pops of cornflower blue looked fantastic against the desert backdrop
Your days are filled with Game Drives and wildlife viewing (the elephants were my personal favorite), and adventures like visiting the Roaring Dunes and seal colony along the Skeleton Coast.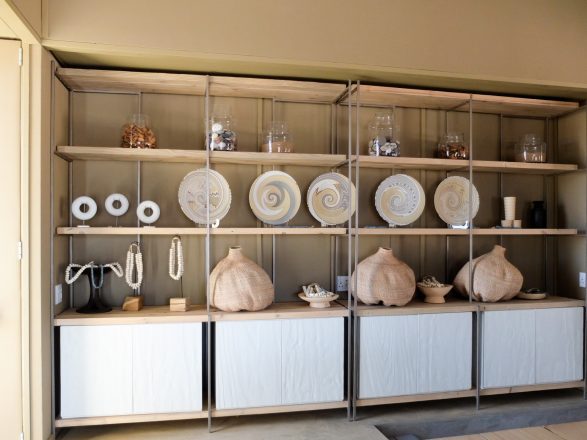 Local handicrafts on display at camp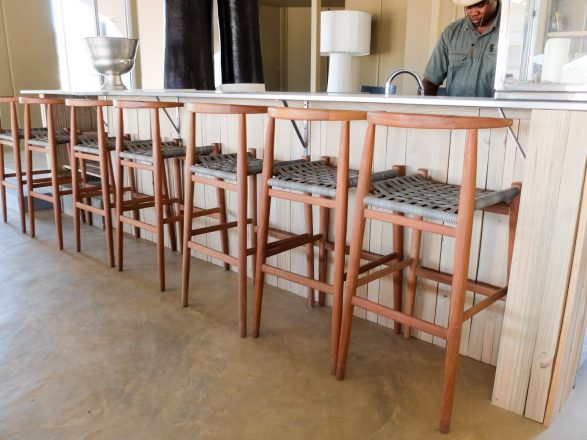 I loved these these cool bar stools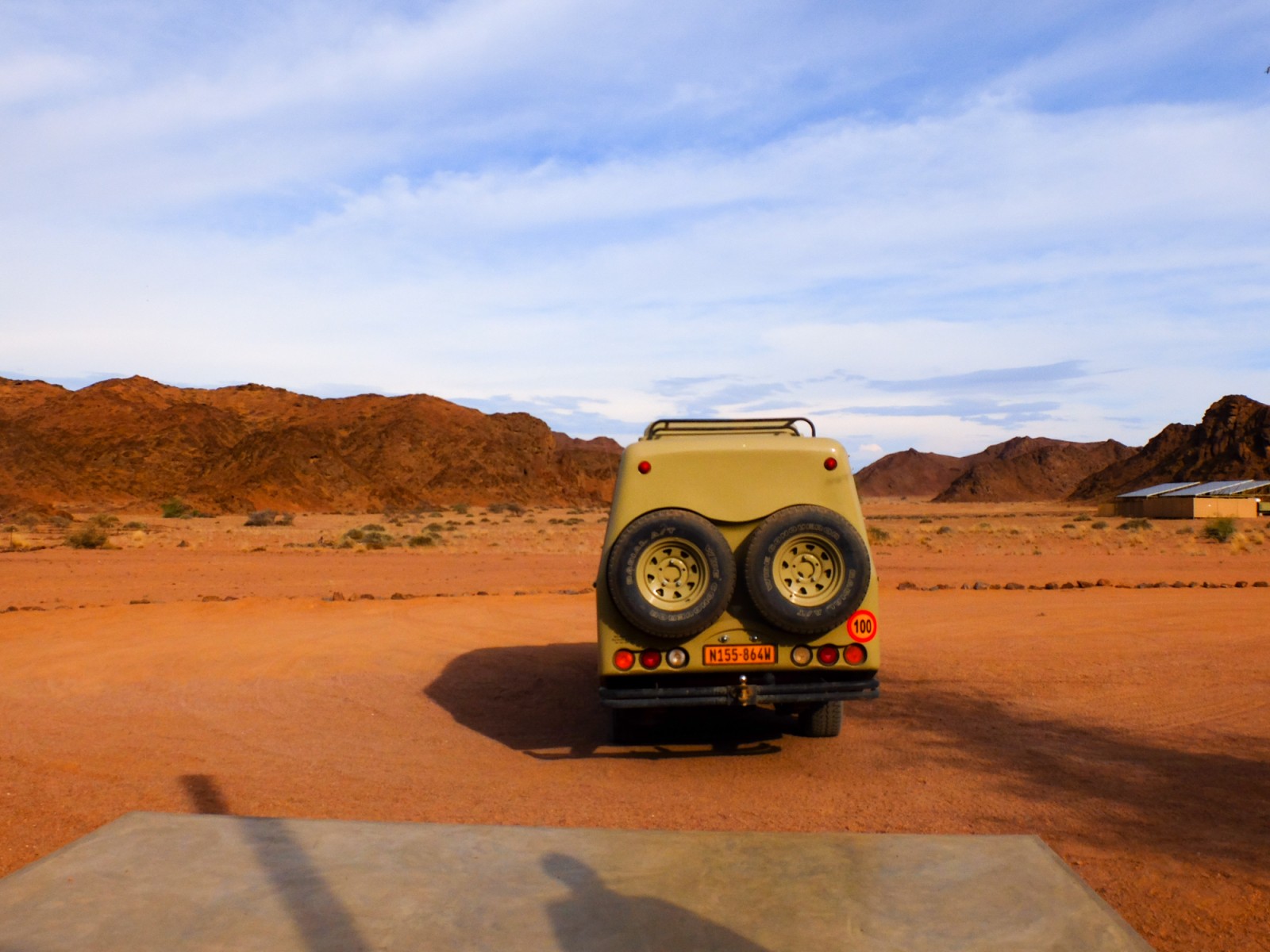 A rare rainy morning before a game drive
On a rare rainy morning in December, it was chilly when we left for our morning game drive. Emms, our guide, made sure we had blankets and ponchos to keep us warm and toasty.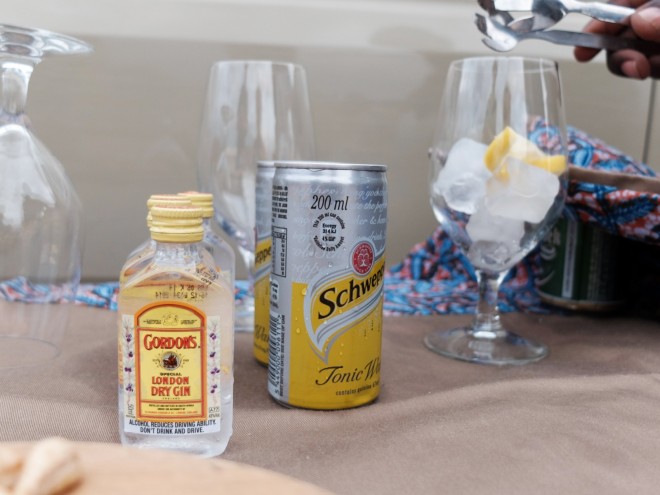 Sundowners were my favorite daily ritual
Emms also delivered us to a great spot for sundowners every evening, and it became my favorite daily ritual.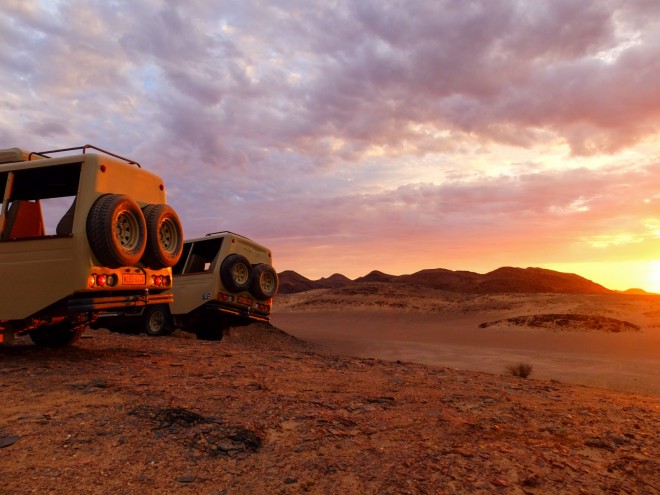 Not a bad place for a sundowner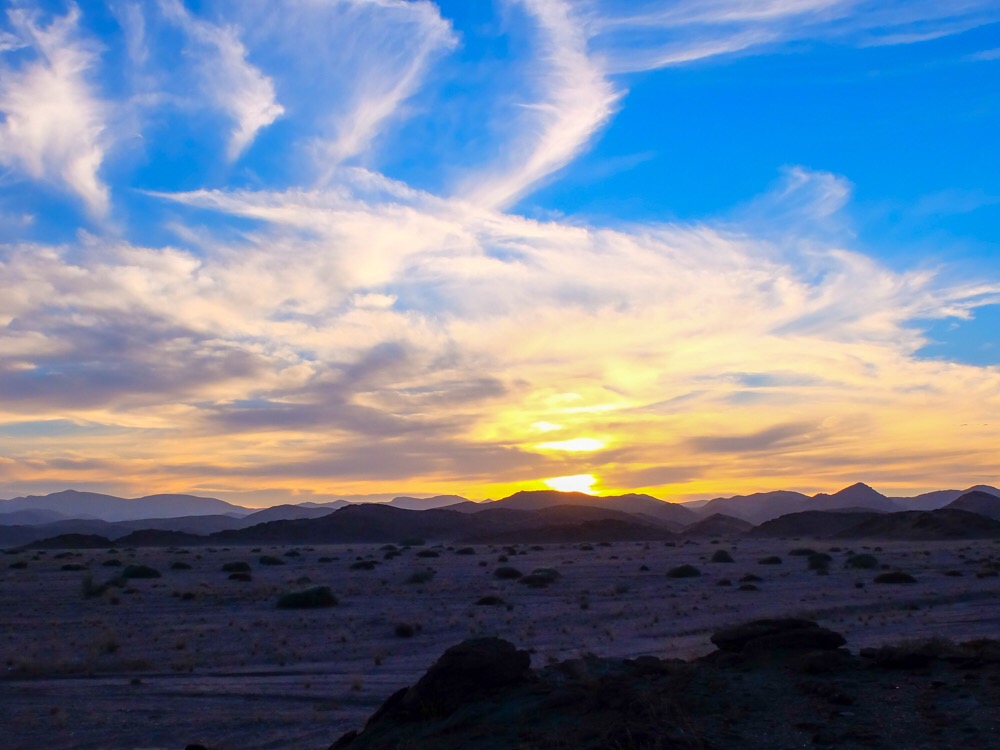 Namibia's dramatic skies are as spectacular as it's landscape
Nambia's rugged and dramatic landscape is matched by it's crazy beautiful skies. The clouds are ever-changing.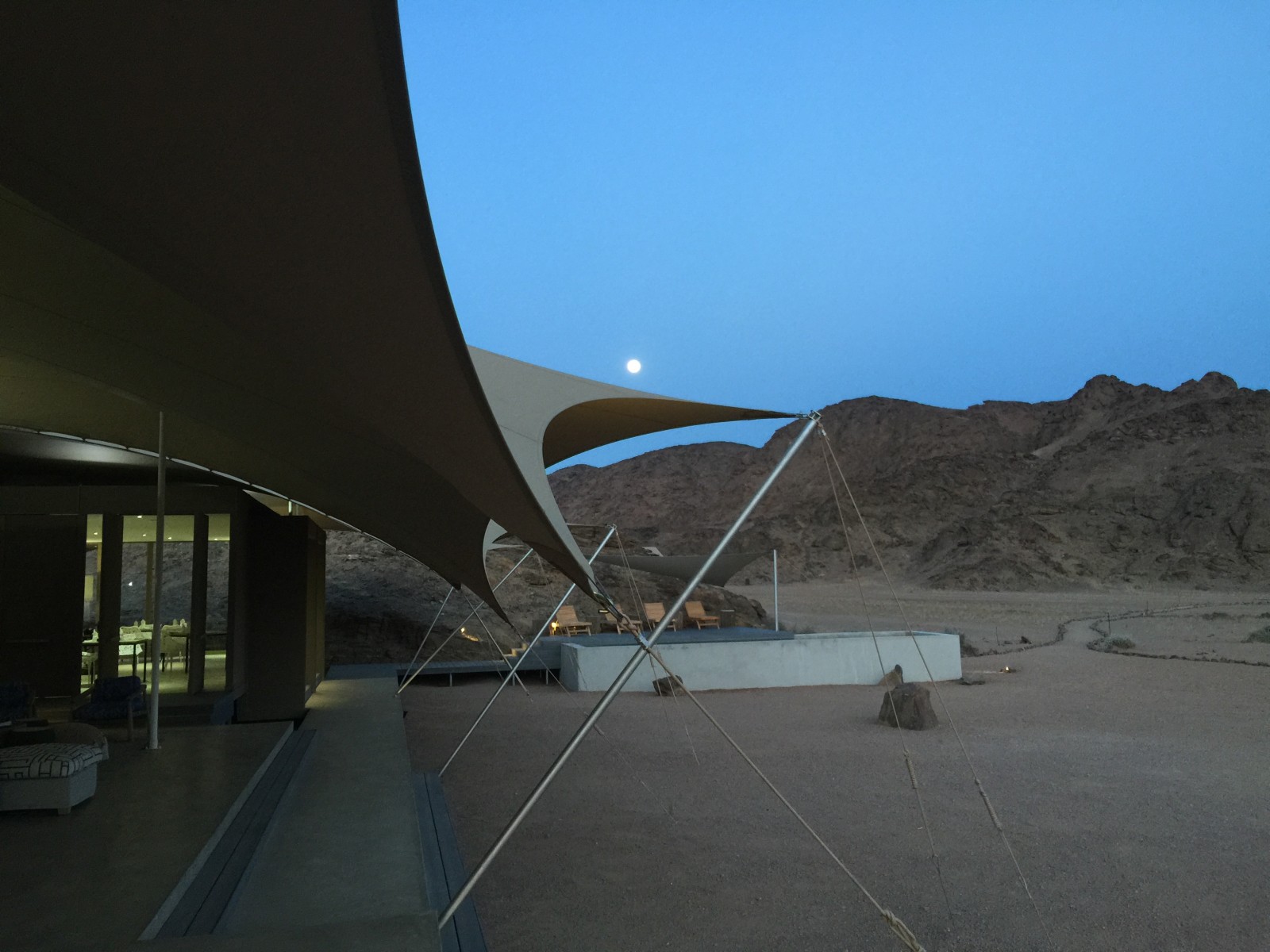 The moon was still visible in the morning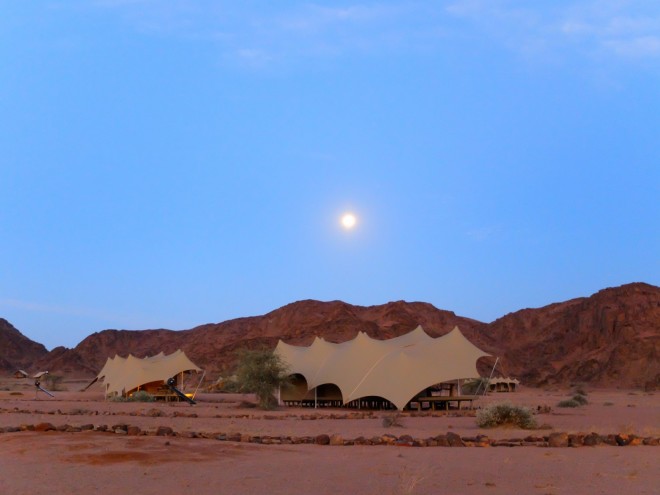 Clear skies mean star spotting and a visible moon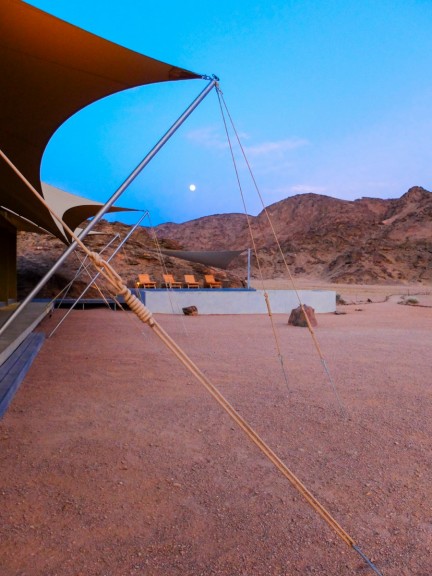 Moon framed in by the ties of a tent at Hoanib
My stay at Hoanib Skeleton Coast Camp was so memorable and impressive, I'm now very curious about visiting more of Wilderness Safaris properties. Perhaps I'll go see the gorillas in the Congo next.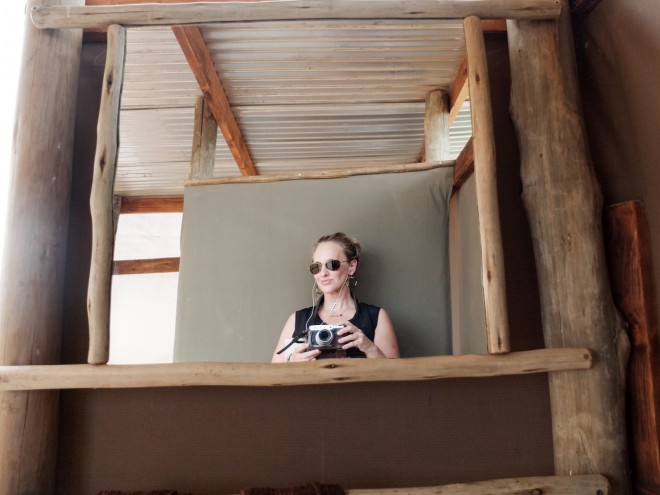 Safari chic bathroom selfie, Namibia
Hoanib Skeleton Coast Camp
Skeleton Coast, Namibia
Rates start at $484 USD – low season (11 January 2015  to 14 June 2015, 01 November 2015 to 19 December 2015)
From $720 – high season (15 June 2015  to 31 October 2015, 20 December 2015 to 10 January 2016)
Booking Inquiries:
Wilderness Safaris
Johannesburg
+27 ­11 ­807 ­1800
Mon-Fri 08:00 – 17:00 GMT+2
Cape Town
+27 ­21 ­702 ­7500
Mon-Fri 08:00 – 17:00 GMT+2