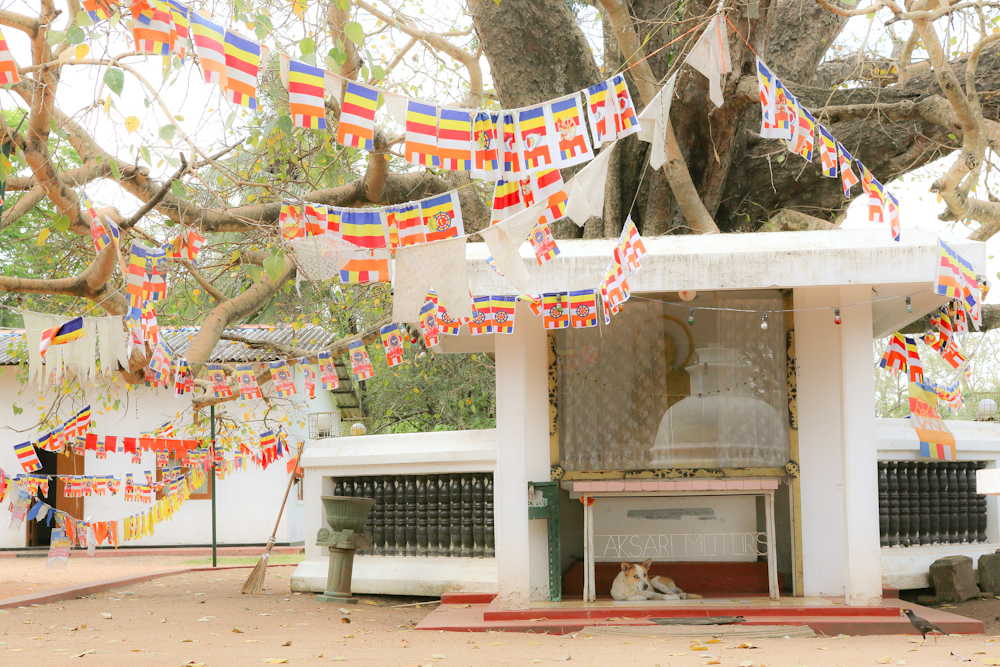 Prayer Flags at a Buddhist Monastery In the Ancient Holy city of Anuradhapura, a UNESCO world heritage site
This week's #FriFotos theme is "symbols" and there are several here in Sri Lanka I thought were worth sharing.
A group of monks in Anuradhapura wearing saffron & paprika colored robes, which are traditional symbols of Theravada Buddhist monks in Southeast Asia.
This lovely gentleman is a member of the staff at the amazing Ulagalla resort giving me a respectful bow of namaste, a tradition greeting common among Buddhists as well as Hindus (and many California yogis) which translates many ways. Some of my favorite translations include "the soul within me recognizes the soul within you" and the slightly loftier, "that which is sacred within me respects that which is sacred within you."
Duran Duran's Classic 80s video Hungry Like the Wolf Was Shot Here in Sri Lanka
In this screencap, Simon LeBon knows that a dude pimping a monkey (and/or a cobra) is only after one thing– your money.  Here he is given him the universal tourism symbol for "take a hike." I failed to remember this when I came across…

..this not-so-charming snake chamer, complete with monkey sidekick. I failed to do the LeBon wave off. While this dude didn't shake these young monks down for cash, he sent his cobra after me. Seriously. I had to fork over some cash before I got my freedom.

Ceylon tea, a drinkable symbol of Sri Lanka
Sri Lanka was formerly known as Ceylon and has a very colonial history. They grown some of the finest tea in the world here. It's my favorite morning beverage, particularly tasty in the jungle.

Nothing symbolizes adventure more than fedora worn at a jaunty angle in exotic environs.
We learned this fashion fact from Indiana Jones. Part of The Temple of Doom was shot right here in Sri Lanka. I decided to follow Simon LeBon's lead and rock mine while cruising- Simon LeBon style- through the open air vegetable market in Columbo.

Smell like I sound… I'm lost in a crowd… and I'm hungry like the wolf
Like Indiana Jones before him, Duran Duran's Simon LeBon taught us that wearing the right hat is a symbol of adventure. Here he is, in all his early 80s blonde glory, strutting through the markets of Colombo in thes Hungry Like the Wolf Video. Watch the whole thing. It's a great Sri Lankan travel video!