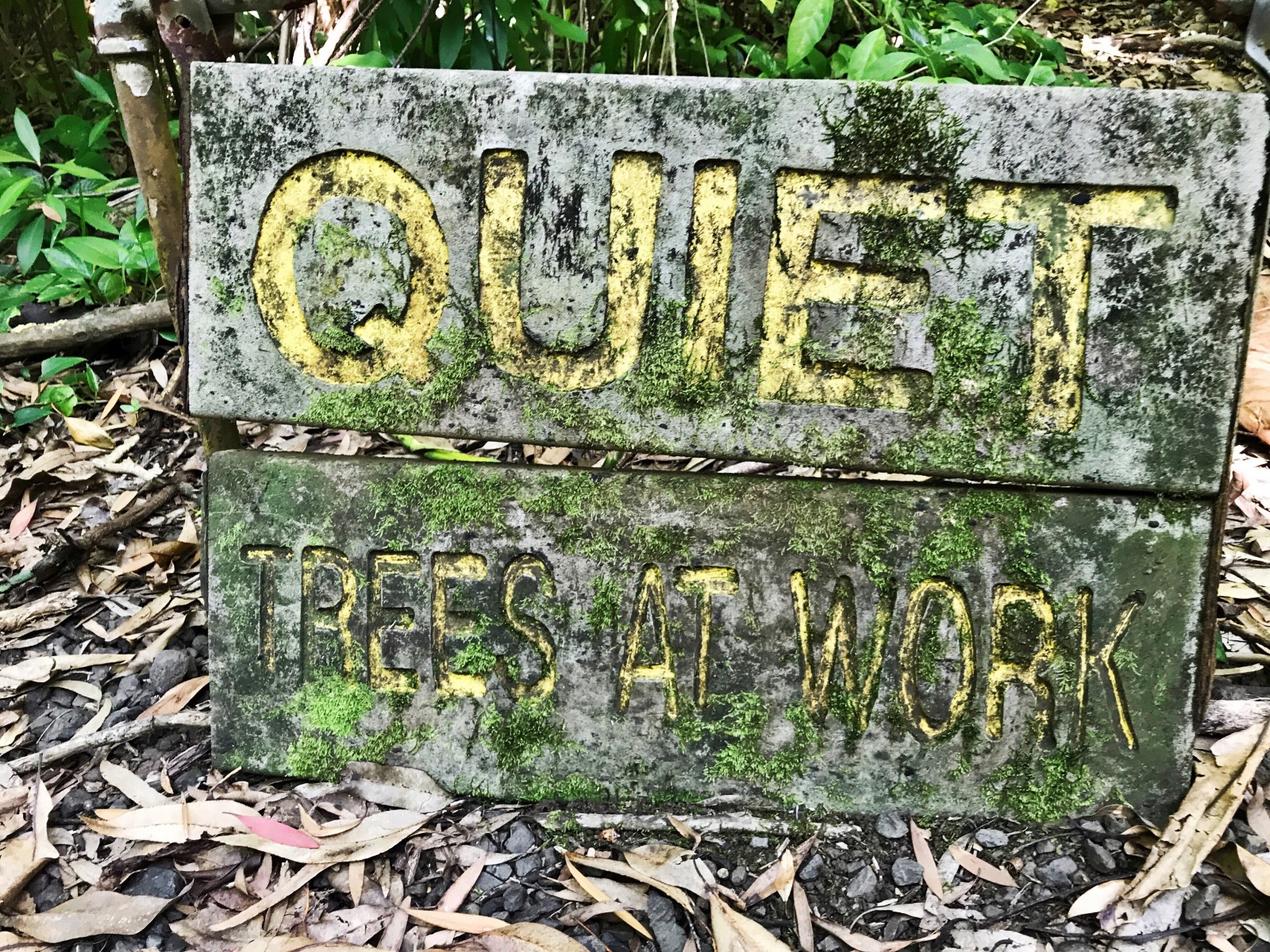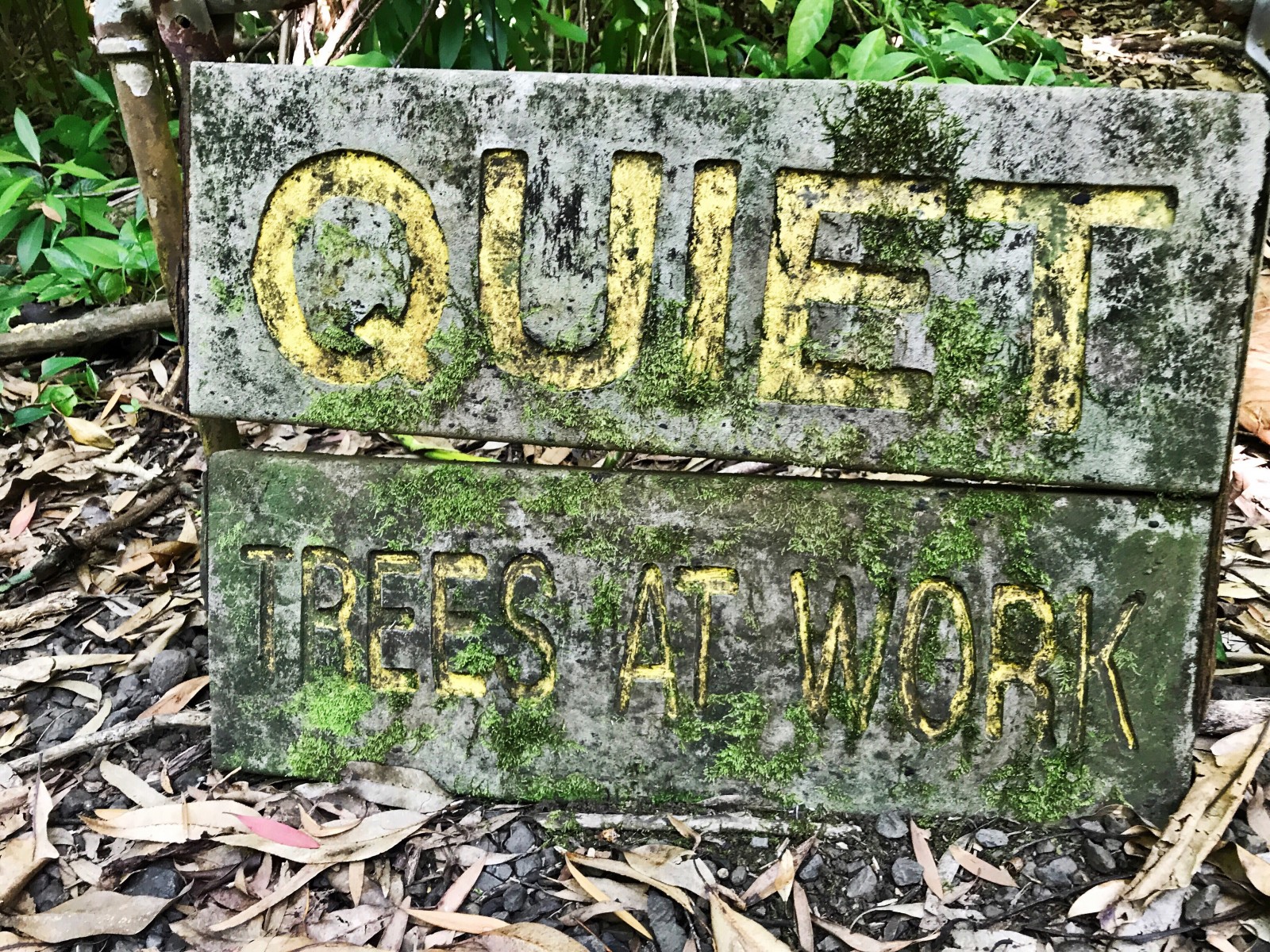 Mile Marker 9: Quiet Trees at Work Sign 
I love amusing signage and was pleasantly surprised when several signs caught my attention on the Hawaiian island of Maui. I thought I'd share some of my favorites in a this photo essay.
The Road to Hana is arguably one of the all time great road trips. As an added bonus, there is some fun signage along the way.
At Mile Marker 9 on the Road to Hana, the Waikaimoi Ridge Trail is a nice place to stop and hike the easy 3/4 mile loop through the trees and jungle. There is also a great moss-covered sign that says Quiet Trees at Work. The sign works… I found myself listening to the trees rustling in the tropical breeze. I think they might have spoken to me.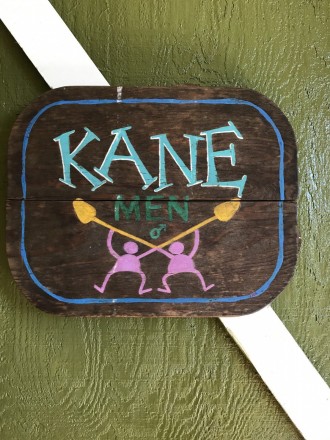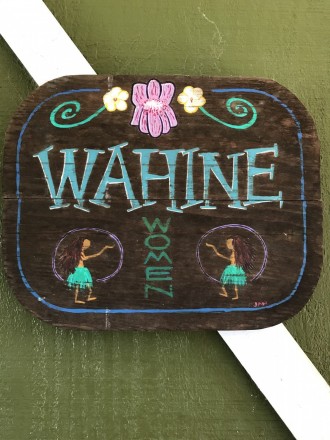 Mens and Ladies room signage, Hawaiian style
Just past mile marker 10 on the Road to Hana is the Garden of Eden Arboretum. The restroom signage is fun, colorful and outside the box. Island life may make people more laid-back and take a few chances.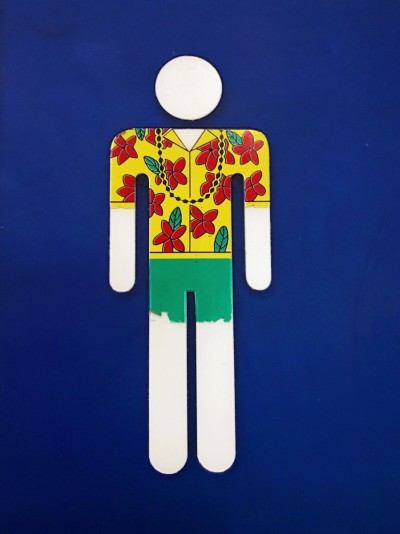 The mens room sign at the Maui Kahalui airport
The mens room sign that greets you at Maui's Kahalui Internationa Airport immediately sets the tone for a vacation, complete with aloha shirts and a kakui nut lei.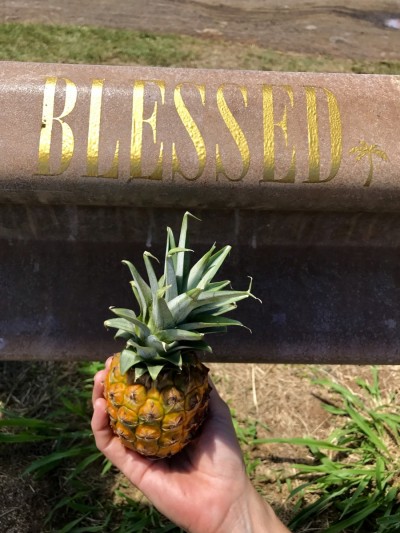 Street art in Ho'okipa
It's not just the official signs that are inspired. I liked the gold street art with palm tree I found in the Ho'okipa parking lot.
Enjoying the breeze at the Arboretum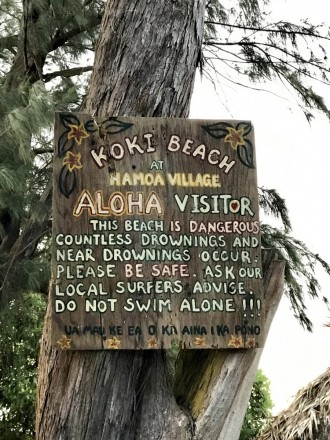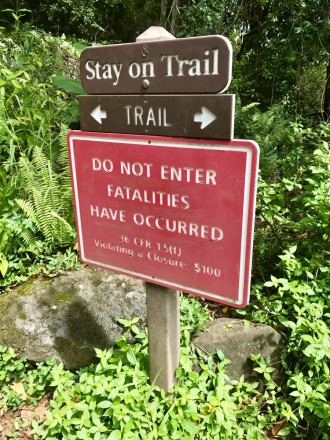 Not all the signs were lighthearted. There are some hazards on the island and they are clearly marked.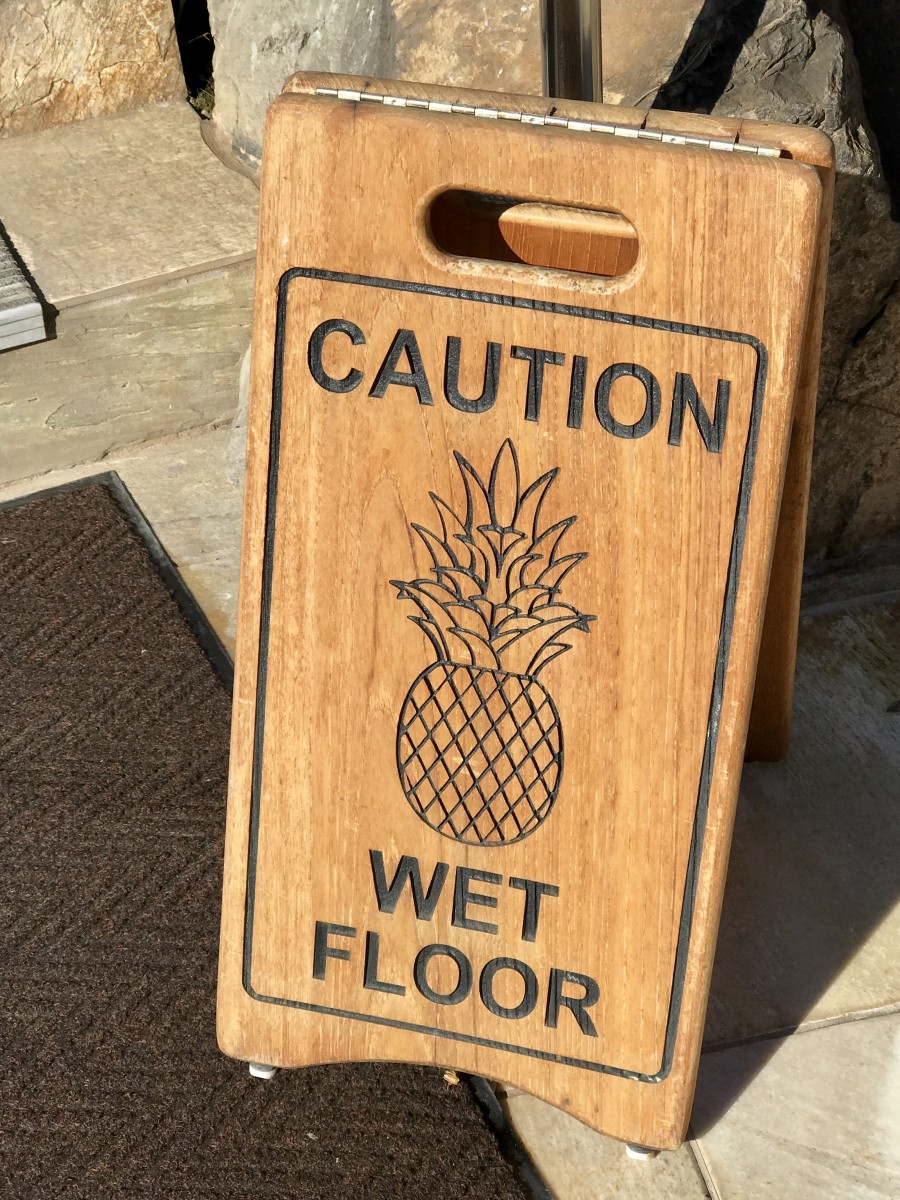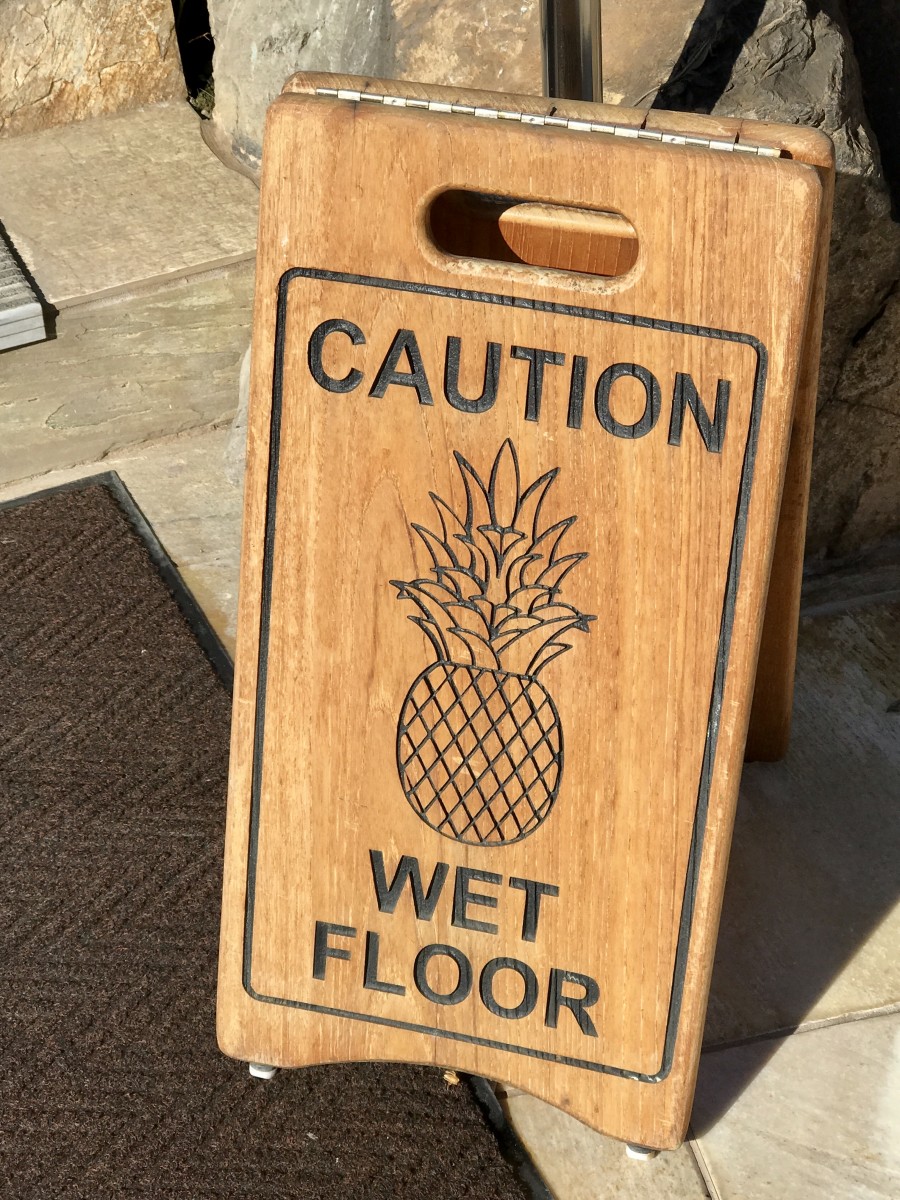 Caution for pineapples?
I liked this wet floor sign at the Andaz Wailea.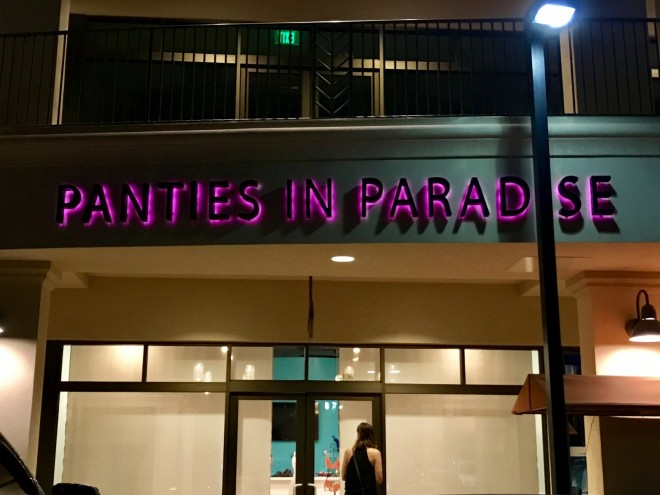 The winner of the awkward name contest: Wailea's Panties in paradise
Panties in Paradise was a nice lingerie shop. But it was probably named after a few too many mai tais.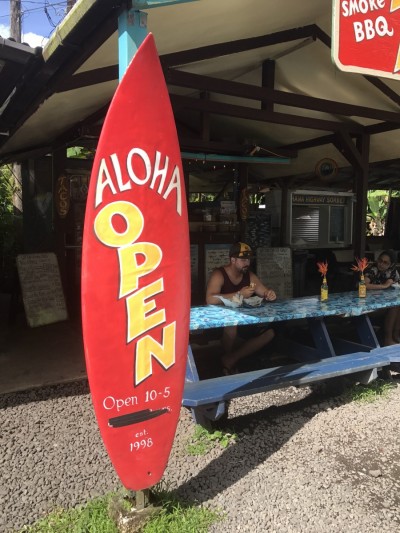 Surfboard signage in Hana
The signage on the island definitely added to the atmosphere. This BBQ hut in Hana had it's hours listed on a surfboard.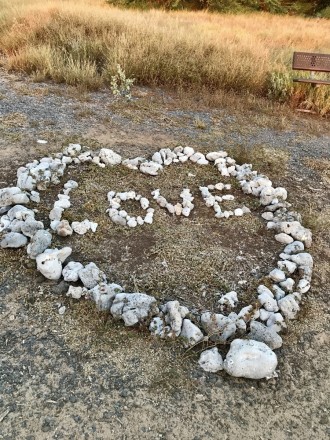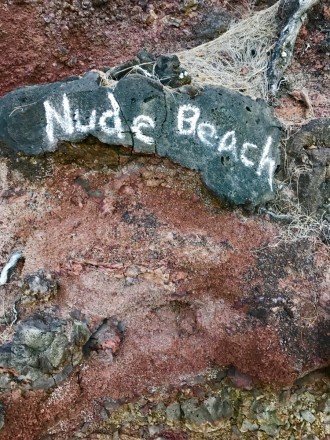 Left: Love on the rocks in Kihei Right: A makeshift sign at the Red Sand Beach in Hana
Some of my favorite signs were unofficial and organic.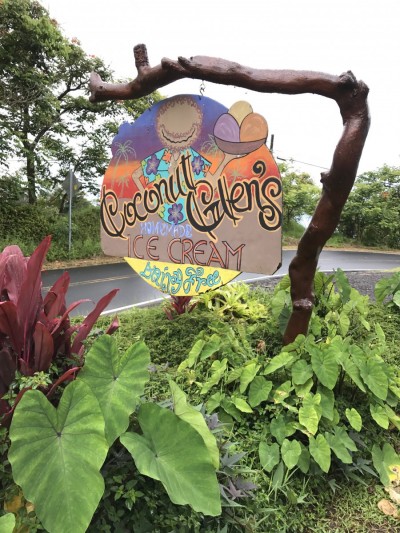 Coconut Glen's Ice Cream
Coconut Glen's sign on the road to Hana is much like it's namesake vegan ice cream. Funky, alternative and catchy.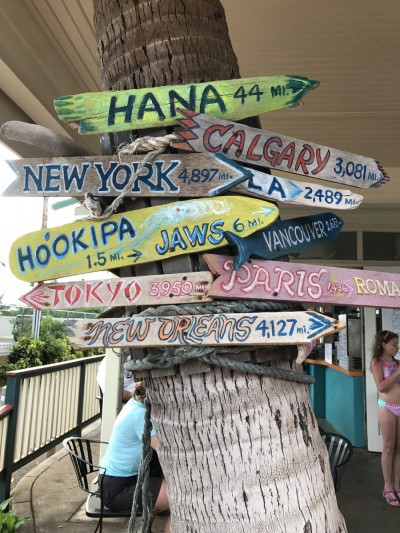 Loved this funky fish-inspired signage in Paia
Signs might not be the stuff postcards are made of but sometimes they really give you the feel of the spirit of a place. I found that to be true in Maui.