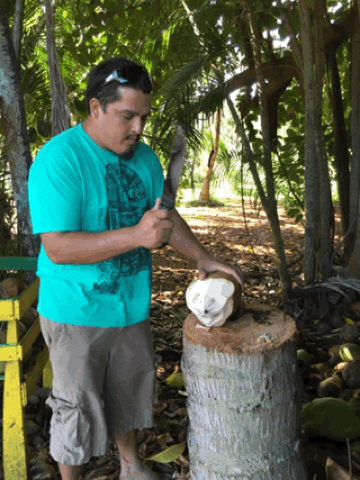 Kauai Native Levi Fabiana has mad machete skills
The gorgeous scenery of Kauai, Hawaii's "Garden Island" has been featured in many Hollywood films including the classic 50s film South Pacific, James Cameron's Avatar, the Spielberg classic Jurassic Park, and The Descendants. In addition to stunning landscapes, Kauai offers less cinematic charms. If you are looking for things to do on Kauai, here are some of my favorites, illustrated with GIFs.
Drink a Fresh Coconut
There are plenty of fresh juice bars on Kauai, but the most memorable drink I had on the island was a fresh coconut I bought for $1.50 at a nameless roadside coconut stand near Kilauea. I discovered this gem of a fruit stand with an honor box for payment during a photo tour with photographer (and Kauai native) Levi Fabiana, whose mad coconut cracking with a machete skills are shown above. For those lacking machetes and skilled locals to open their coconuts, better known fruit stands in the area include the Moloaa Sunrise Juice Bar and Banana Joe's.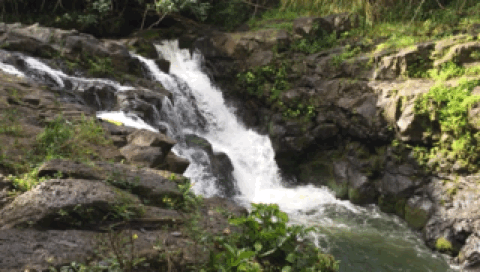 Hoopii Falls can be reached easily on foot 
Hike to Ho'opi'i Falls
My photo guide, Levi, also showed me the way to Hoopii Falls, aka Ho'opi'i Falls. It's a short drive from Kapaa and an easy, green and beautiful hike along the Hoopii Stream to the waterfall. The recent rains made the trail very muddy, so while Levi was barefoot, I was glad I had my hiking boots with me. Unlike many of Kauai's waterfalls, Hoopii Falls doesn't take hours to reach, so it's an easy add-on activity while exploring the island.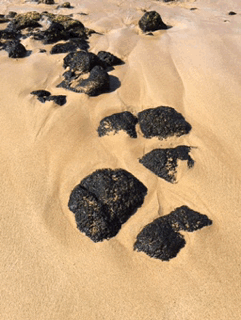 Volcanic rocks on a stretch of Poipu Beach on Kauai's South Shore
Take a Stroll along Poipu Beach
Kauai is a volcanic island, and while there are plenty of great white sand beaches around, the sprinkling of black volcanic rock in them makes interesting and memorable. I loved watching the waves along stretches of Poipu Beach on the island's southern coast.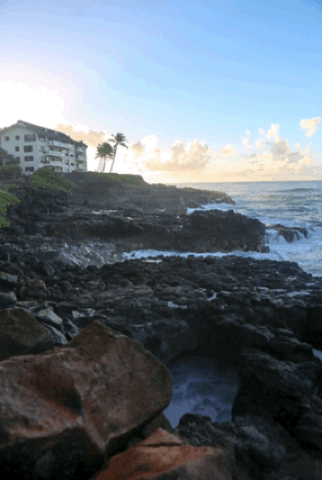 Sunrise splash on Poipu Beach
I took walks along Poipu Beach at sunrise and sunset and grew fascinated with waves crashing into (and through) the black volcanic rock on Kauai. While locals have no problem doing these walks in flip flops or barefoot, I'd recommend shoes with non-slippery soles if you want to take a scenic stroll along beach. The volcanic rocks can be sharp.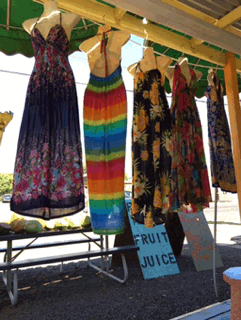 Breezy sundresses for sale in Waimea
What to do when it rains on Kauai– Explore Waimea!
Kauai's interior rainforest has one of the wettest places on the earth, with Mt. Waialeale, getting over 450 inches of rain per year. The island also has several micro-climates. When rain on Kauai's North Shore defeated my hiking plans, I headed west, to Waimea, where the weather was dryer. Waimea Canyon is beautiful and the area is less touristy than Poipu Beach. I enjoyed strolling the street and stopping at JoJo's Shave Ice on Kaumualii Highway and checking out the Aloha wear and sundresses for sale at the quaint stores. I'd like to stay at the colorful and quaint Waimea Plantation Cottages on my next trip.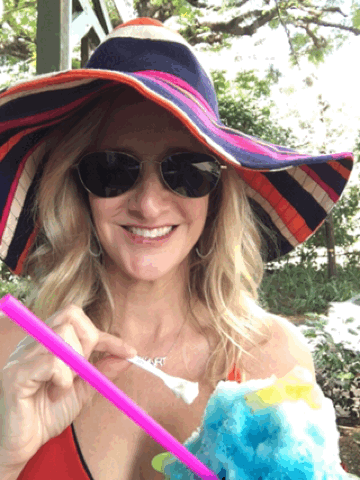 Shave ice with a snowcap from Koloa Shave Ice
Taste the Shave Ice
Shave Ice is a whole thing in Hawaii. Not to be confused with the coarsely diced frozen cousin, the snowcone, shave ice is the perfect treat for a hot Hawaiian afternoon. Go for a tropical flavor and the snowcap (a drizzle of sweetened condensed milk on top). I was surprised by how much I enjoyed this fun and frozen treat. Heat is shave ice's biggest enemy, since the ice is shaved into a fine and airy snow-like fluff, it has a tendency to melt quickly.
Locals all have a favorite place for shave ice, with JoJo's Shave Ice often getting a mention for their Hanalei and Waimea locations. The best shave ice I had was from Koloa Shave Ice located in the historic old Koloa shops near Poipu Beach.
Poipu Road, Koloa, Kauai, HI 96756
Phone: (808) 742-5200
Sunday – Saturday: 9am to 9pm
9734 Kaumualii Hwy, Waimea, HI 96796
5-5190 Kuhio Hwy, Hanalei, HI 96714