The Donald has spoken…Or at least his organization has. Congratulations Leila Lopes on being crowned the new Miss Universe! Normally, I'm not into beauty pageants, but scanning the top 5 this year, it seems that I have been to every country represented, except for hers. My apologies Miss Angola (now, Miss Universe) – I'm hoping the Donald keeps you busy enough this year to distract you from this oversight. I'll figure out how to make it right. In the meantime, I'm thinking fondly of my trips to the Ukraine, Brazil, China and particularly the Philippines. Here's a video from that trip, which I think dovetails nicely with the fact that we're still in the throes of Fashion Week.
It was my first visit to Manila this year and, honestly, I didn't know what to expect. I think it will take me a few more trips to begin to have a grasp of the whole country, but my short trip was made particularly memorable by all the great people I met while there. My friend Candy, who you saw in the last video introduced me to her fellow U.P. Mountaineering buddy, Ceceng Nepomuceno or as he prefers to be called: Daddy-O. I did not fight him on that. Daddy-O is quite spry and athletic with a passion for the outdoors. And when he's not clambering up mounds of dirt, he runs a shoe company called Yeskia. The factory is nestled in the city of Marikina – officially the Shoe Capital of the Philippines. Also in Marikina, a museum dedicated to Imelda Marcos's 3000 pairs of shoes.  Something to see for my next visit.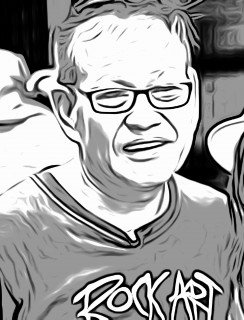 Daddy-O: Shoe designer, Eco-Activist and all-around great guy
At Yeskia, they mostly make very sensible and work-place oriented shoes, but Daddy-O has this idea that he's been working on with Candy. Manila is inundated with advertising printed on tarp, and once the advertisers have no use for them anymore, they become landfill.  Together, Candy and Daddy-O figured out how to use the discarded tarp as material for shoes and bags – upcycling them like Freitag. It's their way of preserving the outdoors they enjoy so much.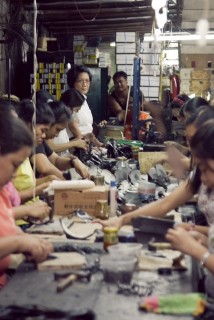 Yeskia in action
The line of shoes is still being developed, but I was lucky enough to get a pair specially made for me when I visited. The tarp in particular came from Museo Pambata, my friend Nina's hands-on Children's Museum. It's a fabulous idea, and I can't wait until they launch the entire line. For now, I rocked my own one-of-a-kind pair ( with matching bag!) during a pool party this past Labor Day weekend and got many compliments.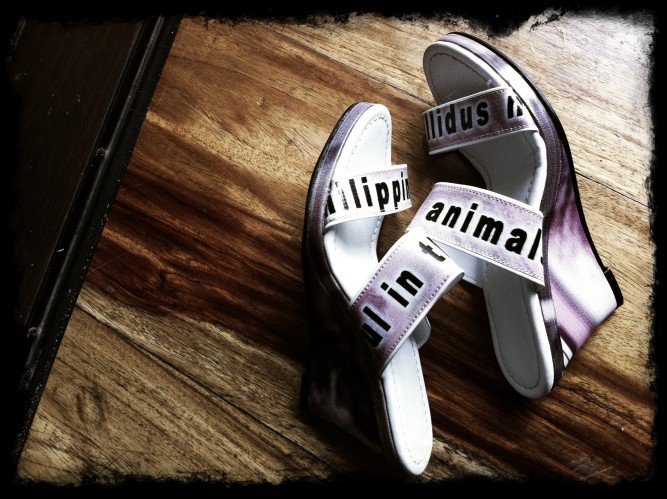 Not only are they Eco-Friendly, but they are also Natalie Portman-friendly
I think the Miss Universe organization would do well to shod their candidates next year in these shoes.  They're Eco-friendly, vegan, fashionable and can be made from their advertisers' tarp or have prints of the contestants' national flag. I mean if you're going to represent, why not do it down to the tips of your toes? Plus they're waterproof! — Great for the swimsuit competition. The Donald would approve. Now, if only Daddy-O could do something about that comb-over…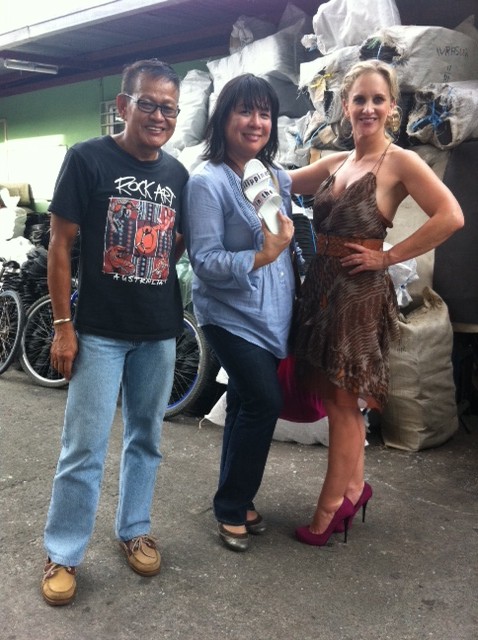 With friends Daddy-O, Tanya Yuson and my custom-made Yeskias