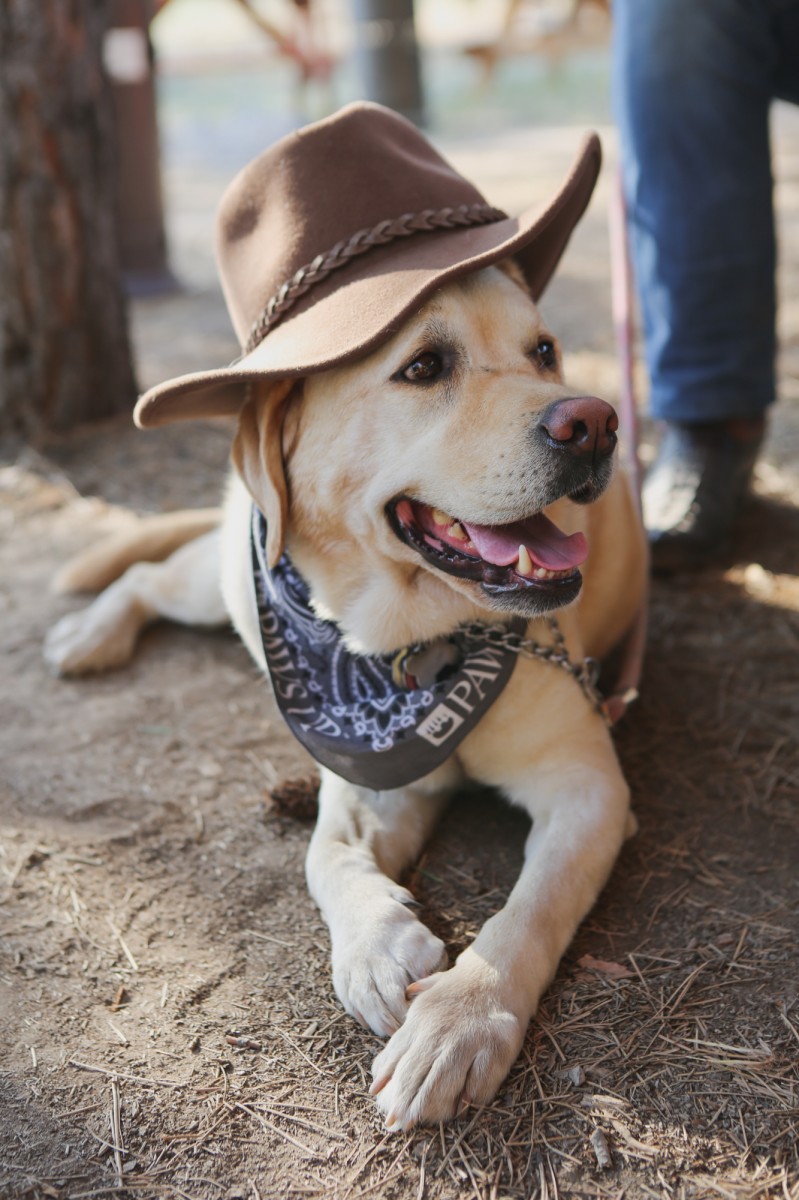 Scarlet goes glamping at the Resort at Paws Up
If you have a dog that you think of as a furry family member and have ever tried to take it on your family vacation, you've probably learned that the term "pet friendly" does not necessarily mean "pets welcome." Sometimes the the reality of traveling with your pet means getting the worst room in the hotel, which smells like a kennel, and the harsh realization that there is a huge difference between hotels that are merely "pet tolerant" and those that truly welcome them.
Thankfully there are also true pet friendly resorts where your dog is not only included, but appreciated.
The Resort at Paws Up
is the real deal. Pet friendly means just that. The staff is welcoming and enjoys having your dog along on your western adventure. This is one of the reasons I chose Paws Up for my recent family vacation to Montana.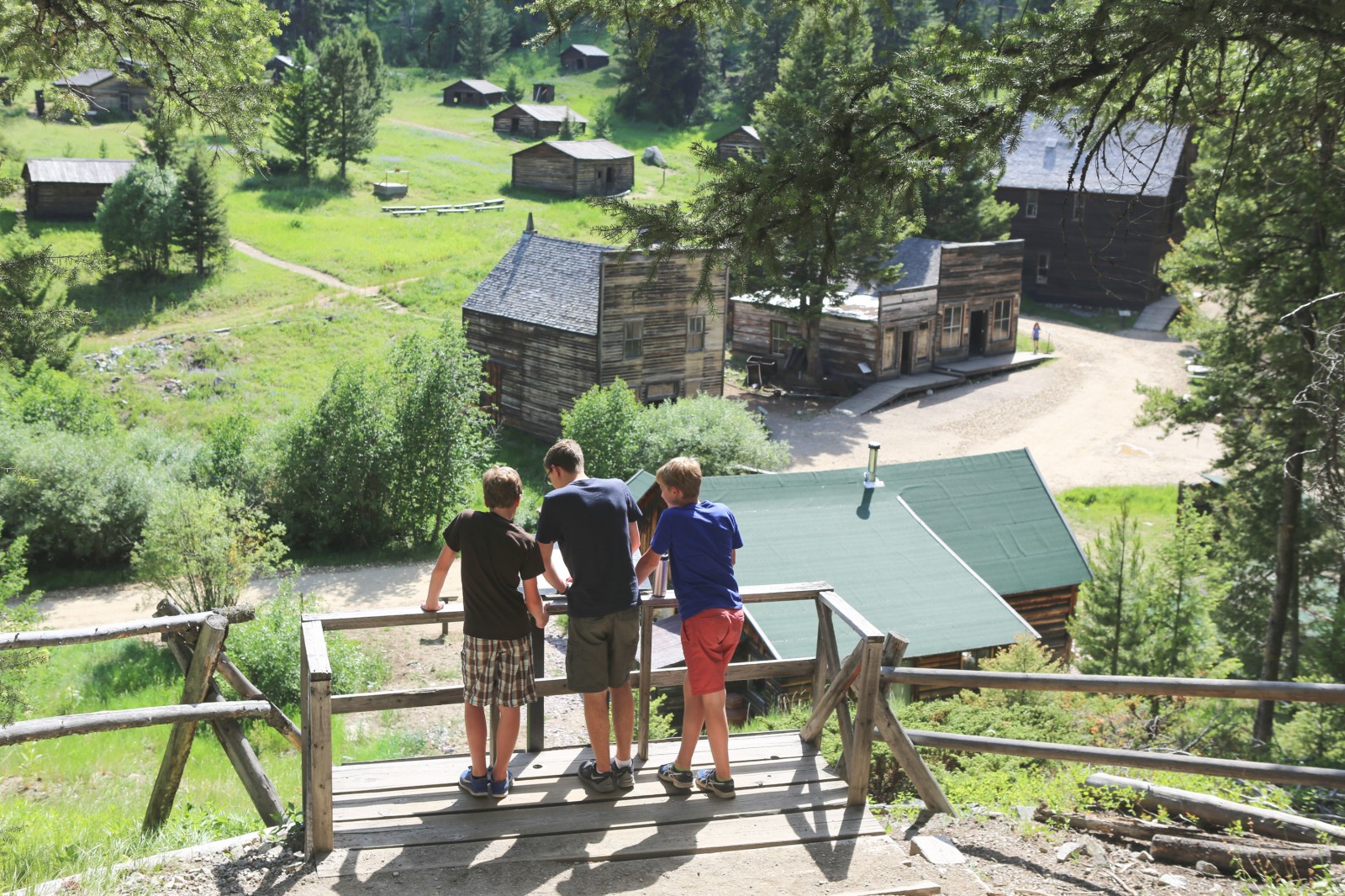 Garnet Ghost Town is an easy drive from The Resort at Paws Up
After my first visit to
The Resort at Paws Up
three years ago, I knew I'd be coming back. I spent many childhood summers in Montana and still love it to this day. Paws Up is such a great destination. It's an easy 45 minute drive from the Missoula airport (and airport transfers are included in the rates). There is so much to do at Paws Up– you can try sleeping under canvas in the
luxury glamping tents
 or checking out the unique and memorable activities the resort offers. Where else can you ride a horse on a cattle drive?
Glimmerstone
At Paws Up, guest with pets must stay in the Luxury Homes instead of the Glamping Tents. The Big Timber home we rented, Glimmerstone, worked perfectly for our group of four adults, three teenagers, and two dogs. We were visiting during a heat wave and the reliable air conditioning was a real bonus. Our house also had a tent on the property, which we used during our stay.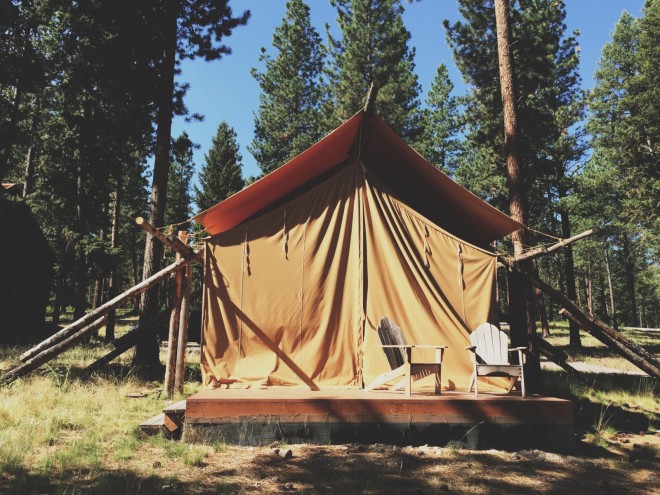 The tent in the yard at Glimmerstone
I was surprised that my nephews, all experienced scouting types, preferred to sleep in the posh comfort of the loft beds instead of the tent. They had two weeks of tents in their future at summer camp and had no problems with sleeping in a luxury cabin. My brother and sister-in-law spent a night in the on-site tent.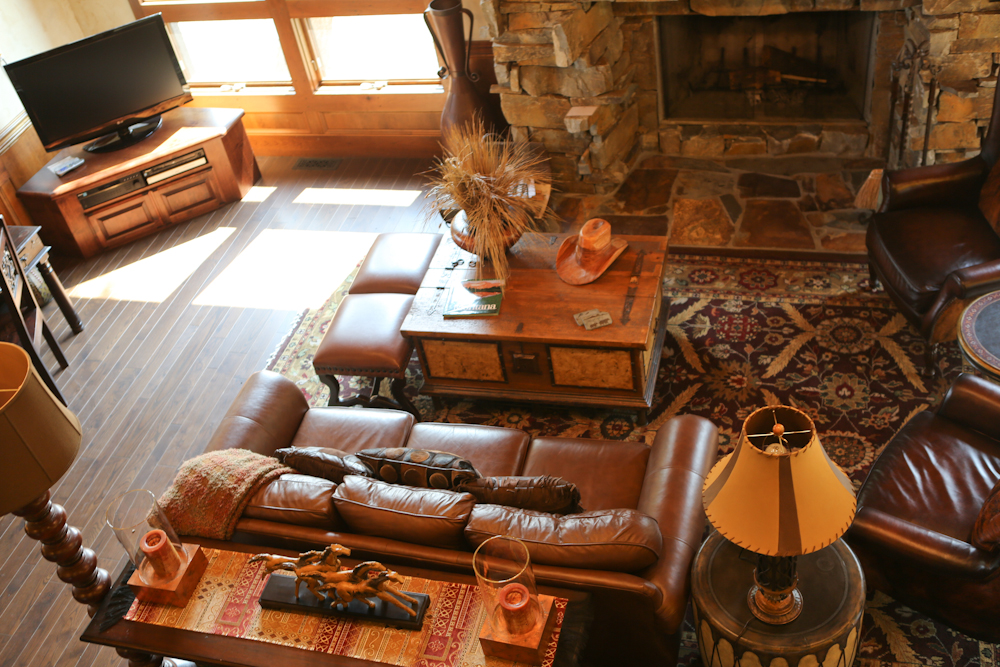 A living room in one of the Luxury Homes at Paws Up
My dogs, Scarlet and Zeppelin, enjoyed being ranch dogs during our stay at Paws Up. They joined us on the patio for breakfast and lunch everyday at Trough and the staff was always quick to greet them and make sure they had a bowl of water. I felt the staff was warm and welcoming to them. A few even offered up belly rubs.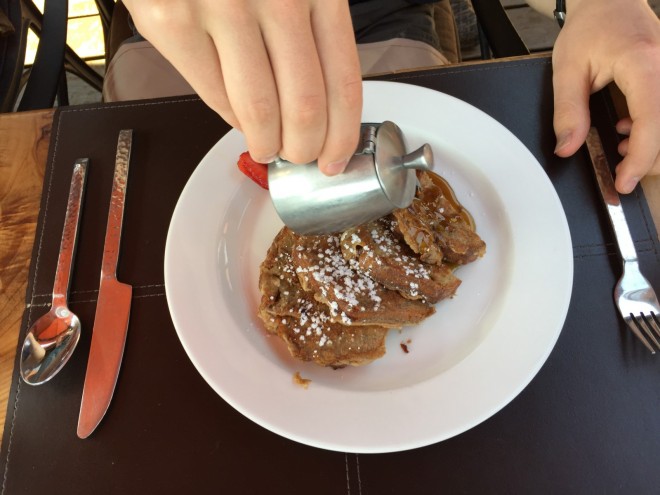 Montana style French toast
Traveling with three teenage boys was definitely different for me. I was blown away by how much they can eat. My nephews, beanpoles all of them, can easily put away French Toast for breakfast and be ready for a buffalo burger a few hours later for lunch. Dinner, including dessert, was enjoyed by all. Paws Up's rates include full breakfast, lunch and dinner for all guests. We only paid extra for alcoholic beverages and guided activities.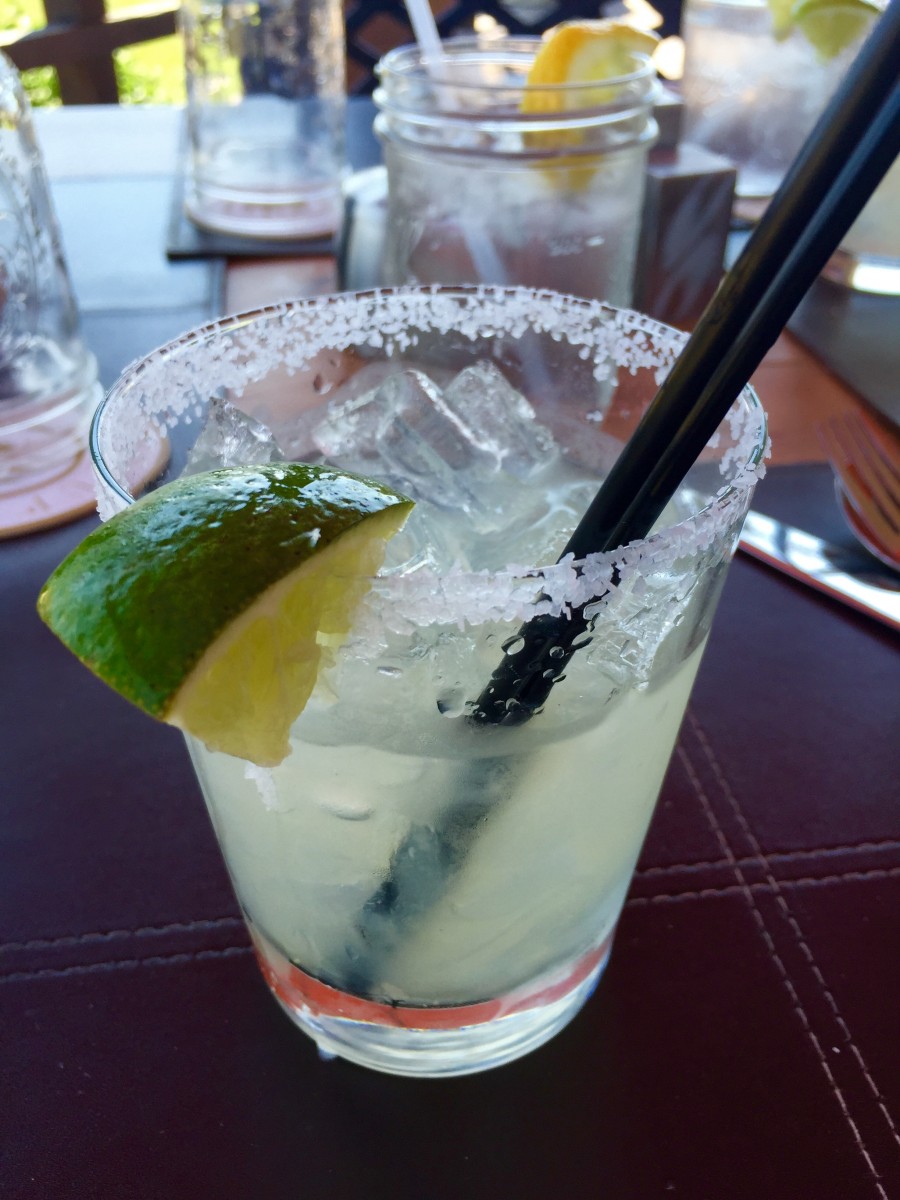 The adults enjoyed the great margaritas at Tank
Some of my must have travel gear for pets
I have two 60 pound  labs and when they travel with me I always bring the following supplies:
This soft cover canvas crate is easy to break down and assemble. It stores flat and easily slips behind the drivers seat in my car for road trips. They come in a range of sizes for dogs weighing 10 – 70 pounds. My labs each have a 36 inch version.
Made of waxed canvas, this collapsable water bowl is a must for travel as well as hikes with my dogs. I always keep one in my car.
My touchless poop scoop of choice.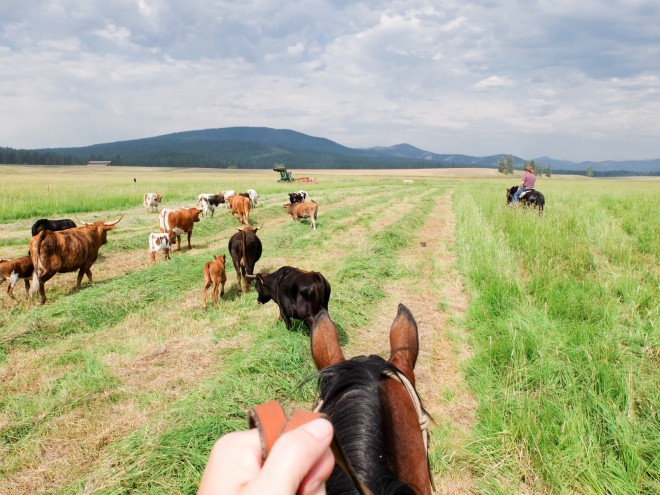 My view from the cattle drive at Paws Up
The Cattle Drive was one of the highlights of our family vacation. It was fun to enjoy the gorgeous Montana scenery while learning how to round up and sort cows instead of taking a nose-to-tail horseback ride. We lucked out and were the only people on our cattle drive… and we kind of sucked.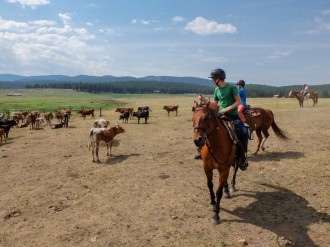 Sorting cattle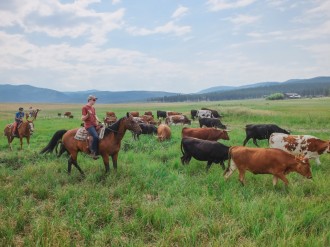 Moving the heads of cattle
We lost six cows along the ways, which was funny, memorable, and made the activity seem all the more real.
Cows and Montana Scenery on the Cattle Drive
The Chuck Wagon dinner was another crowd pleaser.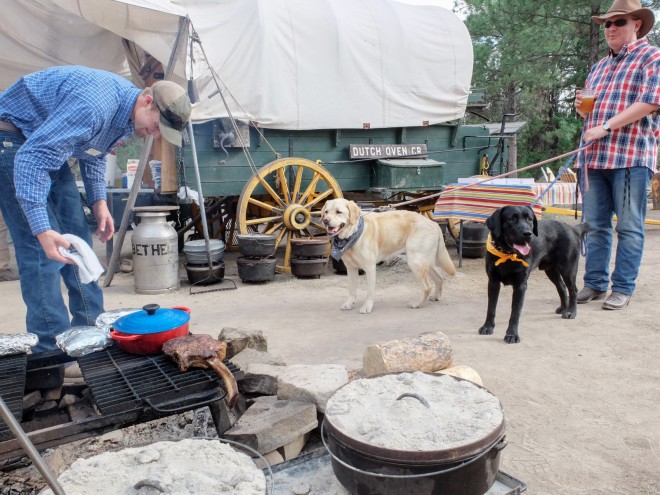 Scarlet and Zeppelin were big fans of the Chuck Wagon dinner
Draft horses Pete and Re-Pete driving us to the Chuck Wagon Dinner
While meat grilled in the open air is an eternal summer favorite, Dutch oven master Cee Dub was in residence during our stay and made a killer brisket at the Chuck Wagon.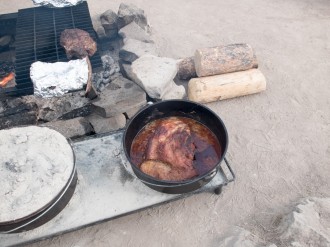 Cee Dub's amazing brisket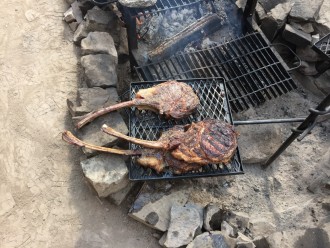 Tomahawk steaks on the grill.
We felt the need to taste it all, including the tomahawk steak. No one went hungry on this trip. We made sure to check out Cee Dub's Dutch oven frittata at breakfast the next day.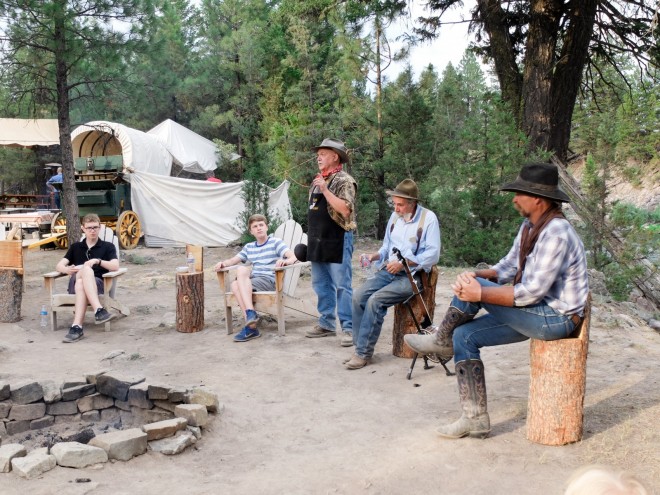 Cee Dub and the cowboy poets at the Chuck Wagon Dinner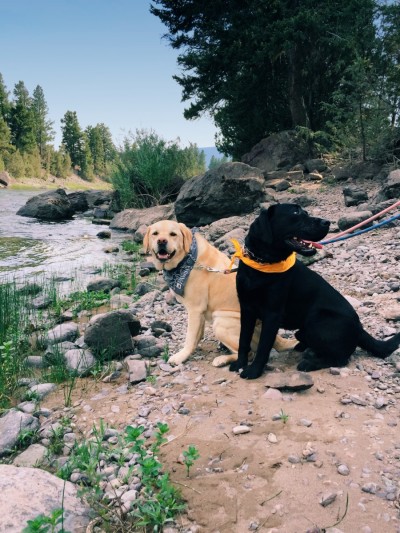 Scarlet and Zeppelin enjoyed sniffing around the banks of the Blackfoot River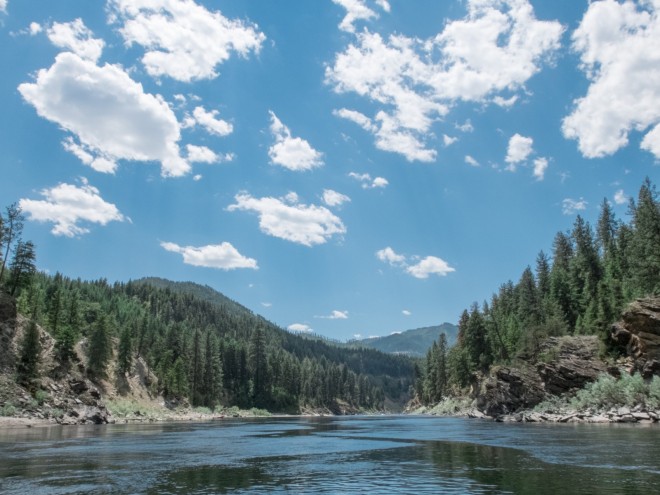 Gorgeous Montana skies on the Clark Fork river
Paws Up offers tons of options for activities. We opted for whitewater adventure through the Alberton Gorge on the Clark Fork river during this trip, which was a perfect choice since our visit coincided with a heatwave. You can read more about our rafting trip in this post.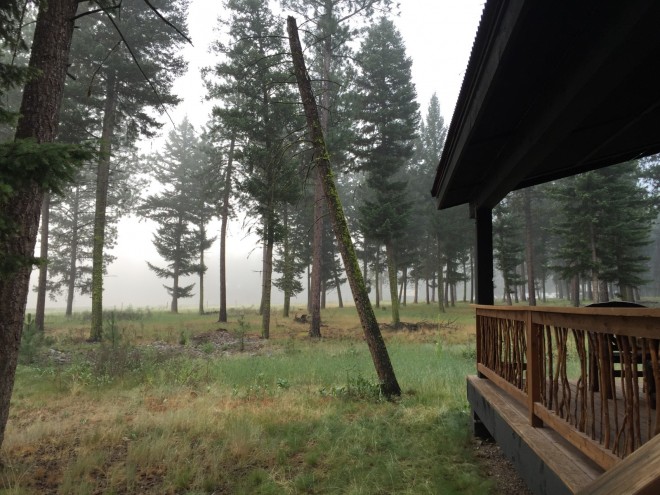 Misty Montana morning at Glimmerstone
We also explored nearby Garnet Ghost Town. My nephews had no problem heading to the brand Wilderness Outpost activities center to check out the archery set up.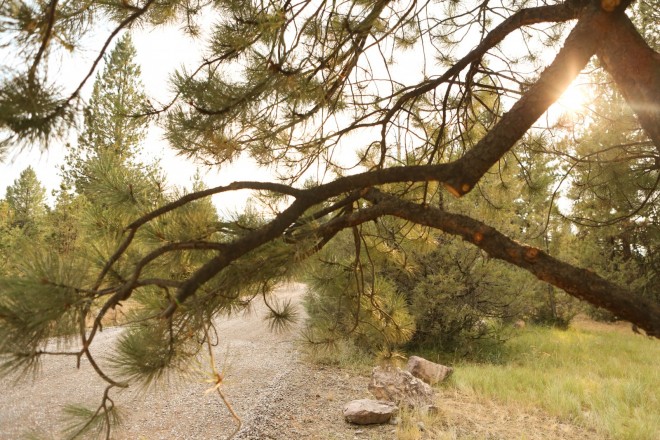 Gorgeous scenery at River Camp
Every time I return to Paws Up there is something new. This trip I was impressed by the Paws Up app, which made communicating with the staff easy to do from my smart phone. It was really useful for making requests and communicating with the staff during our stay. I was a little bit sad when I deleted it from my iPhone after my vacation.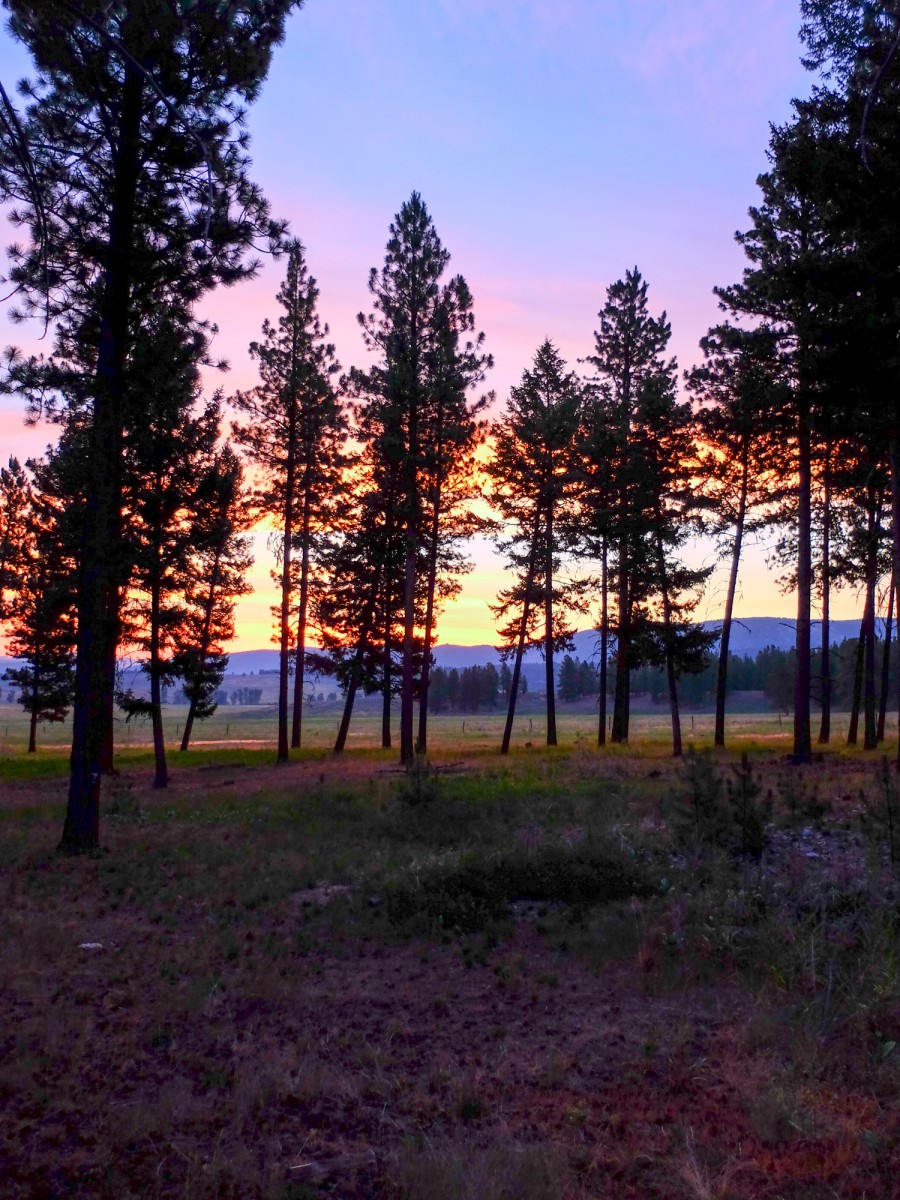 The sunrise view from Glimmerstone
The thank you card I got from my brother, sister-in-law and nephews after the trip further convinced me that Paws Up was a great choice for our family vacation. A good time was had by all, and my nephews were already missing waking up to the fresh pine scent and drinking huckleberry lemonade.
40060 Paws Up Road
Greenough, MT 59823
Toll Free: 877-588-7151
Int'l/Local: 406-244-5200
Fax: 800-473-0687
theresort@pawsup.com