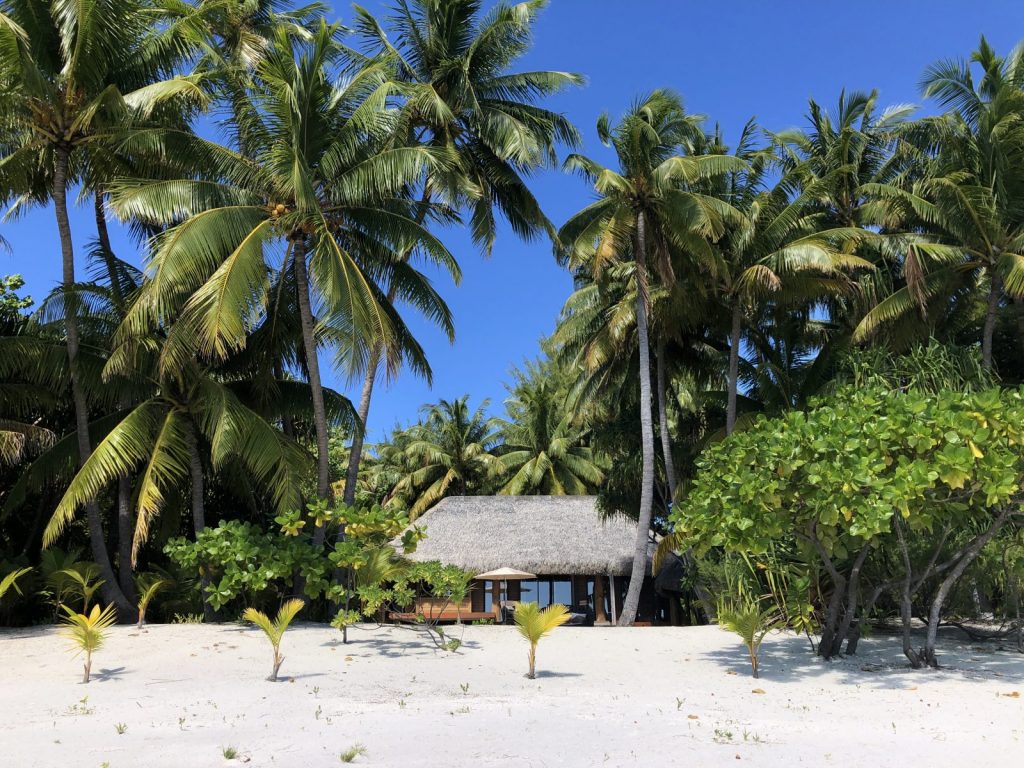 A view of our villa at The Brando
Last month my husband and I spent a few days at The Brando, a luxury resort with 35 private villas set on white sand beaches on the island of Tetiaroa in French Polynesia.  Since this was our third trip to French Polynesia and we've already stayed in an overwater bungalow, we were excited to try something new.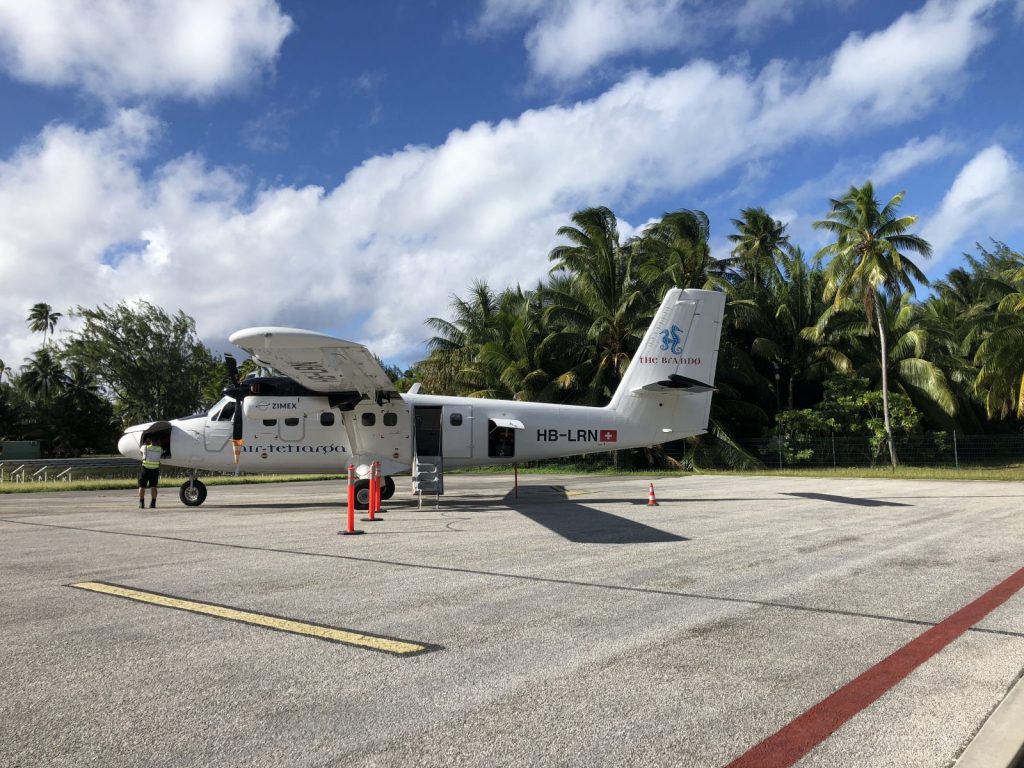 Air Tetiaroa
The private flight to Tetiaroa was like something out of an episode of Fantasy Island, except we were greeted by Polynesian dancers instead of Mr. Rourke and Tattoo.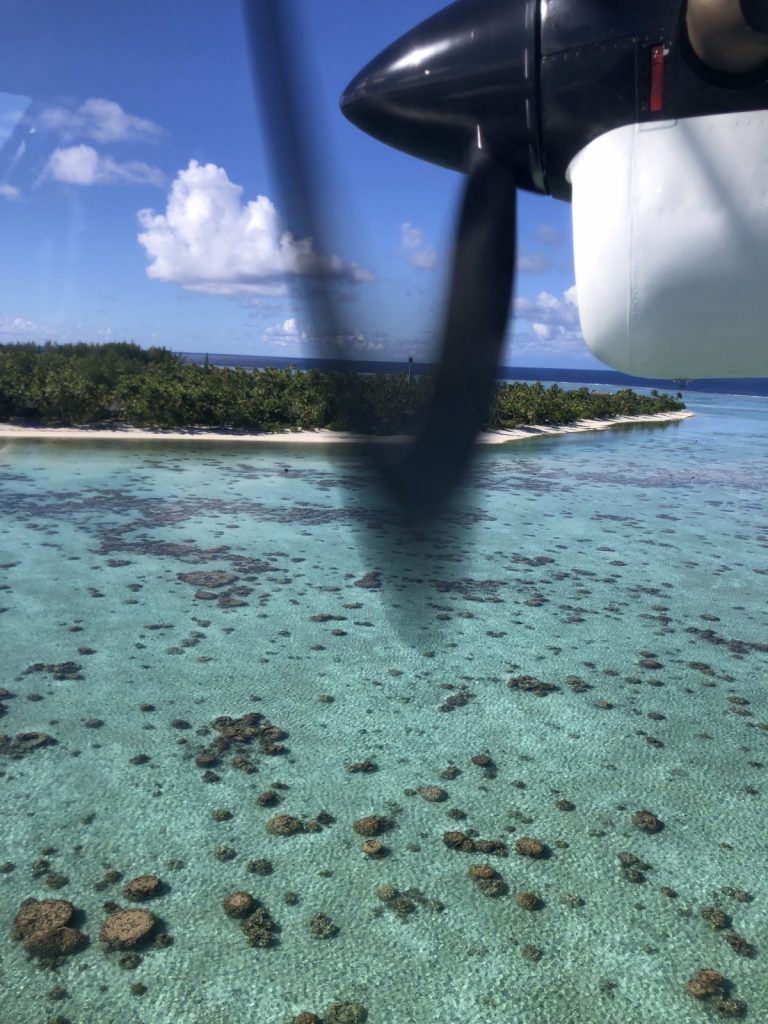 Views of the atoll of Tetiaroa
The Brando differs from other luxury hotels in the area because it doesn't feature the overwater bungalows that one associates with the South Pacific. After five years of construction, the Brando Opened in 2014 on the atoll Marlon Brando purchased in the 60s after falling in love with the area while filming Mutiny on the Bounty.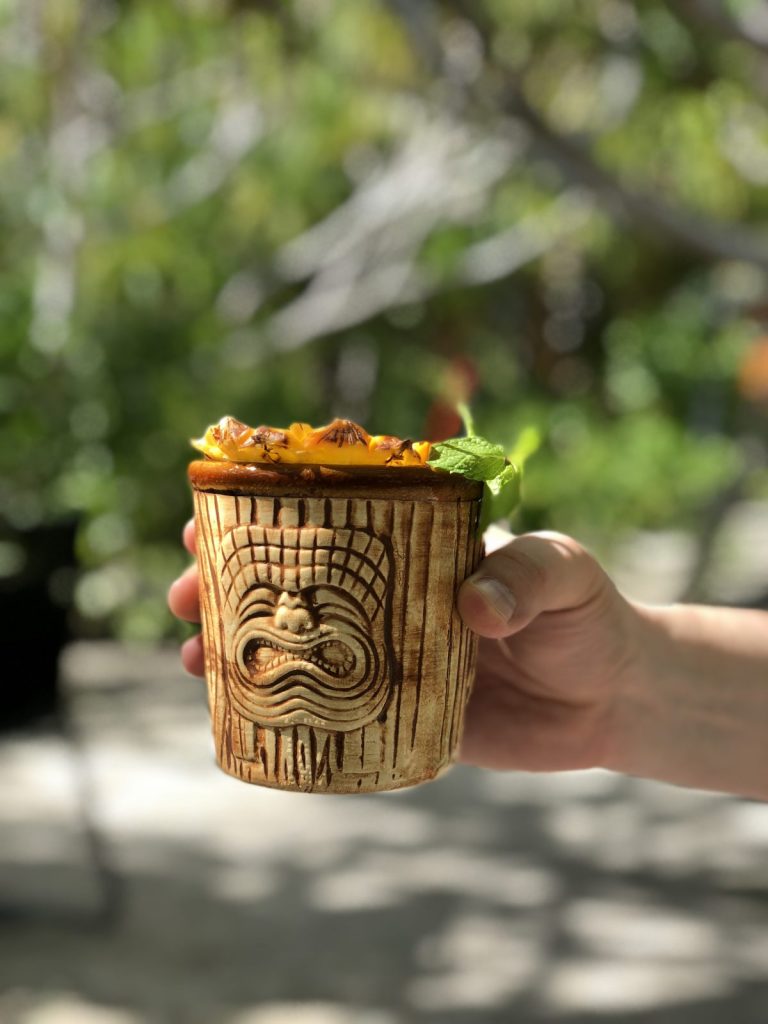 Rum forward (and delicious) cocktails at Bob's Bar
There are some old photos of Brando hanging in the breakfast room, and his granddaughter is involved in both the resort as well as the Tetiaroa Society, a non-profit dedicated to preserving the natural beauty of the island. The resort has some cool eco features as well, including solar panels and  seawater air conditioning.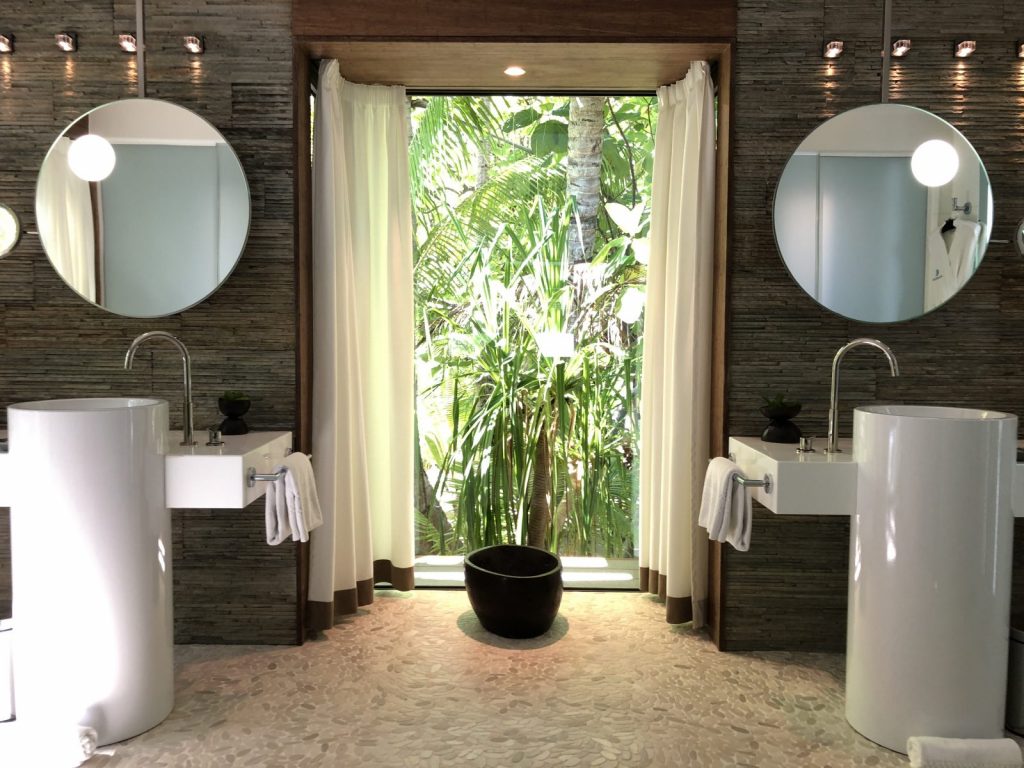 Dual vanities at the Brando
My favorite spot at the Brando (other than the awesome beach bed) is Bob's Bar, where we ate lunch and went for happy hour. There you could overhead Australian, Kiwi, and American accents and rum-heavy drinks made the guests friendly.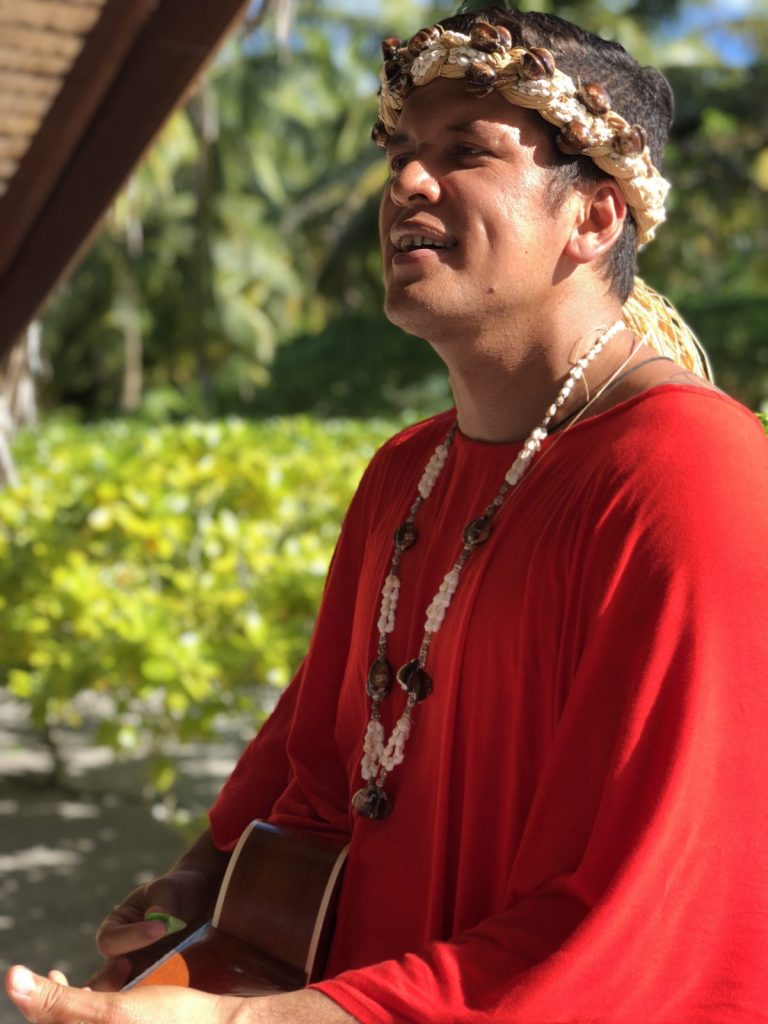 Lovely welcome at The Brando
The newly built villas feature nice layouts (and one, two and three bedroom options), private pools and all the modern conveniences. Service is top notch if a little quirky (I'm not sure why we were required to wait in a sterile departure lounge for over an hour prior to leaving the resort when we'd rather be enjoying another Zombie at Bob's Bar).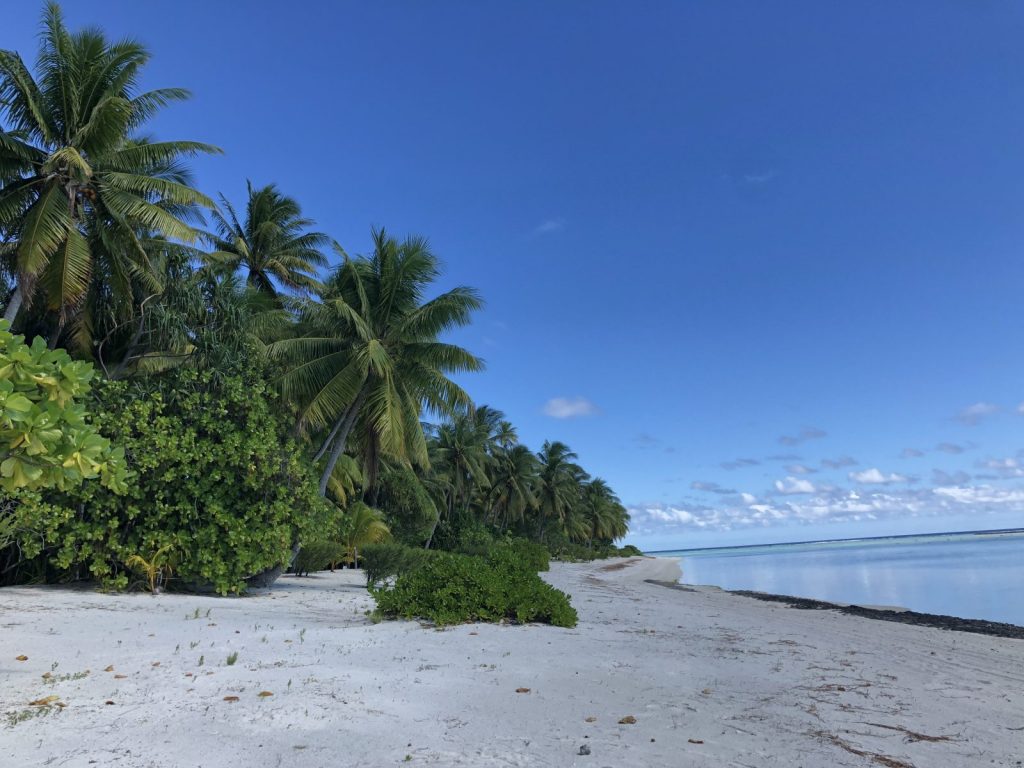 Rush hour at the Brando
Seriously. I think maybe one other couple walked by.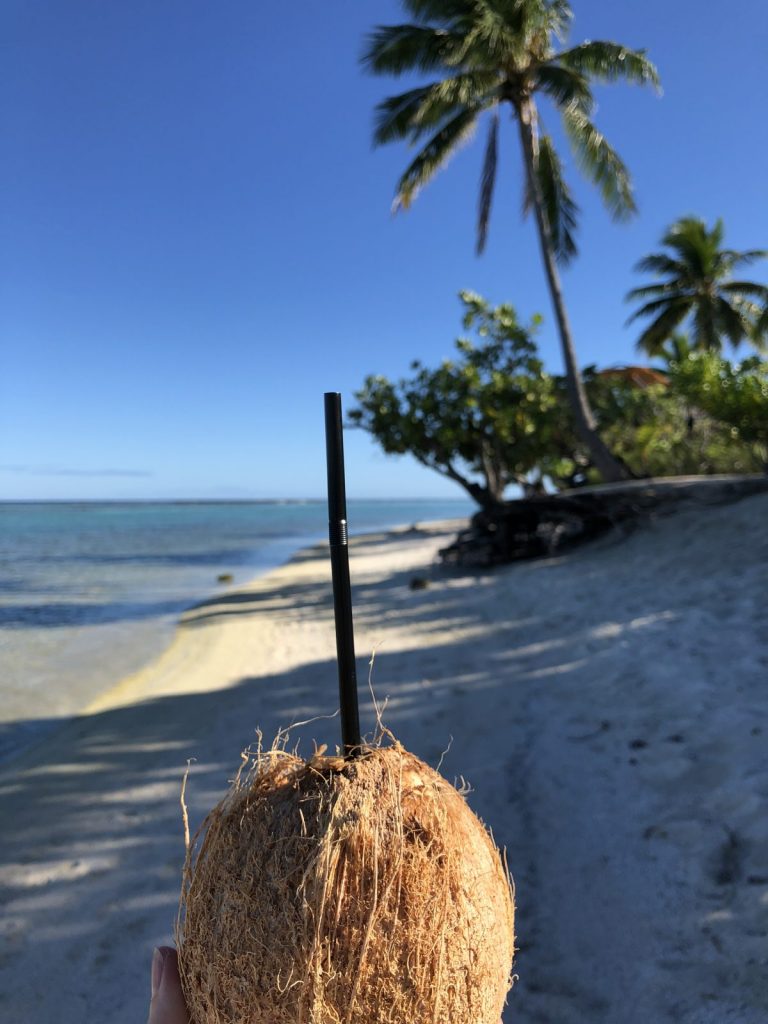 Coconut POV
Guests reach the resort by plane on Air Tetairoa, which has it's own private terminal at Faa'a International Airport in Papeete, Tahiti. The 20 minutes flight from Papeete on Tetiaroa Air is quick but stunning, and counted to me as a sight seeing activity.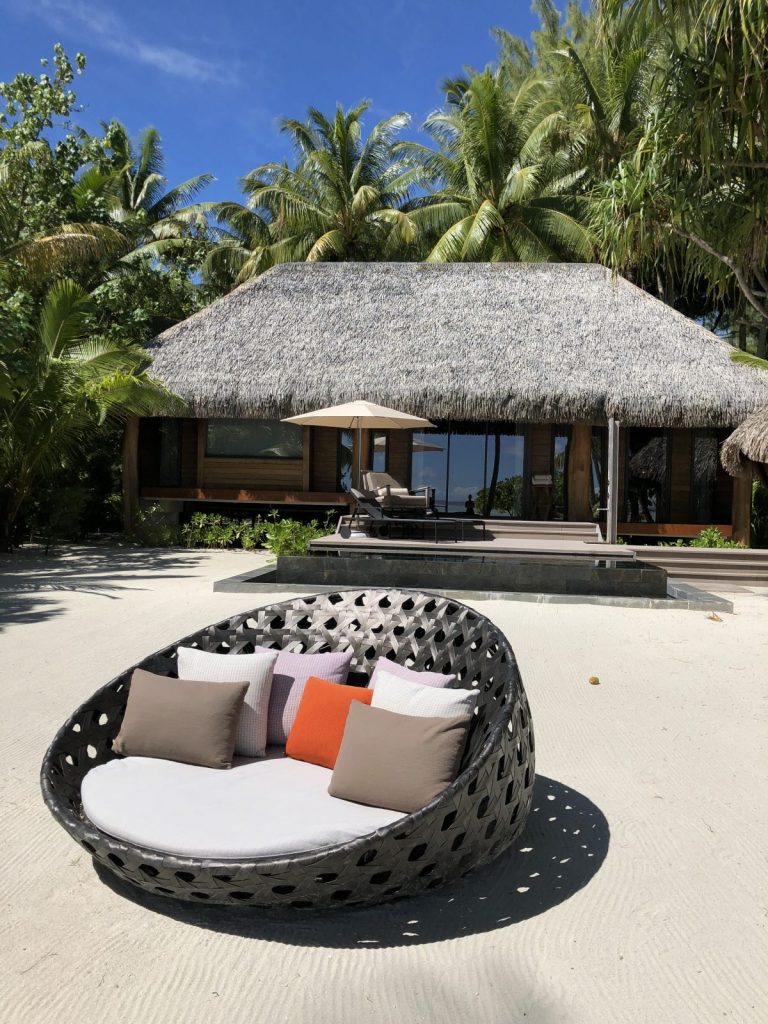 This beach chair was big enough for two
There were a number of families at the resort during our stay, and kids seemed busy and happy.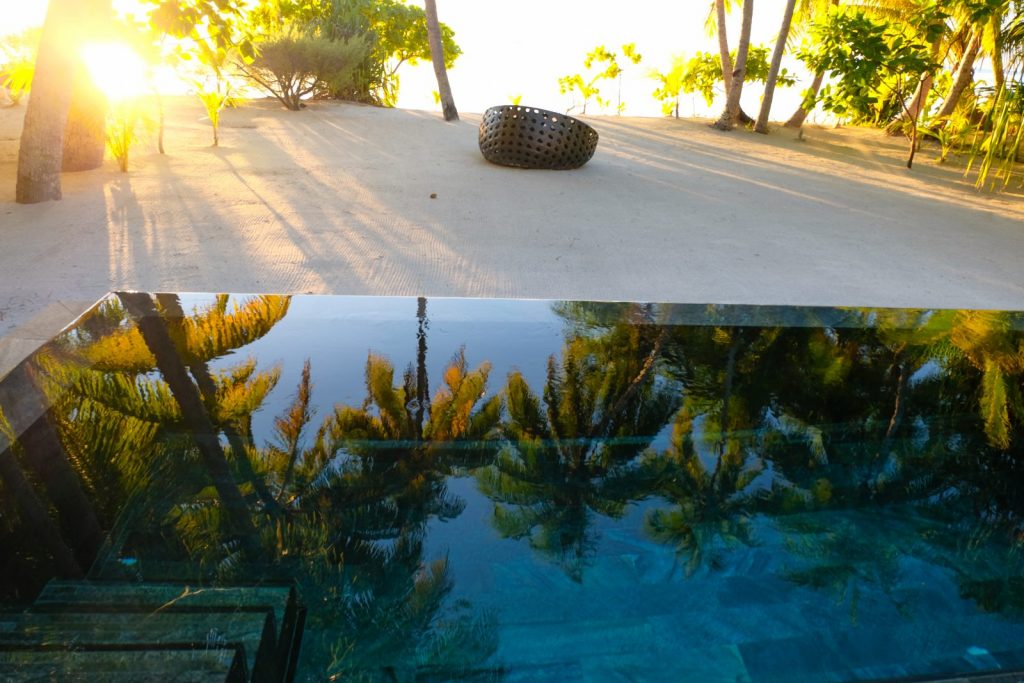 Palm tree reflections in the private plunge pool at the Brando
We try and keep it simple when we're on island time so we never bothered to go to the Brando's fine dining restaurant, but it's nice to know it's an option.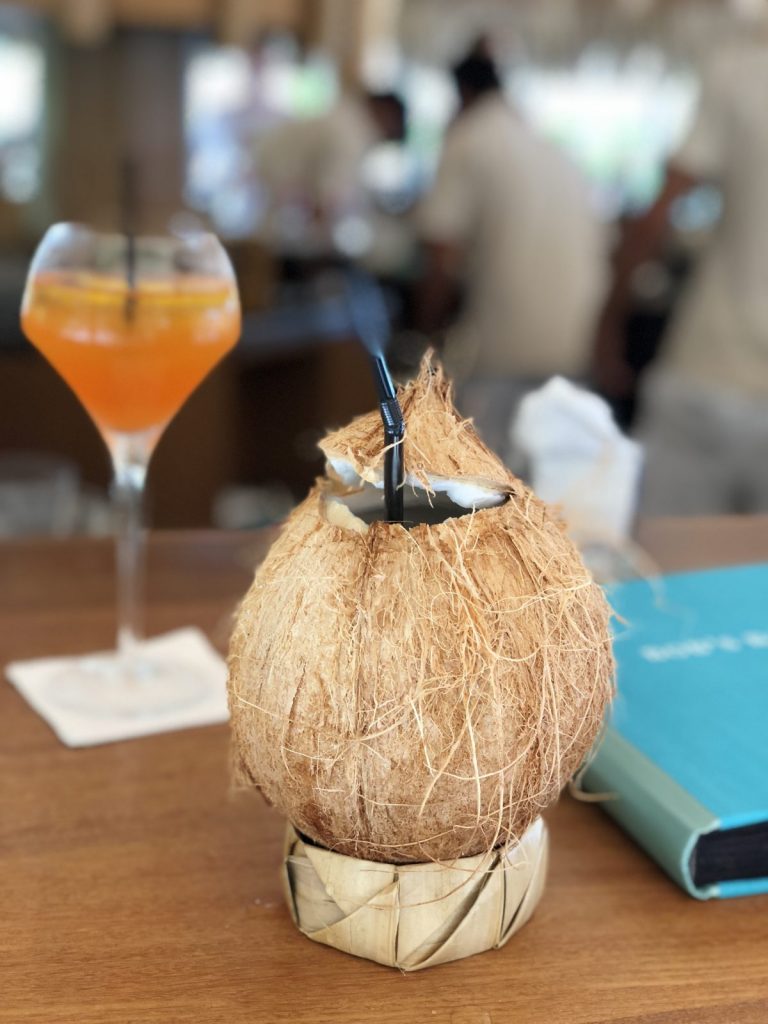 The palm frond coconut stand was a nice touch
The Brando is especially comfortable. While the contemporary style villas don't exude local charm, they are very nice and not in the least bit rustic.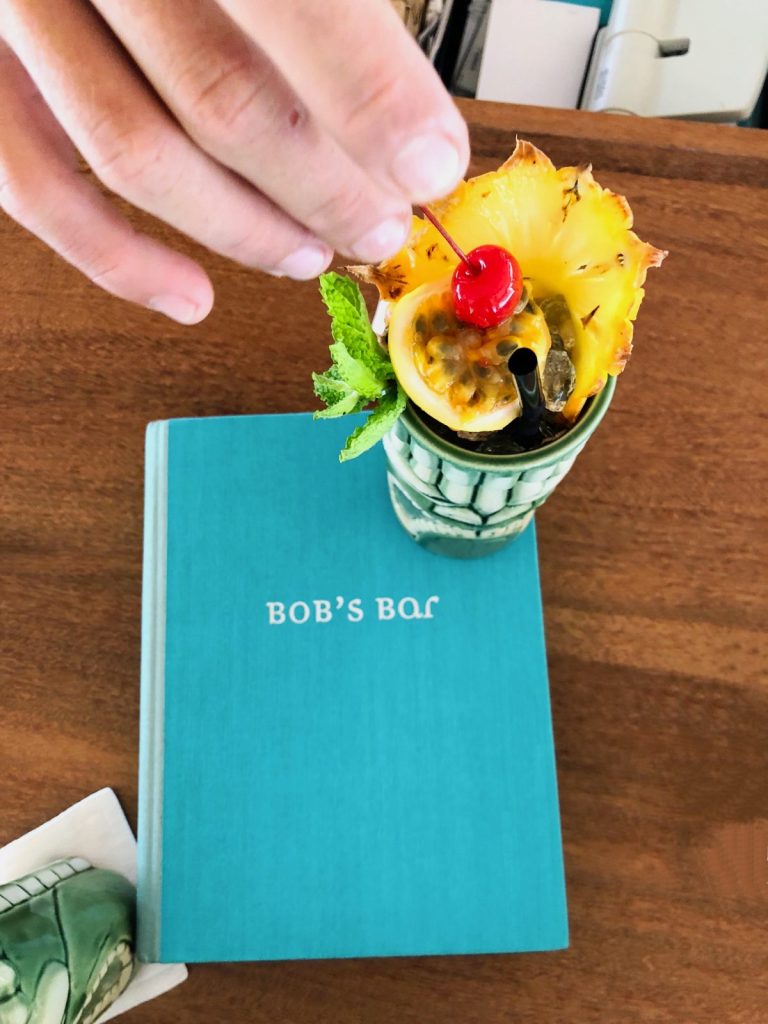 Bob's bob is fantastic
You can kick off your shoes on the island, see amazing wildlife (local fish and sharks can be seen from the beach), or choose to do nothing.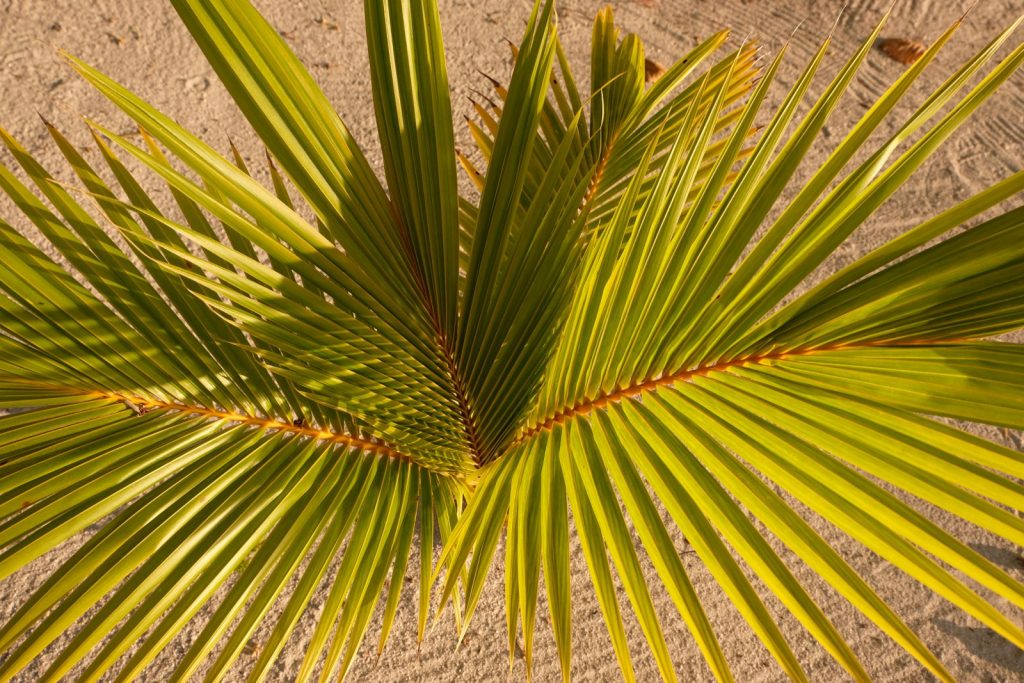 Fronds
Service is top notch and the staff is friendly. Room service was speedy and tasty.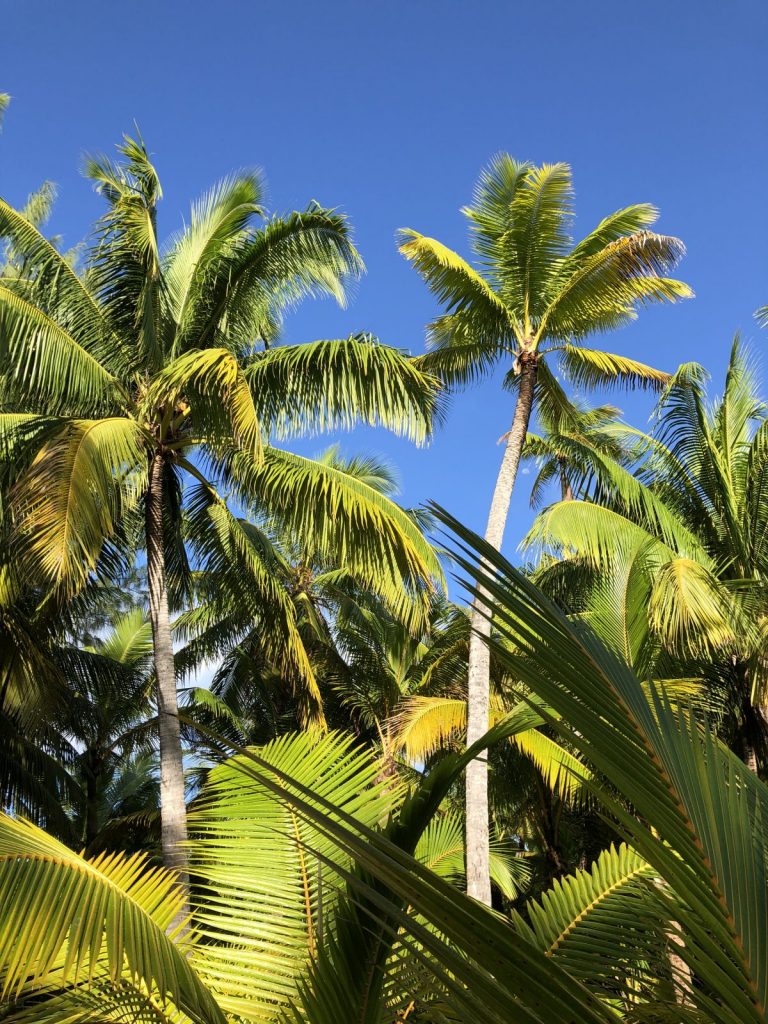 Palm trees and blue sky
The Brando Resort has all the necessary bells and whistles. There is an on-site spa, two restaurants, a communal pool (in addition to the private plunge pools), bikes for guest to use, a fitness center, a beach bar, and an activities desk with a willing concierge team dedicated to helping you explore the area or set up a private dining experience.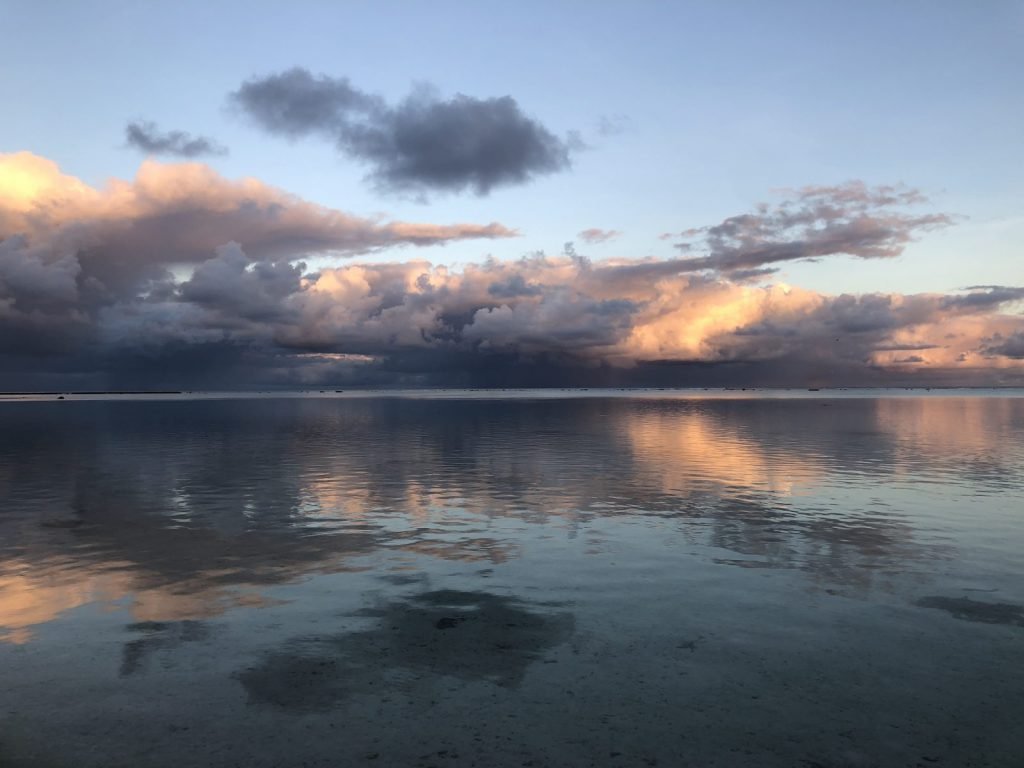 Morning view on Tetiaroa
On this trip, my husband and I decide to embrace doing absolutely nothing more strenuous than ordering room service (which has excellent). It was fantastic!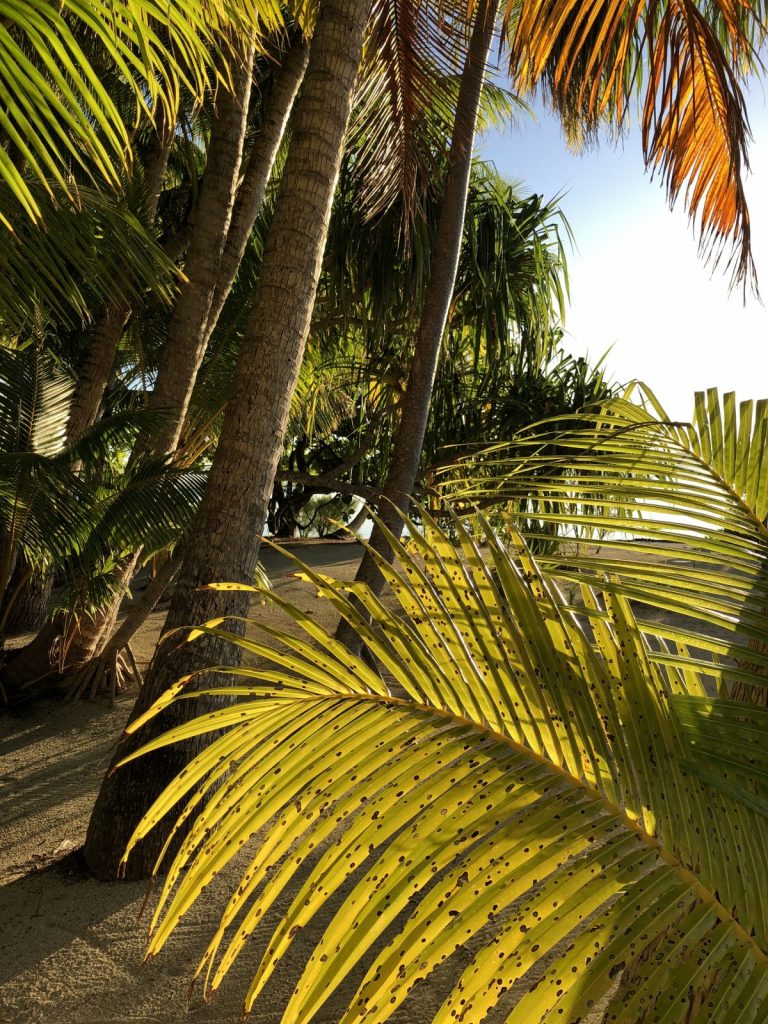 Island vibes
Food was good if not particularly memorable, but we opted to get salads and sandwiches from room service instead of trying out the resort's more formal restaurant.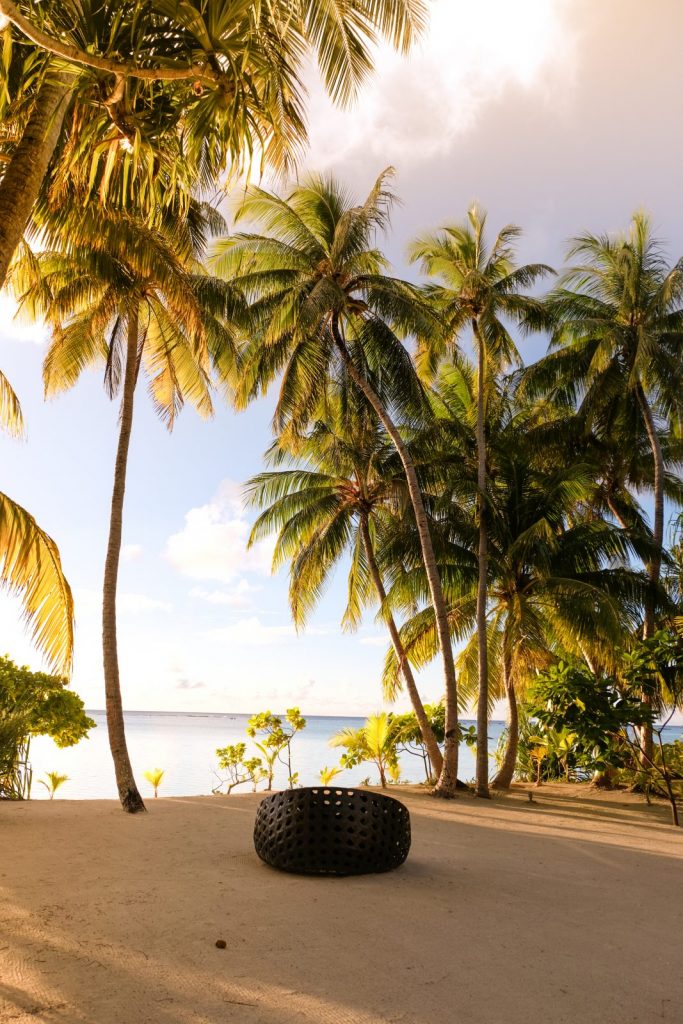 Golden hour views
In addition to it's namesake, The Brando is the island paradise where Barack Obama is rumored to have spent about a month when he left office.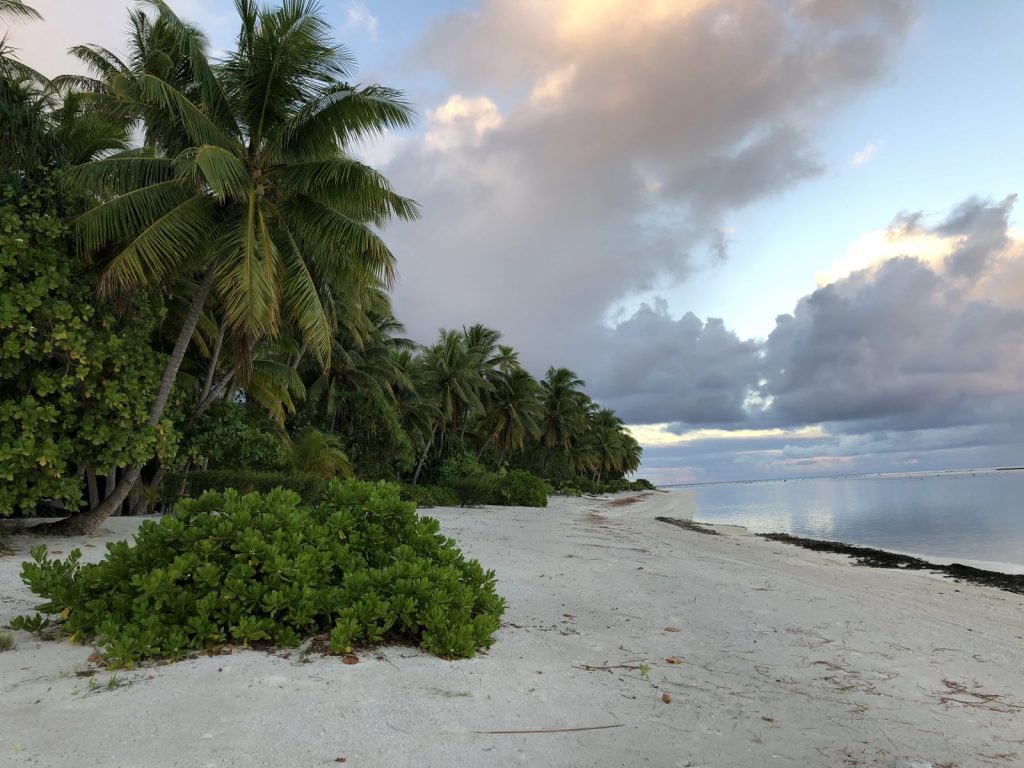 No filter needed morning on Tetiaroa
While I tried to get details on the Obama's visit this from the staff, they remained tight lipped and refused to confirm or deny it, but all of them smiled immensely.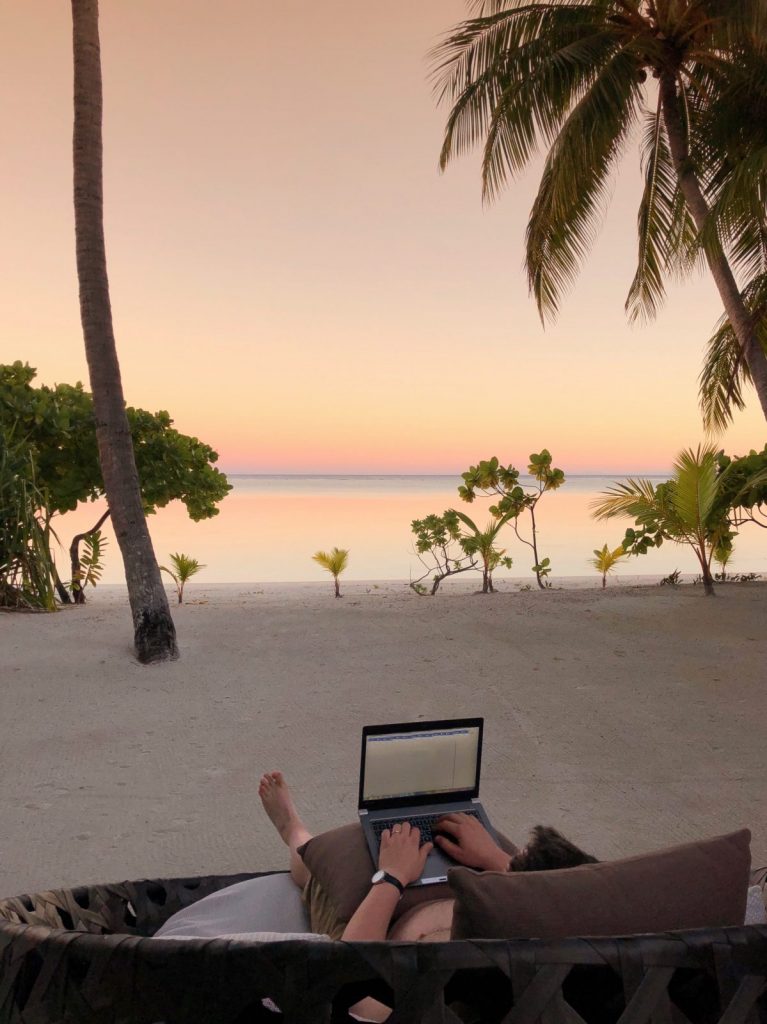 The virtual office at The Brando
My only real critique of The Brando is that communal spaces feel a bit generic. The breakfast room was a little cramped. We requested to eat outside and were happily accommodated. While I wasn't a fan of the overly long stay departure lounge, wifi and air conditioning were strong and service forward. The staff was all top notch and very friendly.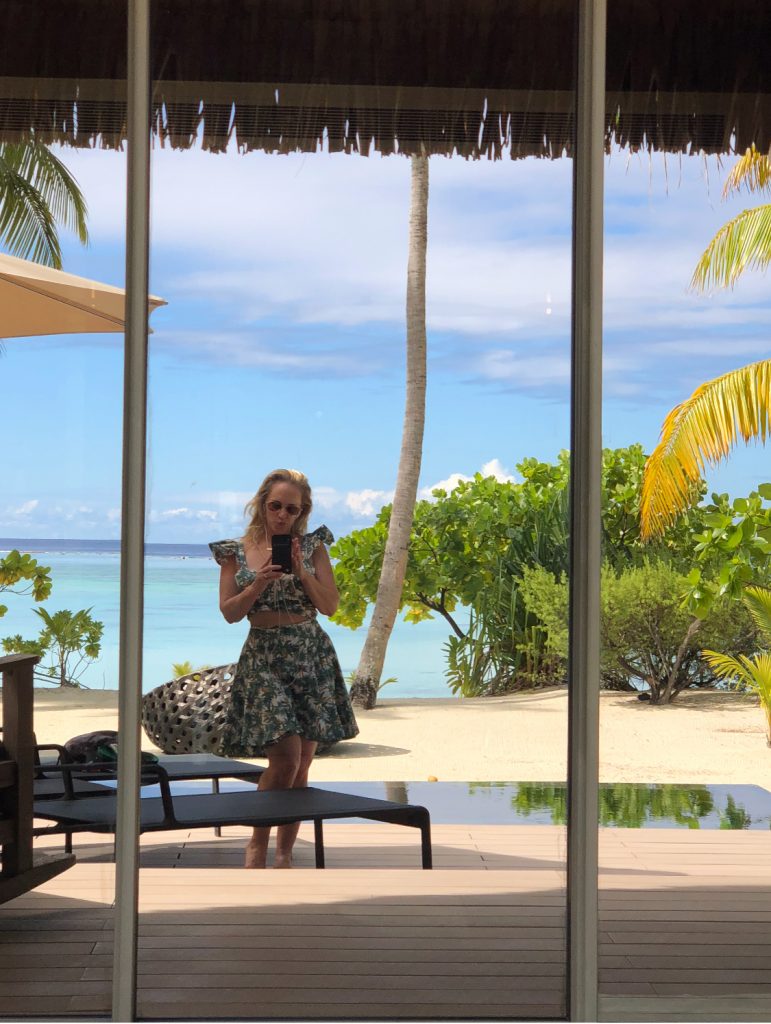 Obligatory selfie in paradise
All this South Pacific luxury does not come cheap. At the time of publication, rates for two people in one villa start at $2554.75. We had a lovely time at this resort and liked it enough to return.
The Brando
Teti'aroa Private Island, Arue Tahiti
P.O. Box 6014 Faa'a, 98702 Tahiti, French Polynesia
info@thebrando.com
Phone +689 40 866 300
Rates start for 1 bedroom villa (2 adults) start at :
$2554.75 villa and breakfast only
$3019.25 all inclusive