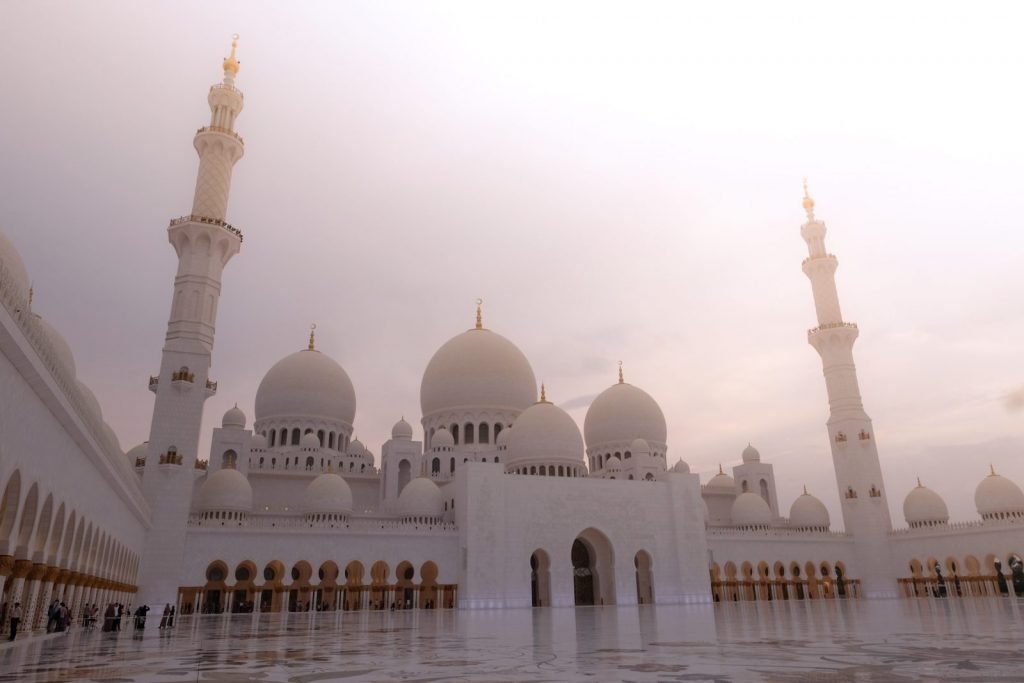 The Sheikh Zayed Grand Mosque in Abu Dhabi, UAE
Abu Dhabi's most iconic building is the Sheikh Zayed Grand Mosque. Built between 1996- 2007, the mosque is the largest in the UAE and the 8th largest in the world. It features more than 80 white domes and has a capacity of over 40,000 worshippers and guests. It cost an estimated 2 Billion Dirhams (US $545 million dollars) to complete.
It is also one of the most impressive buildings I've ever seen. It's as awe inspiring as the Taj Mahal and much easier to visit.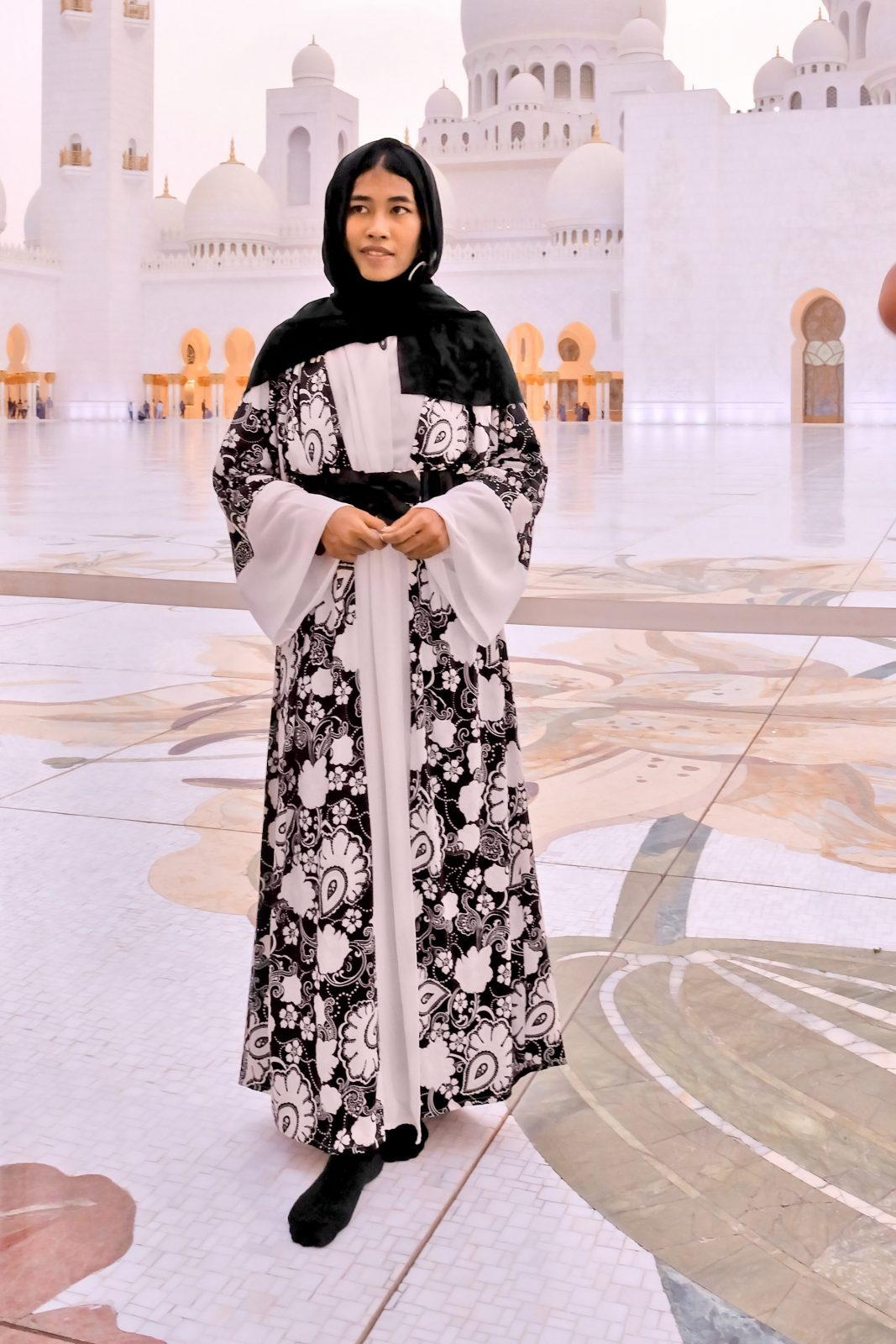 I'm hoping this stylish woman has a fashion blog somewhere
The complex is an exceptional example of Islamic architecture and was designed by Syrian architect Yousef Abdelky to "unite the world."  The mosque's design was inspiration from Persian, Moorish and Mughal mosque architecture.
Building the mosque required artisans from twelve different countries and more than 3,000 workers. Materials were sourced from many countries around the globe including India, Iran, Italy, Morocco, Pakistan, Turkey, Malaysia, Iran, China, New Zealand, the Republic of Macedonia and, of course, the United Arab Emirates.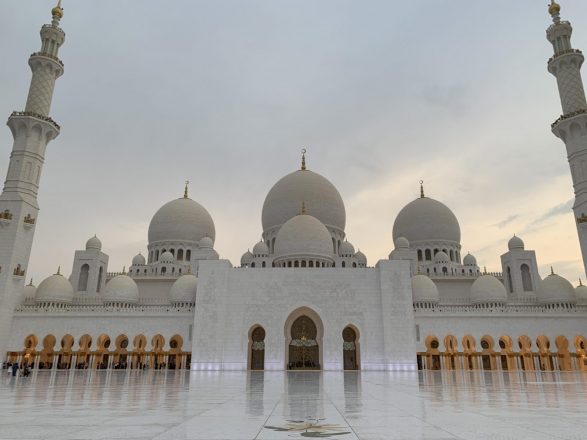 The Impressive central courtyard of Sheikh Zayed Grand Mosque
The mosque is home to the world's largest Persian carpet, which was hand knotted in Iran by 1,200 workers over a span of 12 months.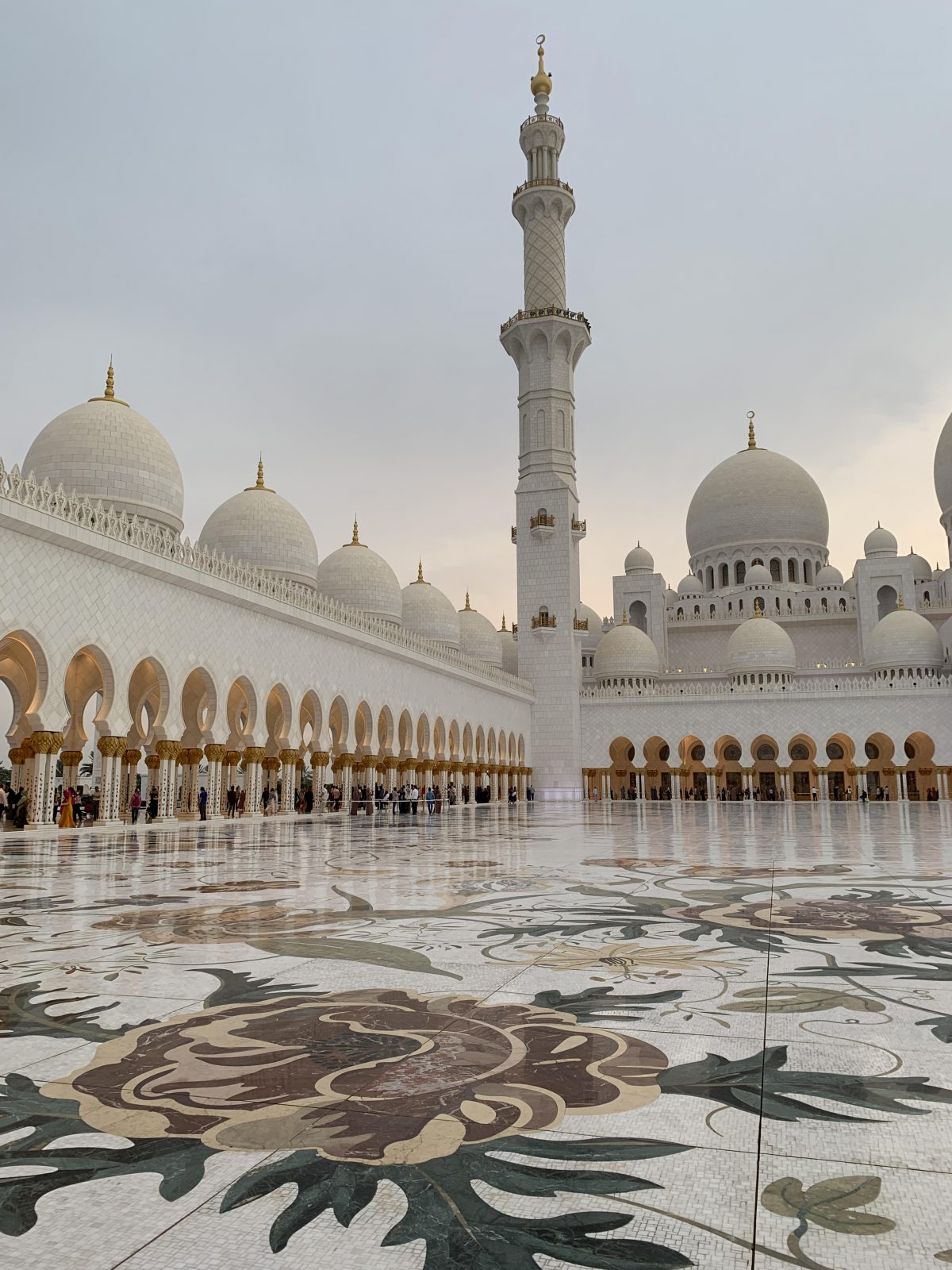 The gorgeous marble floor of the mosque
The mosque is also home of the some of the world's most impressive chandeliers. There are seven chandeliers in the complex, all made from gleaming Swarovski crystals.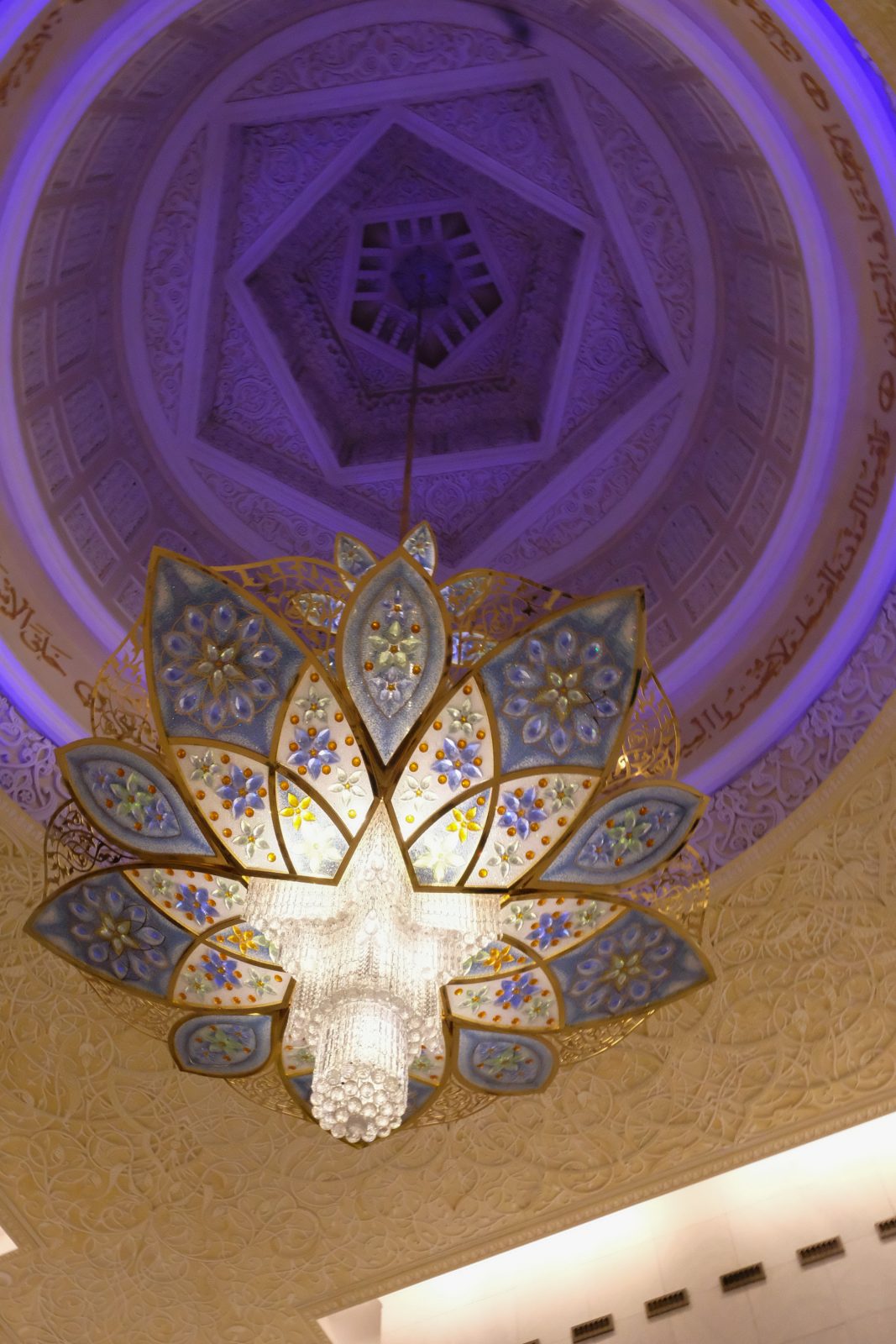 One of the gorgeous chandeliers at the Sheikh Zayed Grand Mosque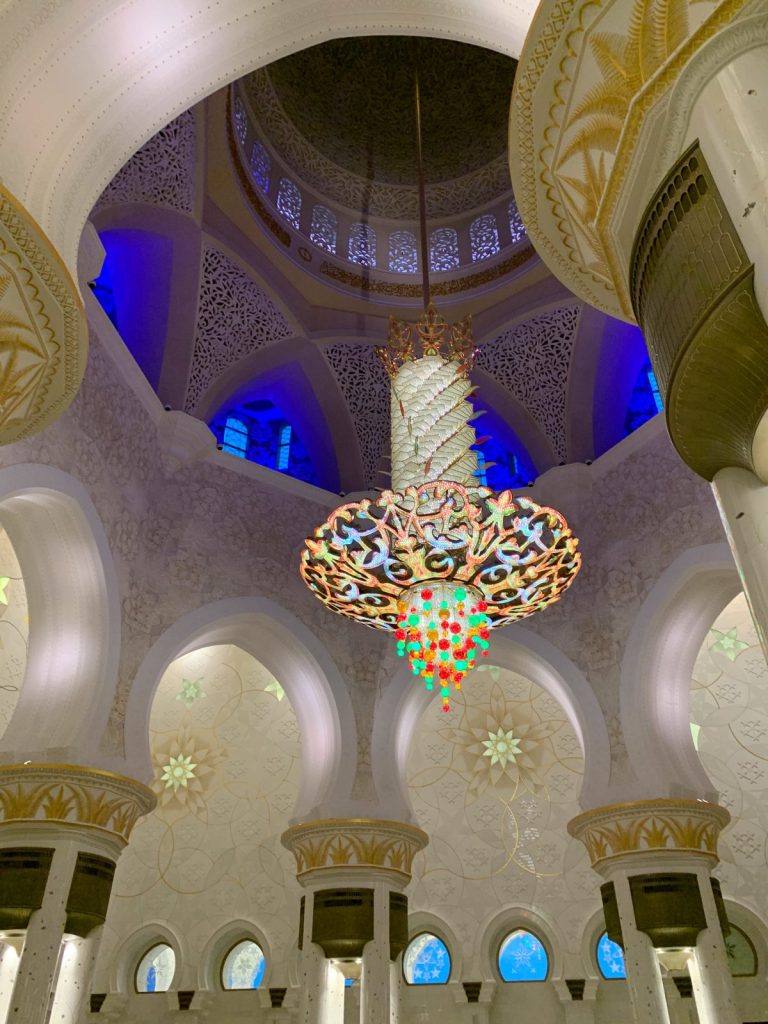 A colorful crystal chandelier at the mosque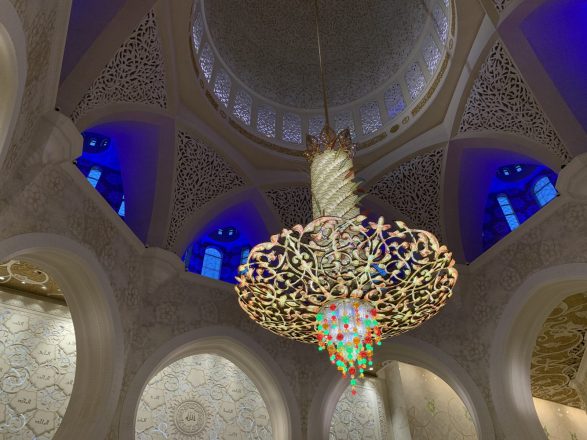 Large chandelier in worship hall
The Sheikh Zayed Grand Mosque's open door policy welcomes guests, which allows non-muslims to visit the this amazing building. Visitors must dress modestly or borrow clothing before entering. Don't let this deter you from visiting– if you are planning a trip to Abu Dhabi, the mosque is the one place not to be missed.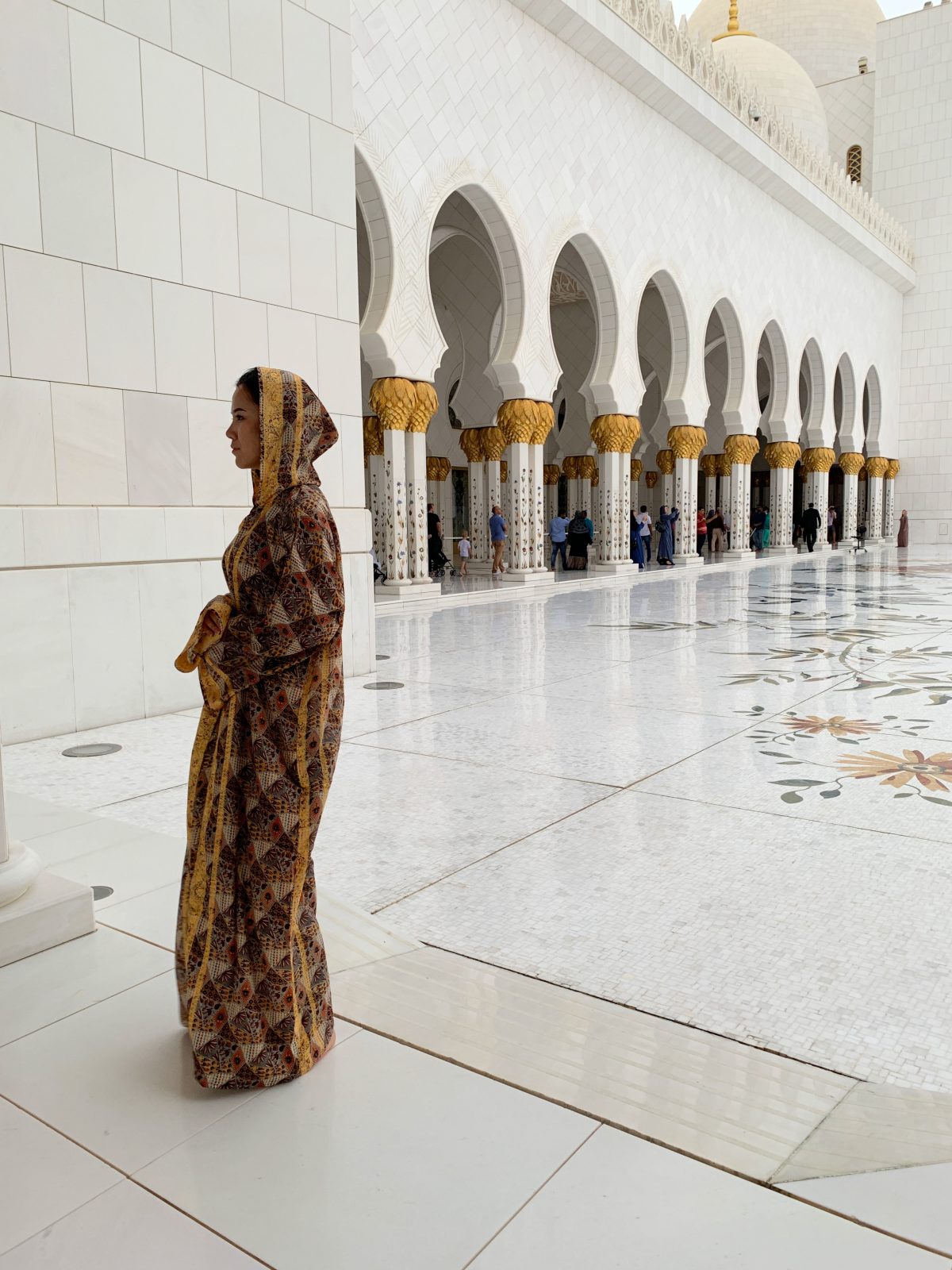 A visitor taking in the view
Visitors should note– they are serious about the dress code and behavior (Rihanna was once asked to leave once for posing for "disrespectful" photos).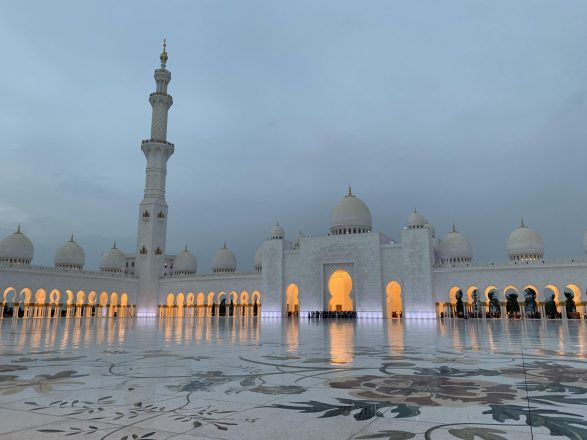 Dusk at the Mosque
The mosque is particularly beautiful at sunrise and dusk, and stunning when illuminated at night.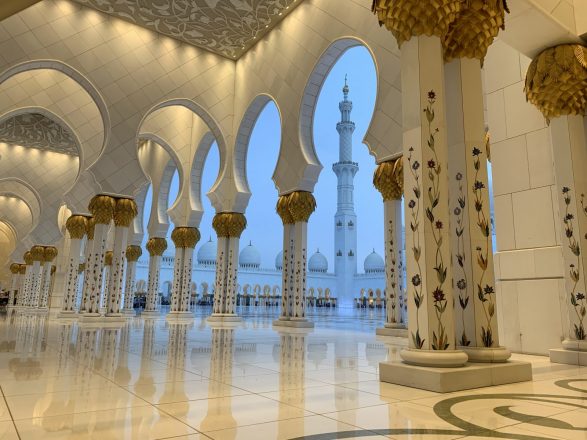 Arches along the courtyard
 During Ramadan, visiting hours are different and more limited for visitors.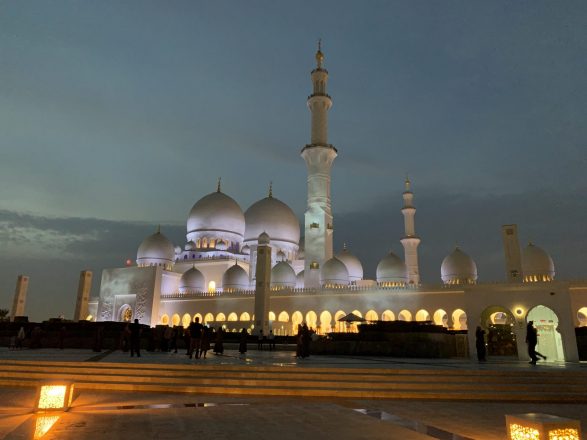 The mosque is beautiful when lit up at night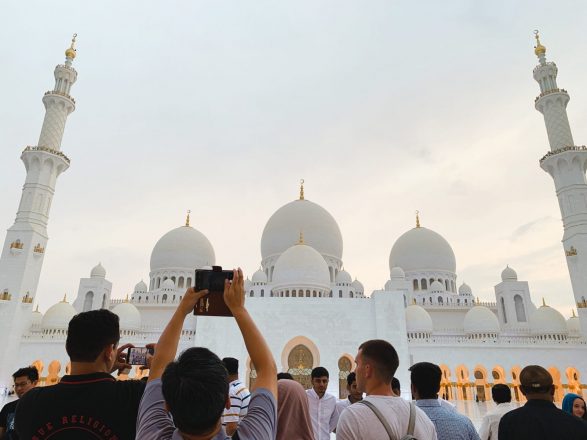 tourists attempting to get a great shot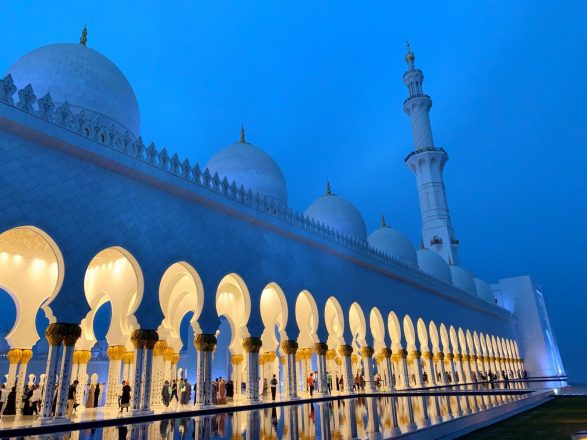 Blue hour at the mosque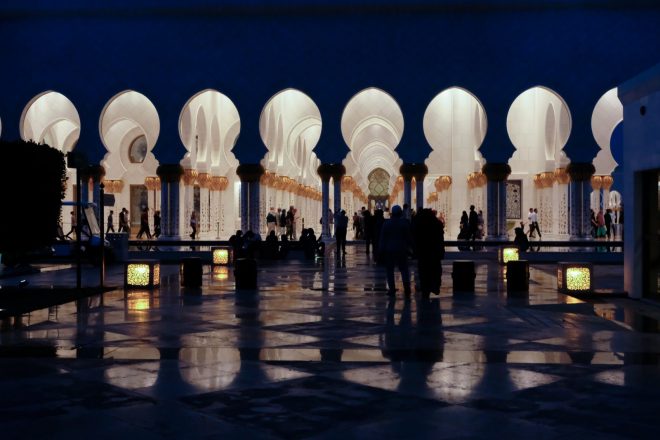 The Sheikh Zayed Grand Mosque at night
Sheikh Zayed Grand Mosque Center
General visiting hours are from Saturday-Thursday 9am to 10pm.
Mosque is closed for tourism activities (and open for worship) on Friday mornings, and reopens after 4:30 p.m. for visitors. Hours are different during the month of Ramadan.
Sheikh Rashid Bin Saeed St – Abu Dhabi – United Arab Emirates