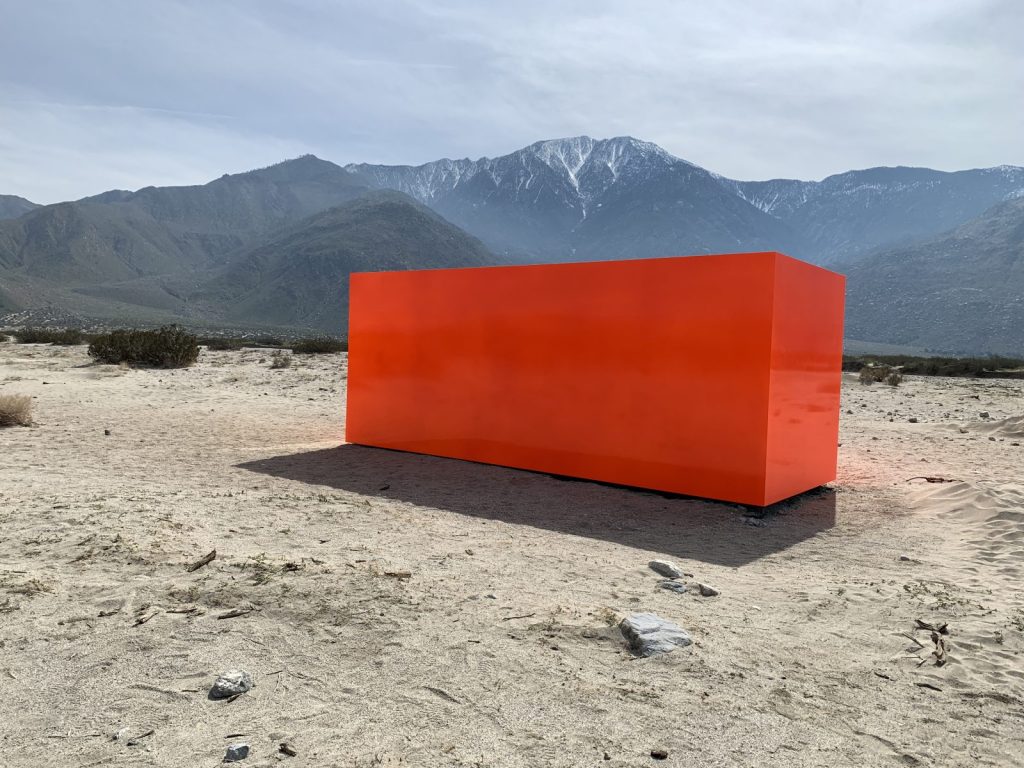 Specter by Sterling Ruby
There are so many reasons to head to the Coachella Valley in April.  My personal favorite is checking out the amazing temporary, site specific pop up art installations of Desert X, which runs through April 21, 2019. While not as well known as the valley's eponymous Coachella Festival, Desert X can add some cool and colorful culture to a trip to the desert.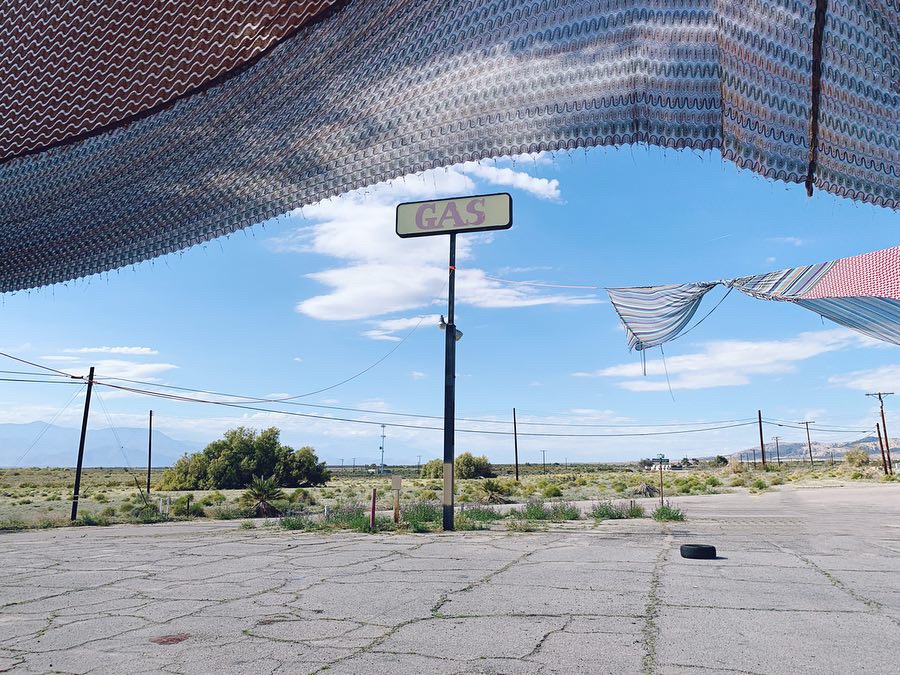 Halter by Eric N. Mack
Exhibitions are set up at different locations from North Palm Desert to the Salton Sea, and even one over the border in Mexico. While Desert X has shuttle service for tours of the art installations, for most visitors it's a choose your own adventure of interesting pit stops.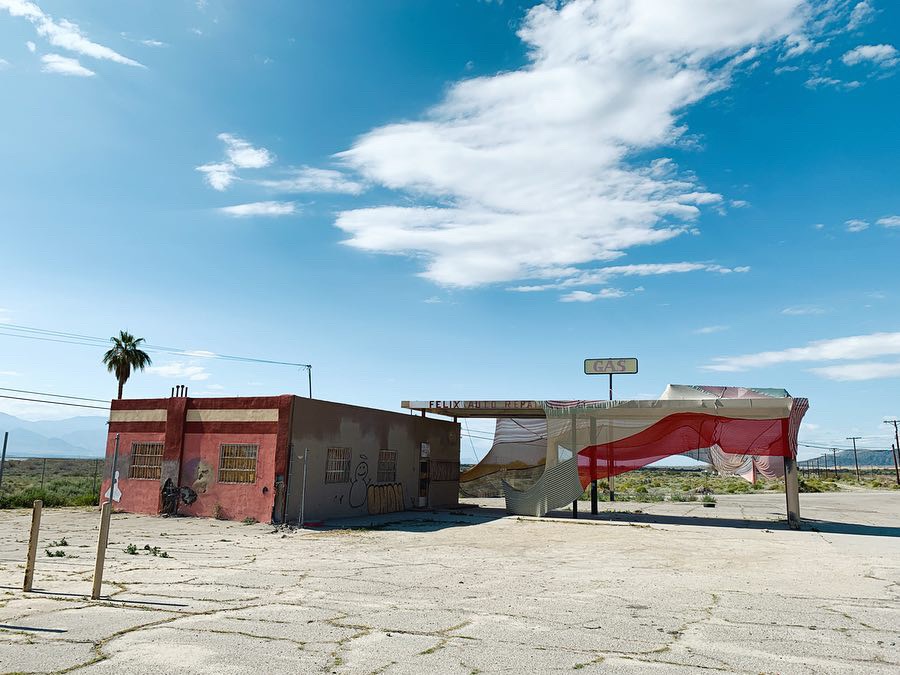 Another view of Halter
In the Desert Hot Springs area, it's worth seeing  Ghost Palm by Kathleen Ryan and wandering through the Going Nowhere Pavilion #1 by Julian Hoeber. Both these works have graphic lines and hard materials that work well against the desert landscape.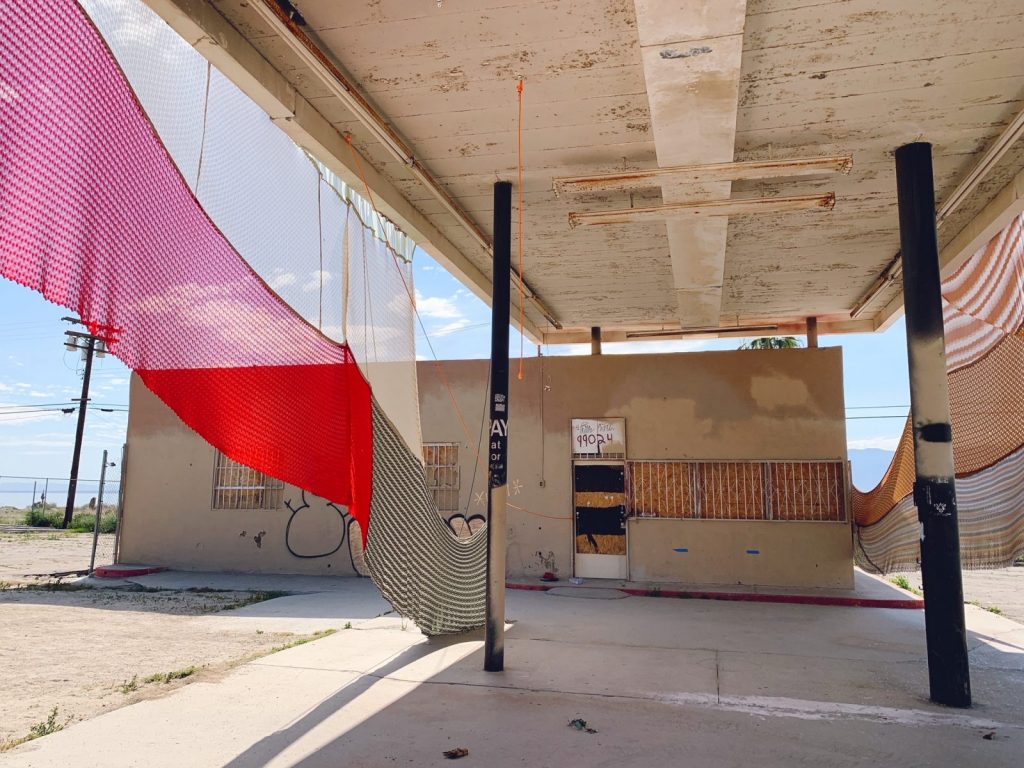 Halter by Eric N. Mack looks great with a bit of wind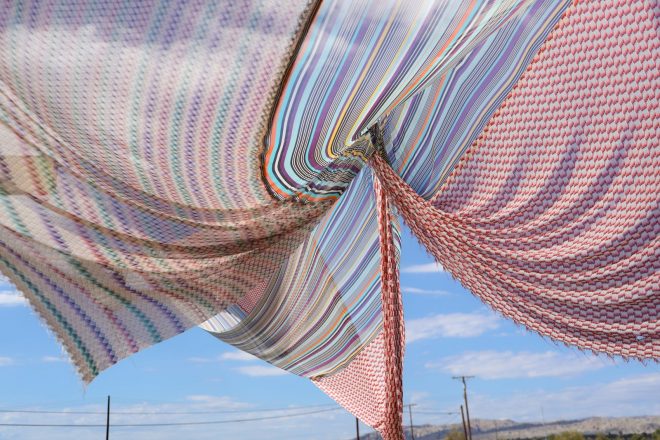 Halter's swirl of fabric
I particularly enjoyed Halter by Eric N. Mack, which is located in Mecca on the Salton Sea. The abandoned building draped in Missoni fabrics is both haunting and charming.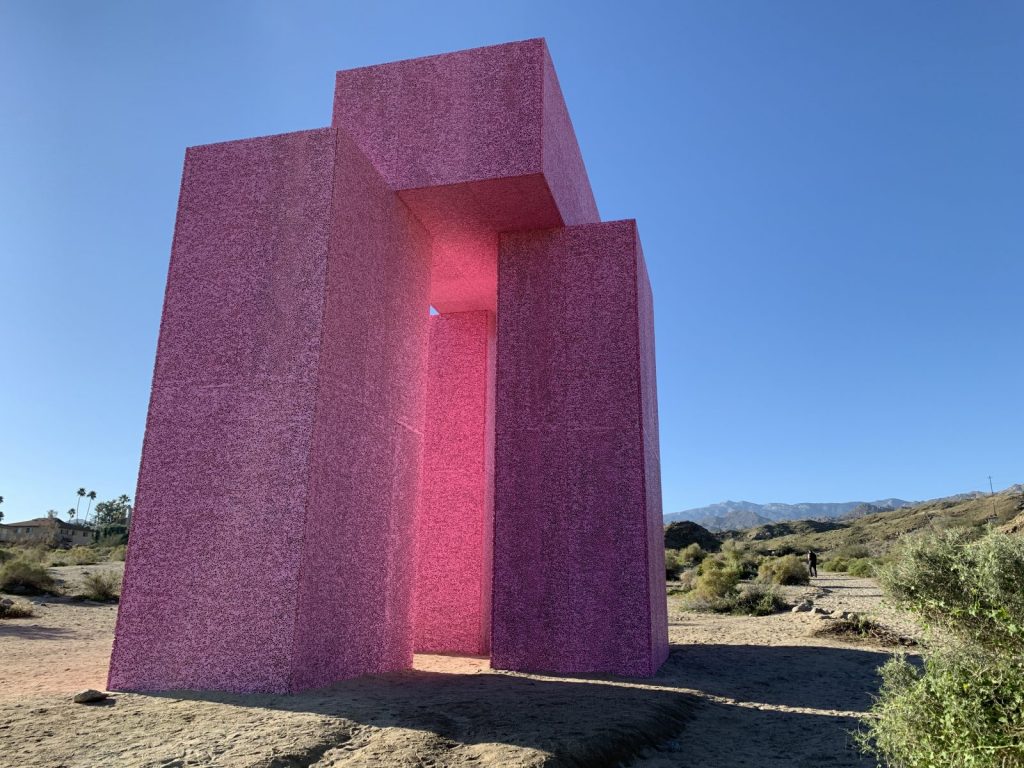 Sunshine on Dive In by Superflex
Be sure to wear closed toe shoes if you want to see any of the art installations up close. The desert landscape is rugged.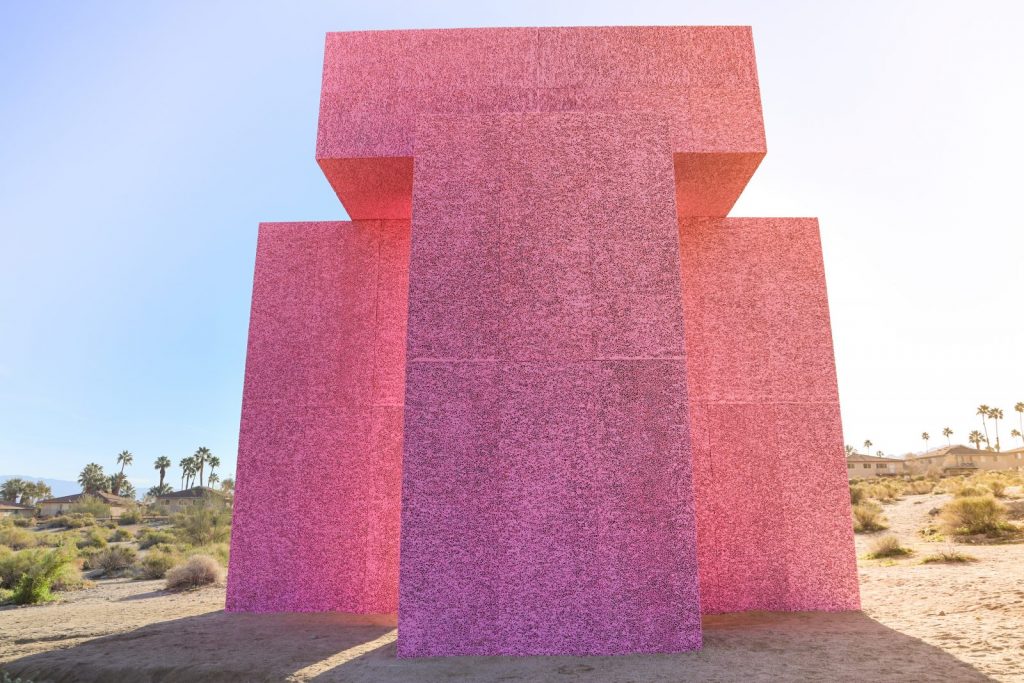 Pepto pink goodness of Dive In by Superflex
Dive In by Superflex is great all times of the day and night. In the morning it's Pepto pink walls are pretty and a fun place to stop on a walk through Cap Homme and Ralph Adams Park. Every Saturday from 7-9 pm there are projections on the installation.
SPECTER by Sterling Ruby
One of the most easily accessible installations is Sterling Ruby's Specter. Located just off the freeway on Snowcreek Road in Whitewater. You can see the giant orange monolith from the 111 Freeway. It's vibrant and surreal. This is an instagram hot spot, so be prepared for crowds or get there early.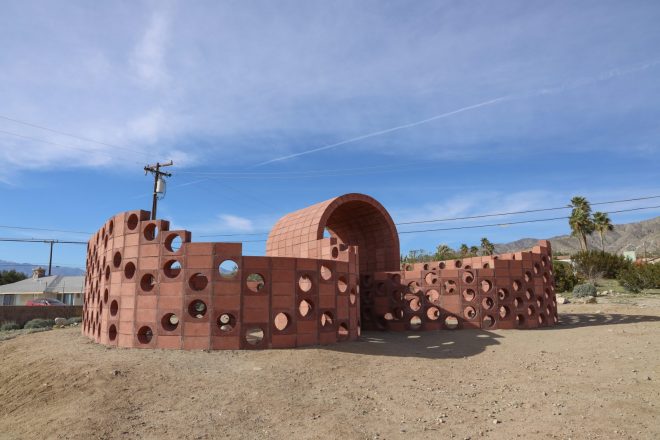 Going Nowhere Pavilion #1 by Julian Hoeber
Some of the works have night time and weekend projections, some are best viewed during daylight hours. But for anyone looking for things to do in the Palm Springs area, it's worth checking out at least a few of the installations.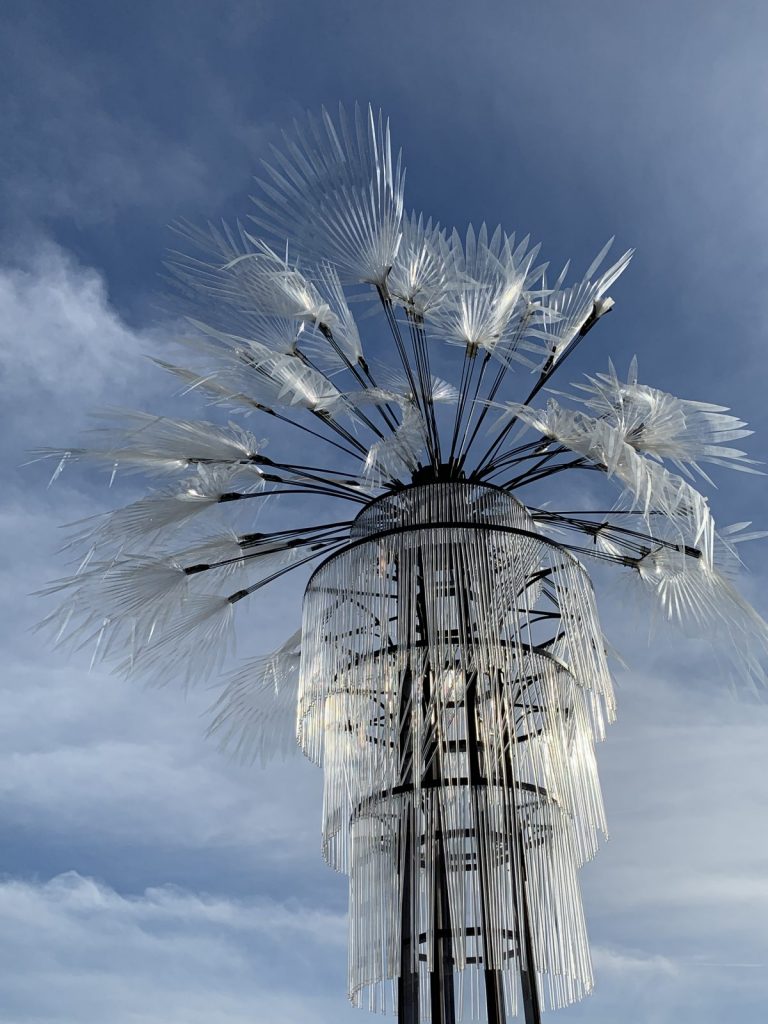 Ghost Palm by Kathleen Ryan
The exhibits in Palm Springs Proper are the easiest to visit and located in everywhere from unoccupied stores, bus shelters and billboards. It's worth downloading the Desert X app and Desert X Map on Google Maps so you can figure out what art is around you.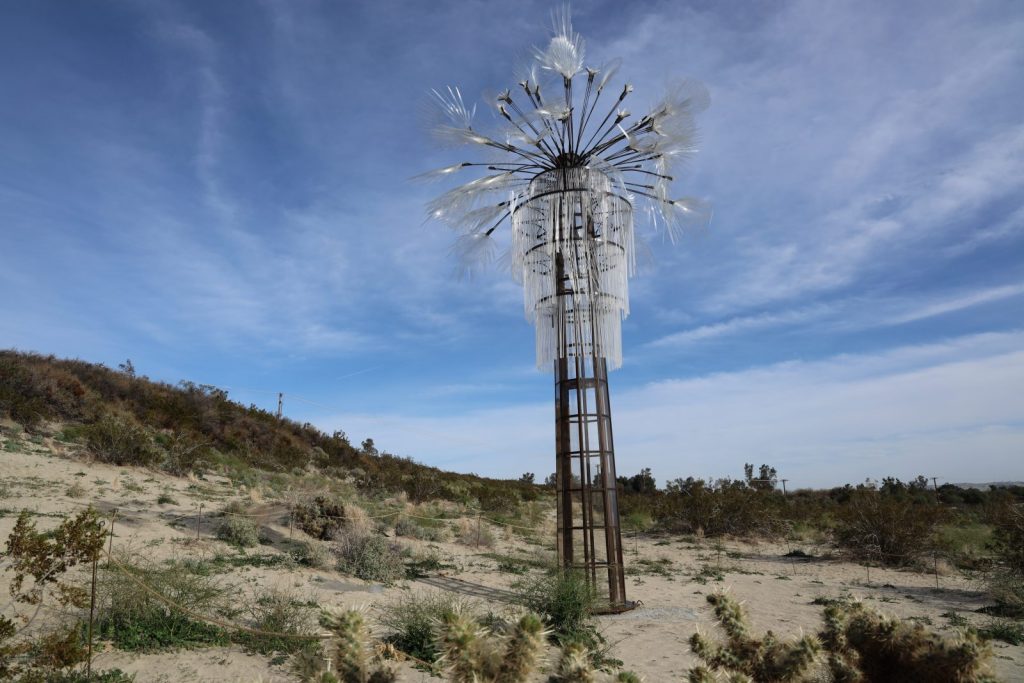 Another view of Ghost Palm
Desert X is free, funky and fun to explore. Desert X has hubs in Palm Springs, Palm Desert, and Indio.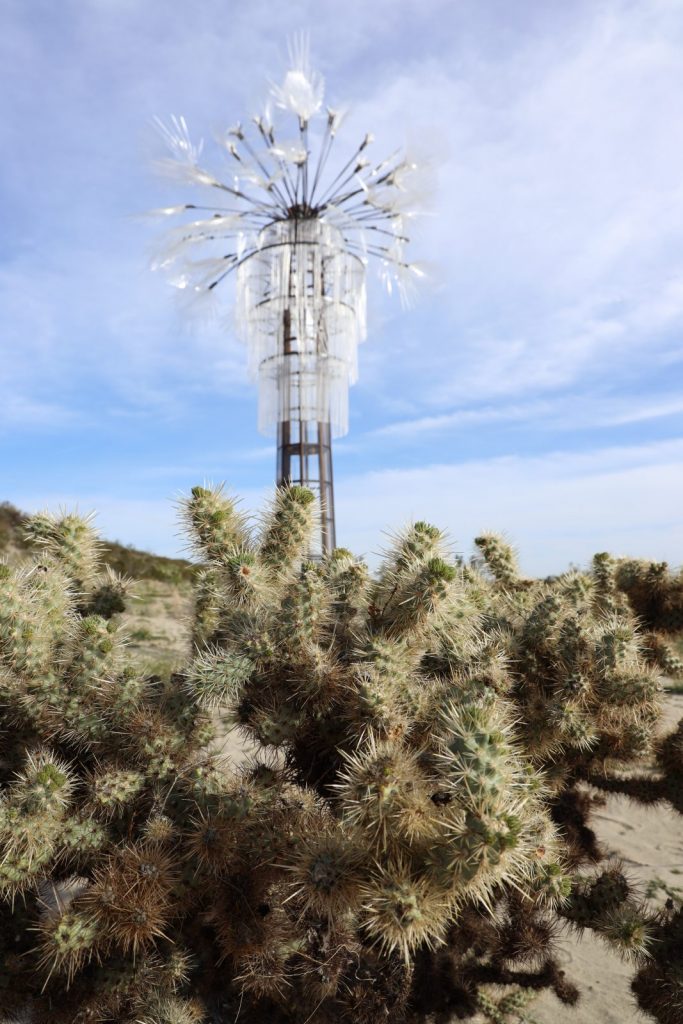 Cholla cactus and Ghost Palm
18 artists and collectives have contributed works and installations to the 2019 Desert X biennial event.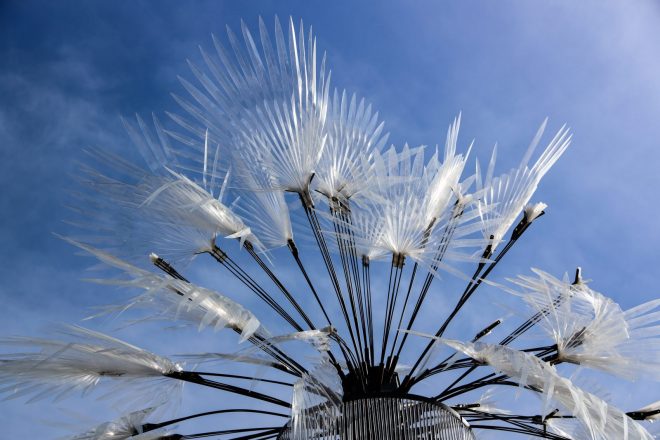 Plastic palm fronds on the more than 20 foot high Ghost Palm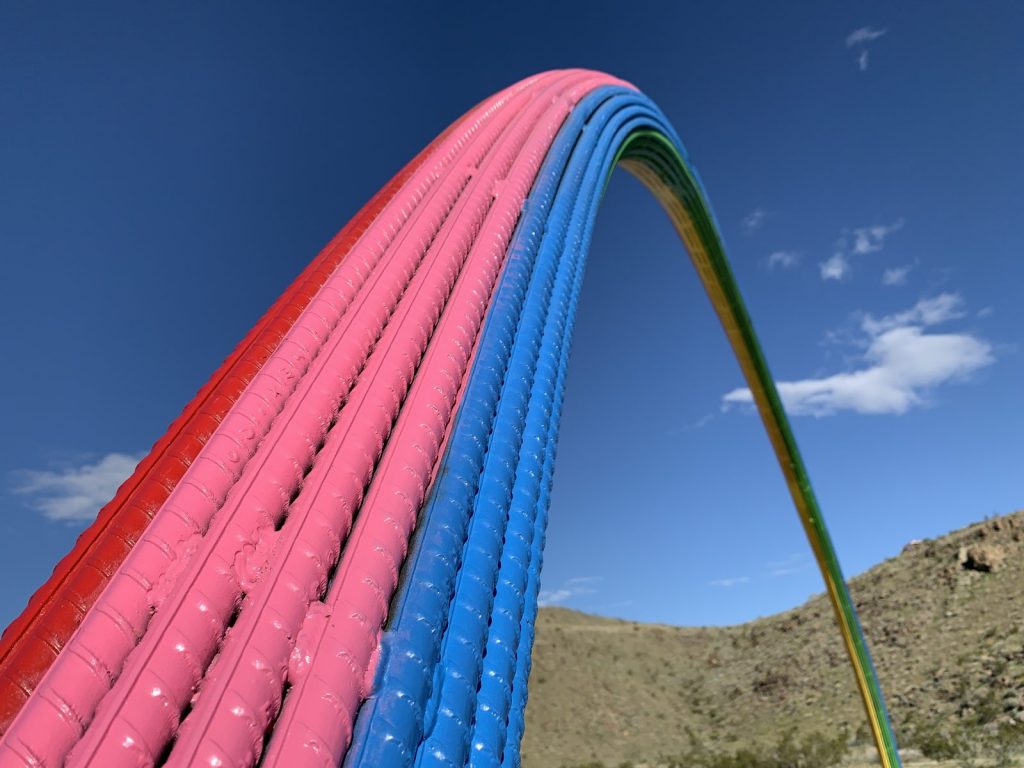 Lover's Rainbow by Mexican artist Pia Camil
Located in Rancho Mirage, Lover's Rainbow by Mexican artist Pia Camil is made of colorful re-bar and rock. The installation has an exact double located in Ensenada, Mexico.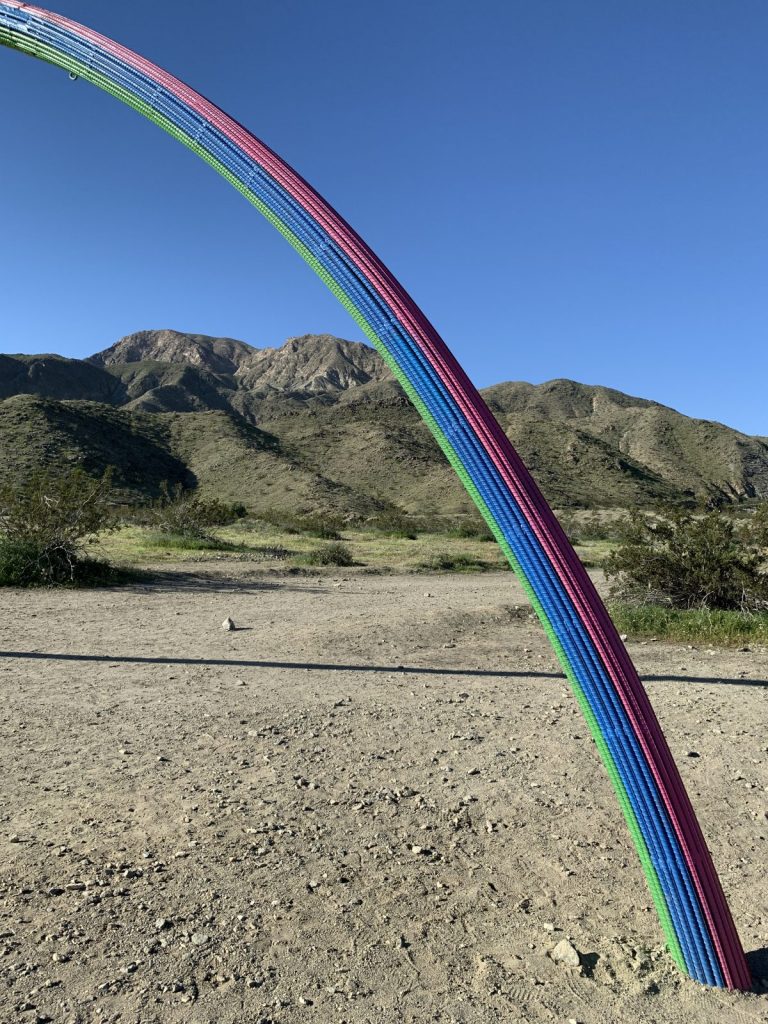 Somewhere under the Lover's Rainbow
For a $75 fee, Desert X has bus tours on Saturdays and Sundays through April 21st. Private tours can also be arranged. Check out the Desert X website for details.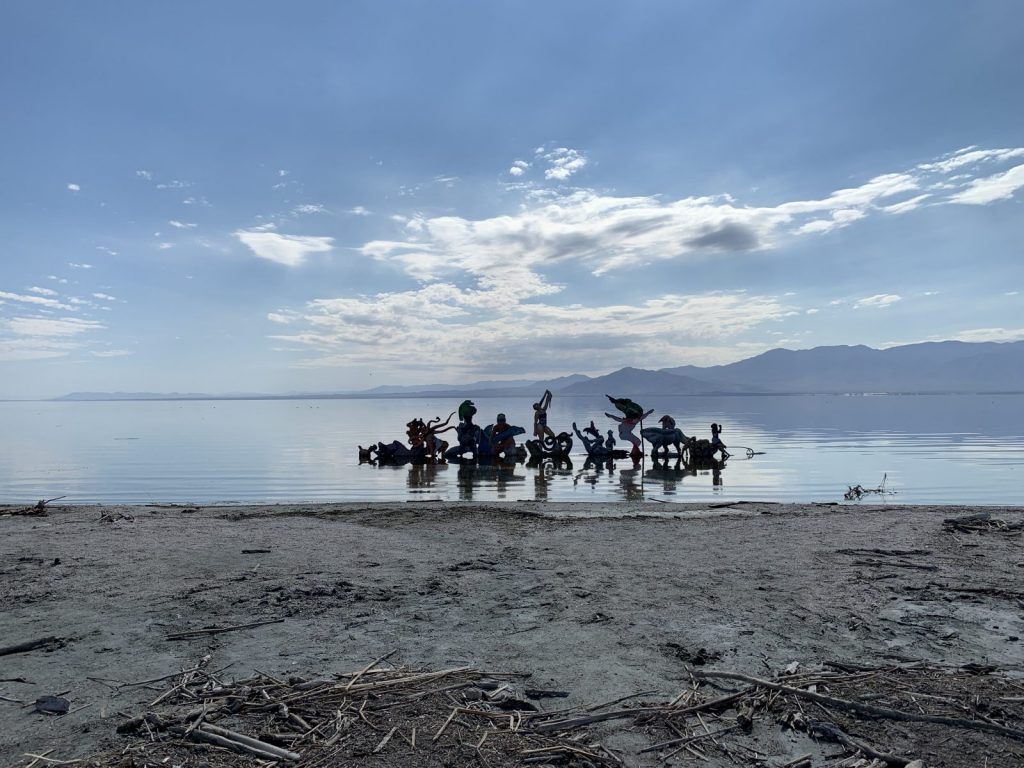 Cecilia Bengolea's Mesquito Net in the Salton Sea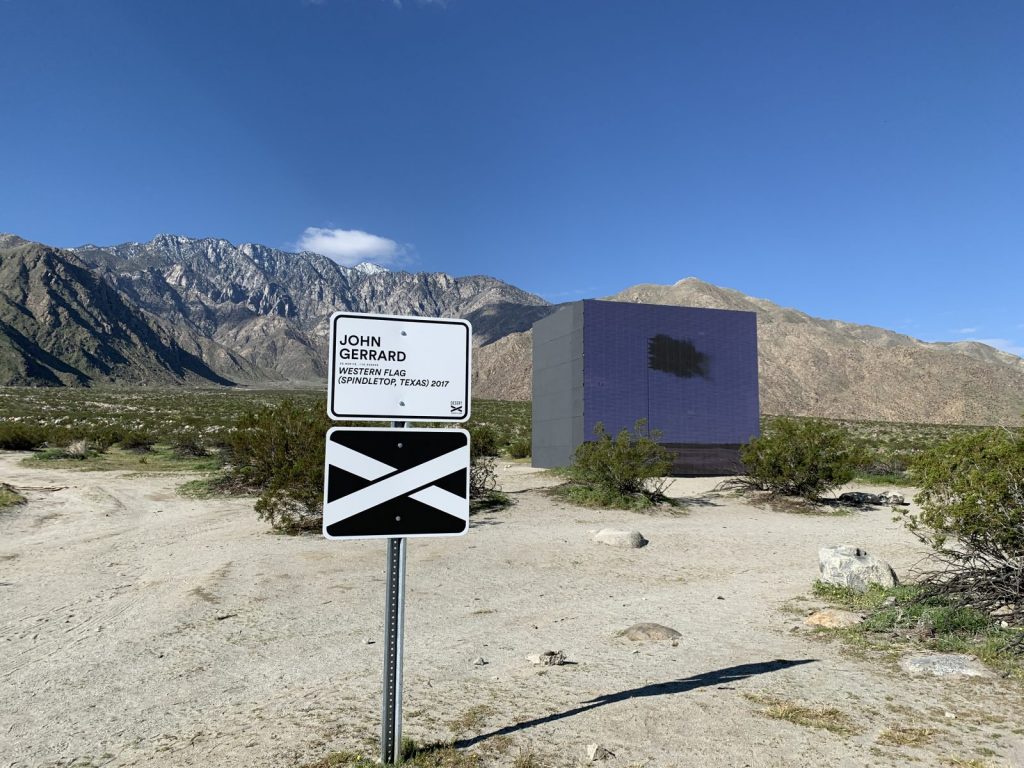 Western Flag by John Gerrard
John Gerrard's Western Flag is one of the easiest works to visit. It's a two minute walk from the Palm Springs Visitor Center on North Palm Canyon Road.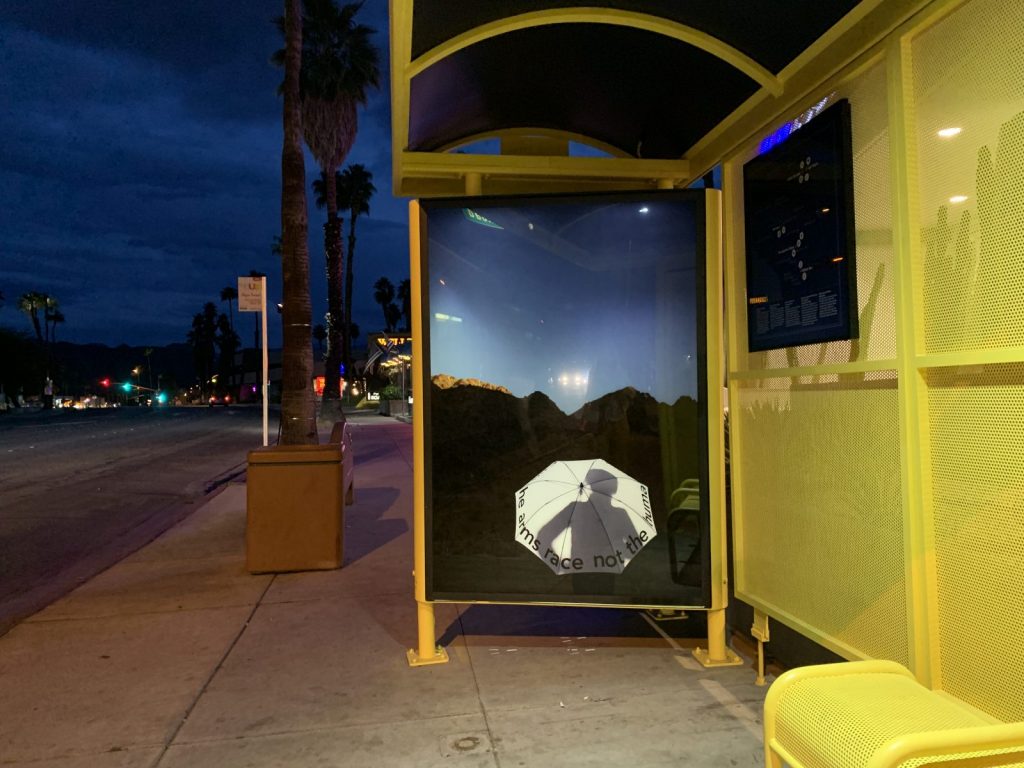 Mary Kelly's Peace is the only Shelter
Desert X 2019
February 9th through  April 21, 2019
Mutiple locations throughout the Coachella Valley
Desert x is free and open to the public
Download the free Desert X App
Desert X 2019 Map on Google
Desert X Hubs
Ace Hotel & Swim Club, Room 119
701 E Palm Canyon Drive
Palm Springs Ca 92264
Wednesday – Sunday 10am–5pm
73660 El Paseo
Palm Desert Ca 92260
Friday And Saturday 11am–5pm
Sunday 12pm–5pm
82713 Miles Avenue
Indio Ca 92201
Friday – Sunday 9:30am–4:30pm