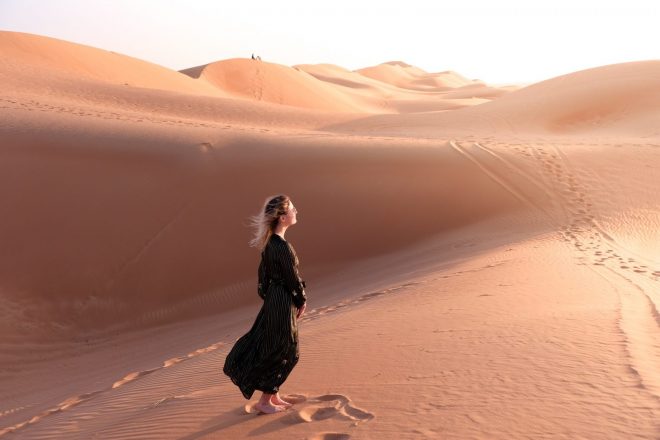 Ana exploring the Sharqiya sands region of Oman 
It's always fun exploring a new country and while I enjoyed Muscat and the mountains of Jebel Akhar, by far the most memorable time I spent in Oman was glamping in  the desert. I spent a night at the Deserts Night Camp and, if I were to plan the trip again, I would have spent at least two nights exploring this very beautiful Wahiba Sands/Sharqiya Sands area of the country.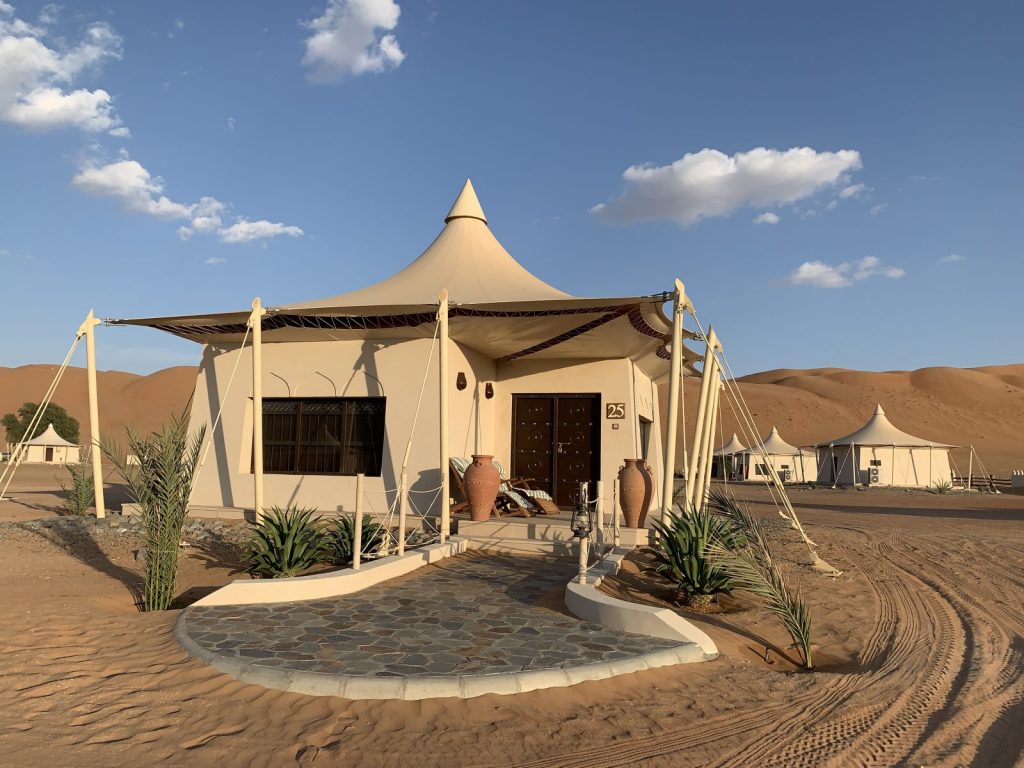 Exterior of the accommodations at Desert Nights Camp
Located about two hours outside of Muscat in the Wahiba Sands/Sharqiya sands area of the Omani desert, Desert Nights Camp features Bedouin-tent inspired accommodations with all the modern conveniences. It's desert glamping at it's finest. I thought the outlet placement in my room here was more thoughtful than that in the five star luxury hotel rooms I had in Muscat.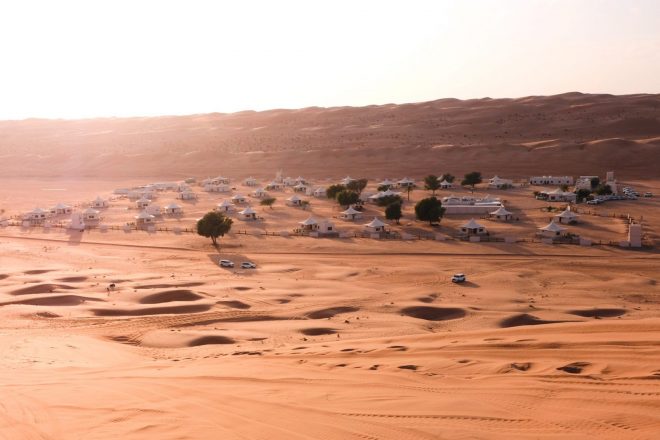 first glimpse of Desert Nights Camp in Oman
The resort's vibe has been described as "Shabby Sheikh." it's important to note that guests who want to party are better off staying in the UAE.  While beer and wine are available at the resort, my visit was over the National holidays and alcohol was only available from the less than speedy room service. Everything about Oman is more chill and low key than in the UAE.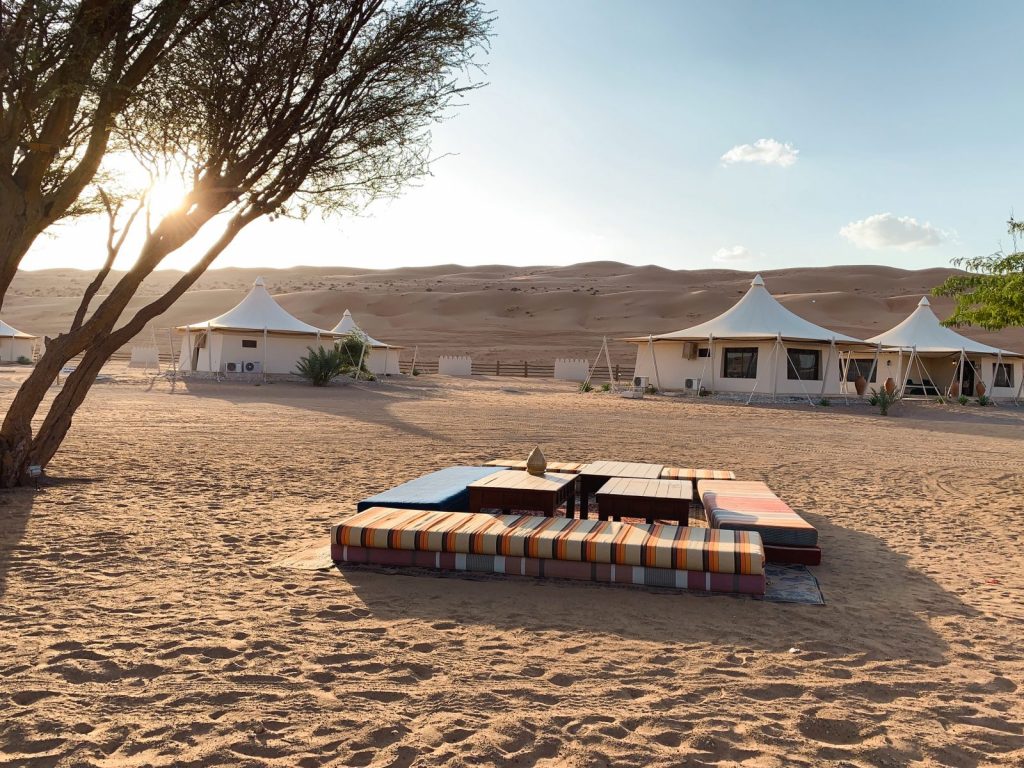 Atmospheric area at Desert Nights Camp
Bathroom facilities were modern and featured more than enough hot water. Heating and A/C were effective and up to the task. There isn't much to do at the resort, although there are on-site camel rides and lounging areas. But most guests arrive after exploring the surrounding areas.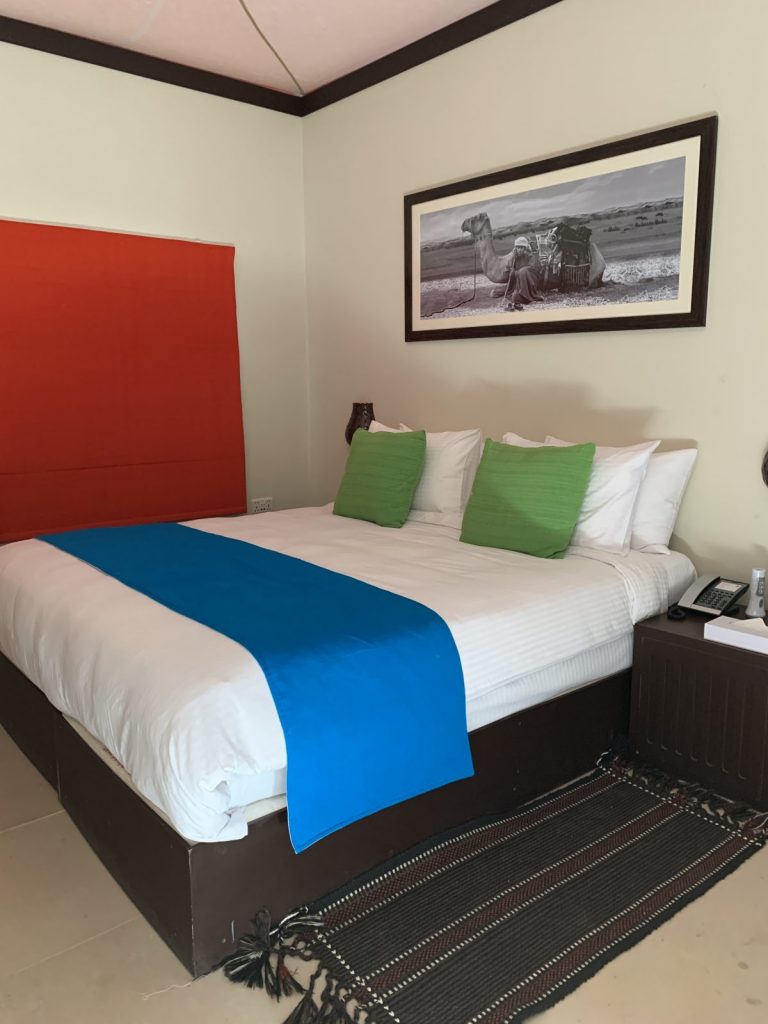 Interior of my tent-style accommodations at Desert Nights Camp
This part of the country is completely devoid of light pollution and is an excellent spot for stargazing (weather permitting).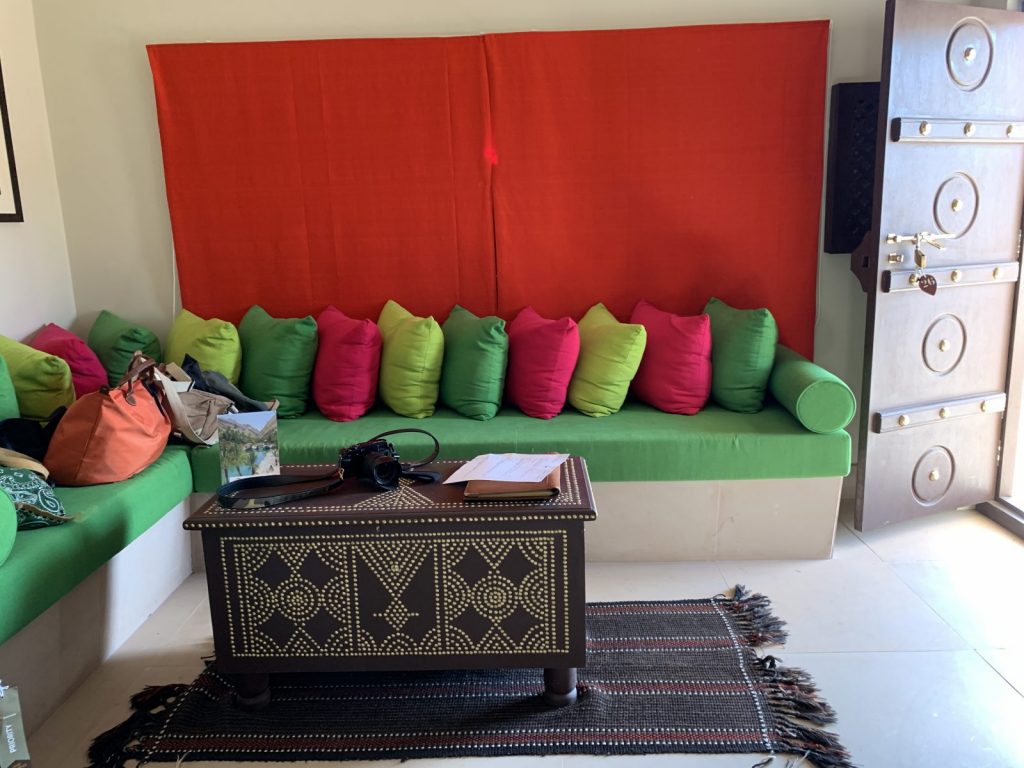 Desert Nights Camp Colorful interior 
Deserts have a weird, desolate beauty which I have always responded to and Oman's desert was no exception. Desert Nights Camp is really magical at dusk and dawn. At dusk shuttles run guests to the top of a nearby dune where they can watch the sunset in the desert.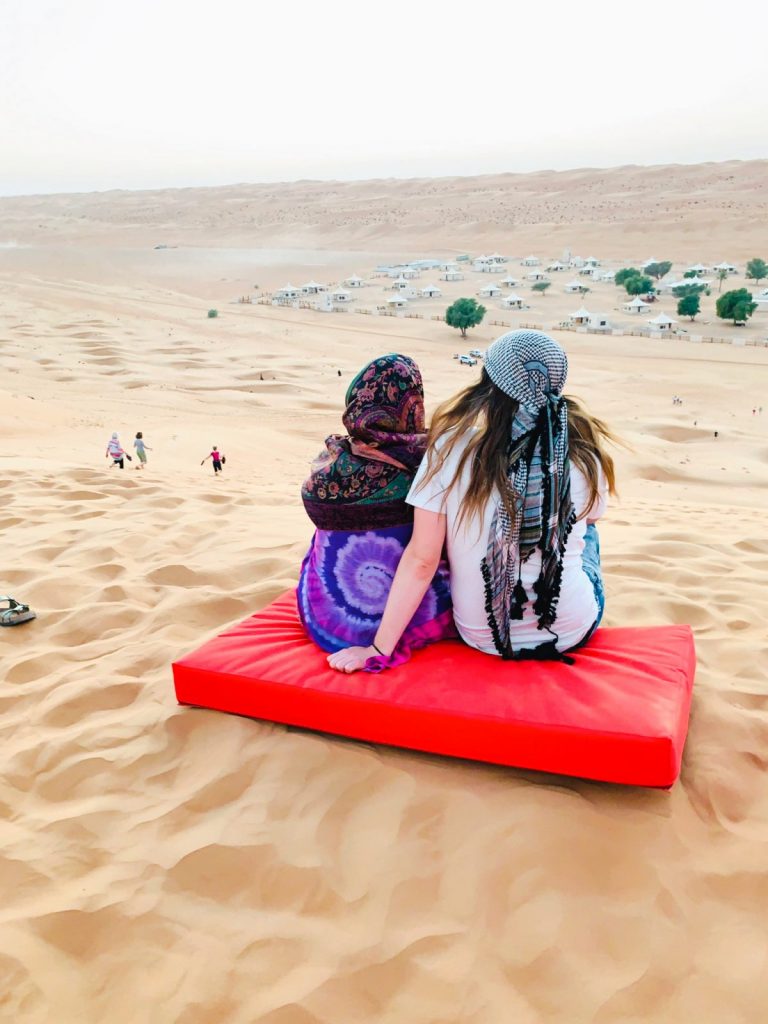 guests enjoying the view before sunset
Playing in the sand dunes is quite fun and surprisingly exhausting. It's amazing how hard it can be to wear shoes and walk in the sand. The sunset views were so magical, we arranged a private sunrise tour through the hotel as well (stay tuned for a future post).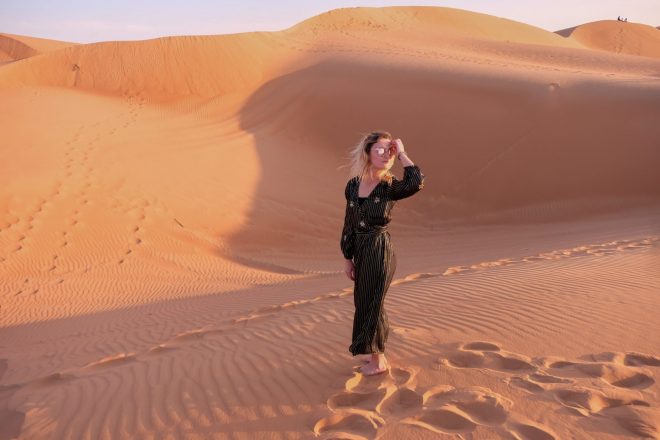 Ana of Arabia
Visitors to the desert come for a couple of activities, including camel rides, star gazing and dune bashing. Dune bashing is a not-to-be-missed activity in these parts, and popular with both locals and visitors. Navigating the sand dunes peaks and valleys requires a SUV, driving skill, guts, and letting some air out of your tires. It's a great activity where you want to rely on a local's expertise and its a lot of fun and an activity that should not be missed when visiting the Arabian desert.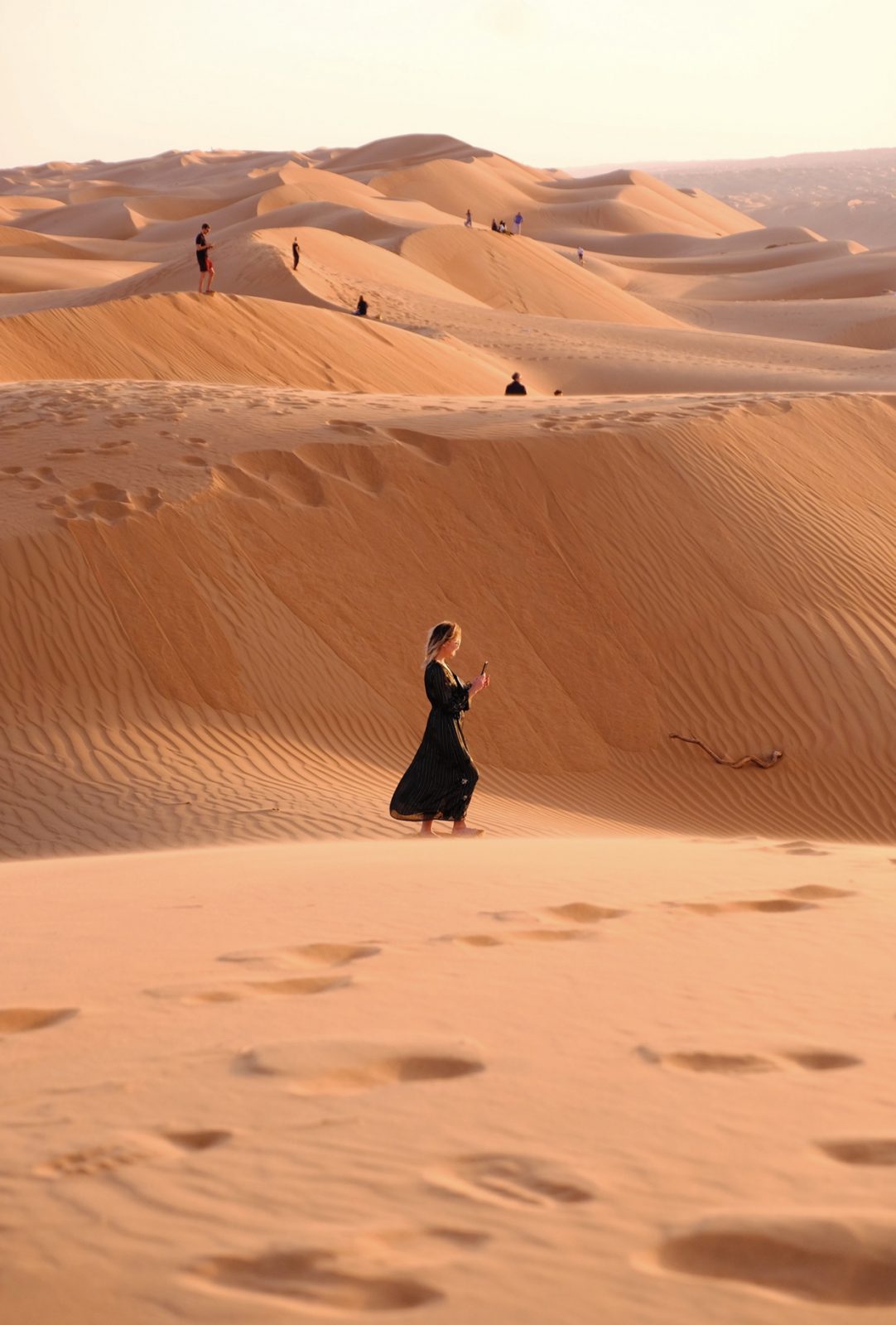 Exploring Wahiba Sands
Not all sand is created equal, and the stuff in Wahiba Sands is insanely silky soft, fine and a really gorgeous color.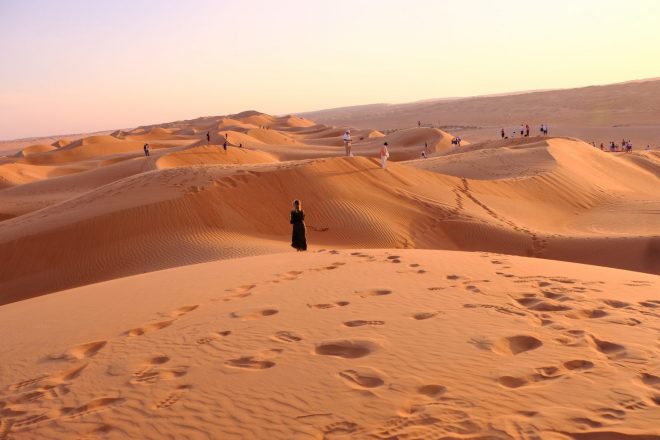 Before sunset
The dunes of Oman look like scoops of mango ice cream in the desert light.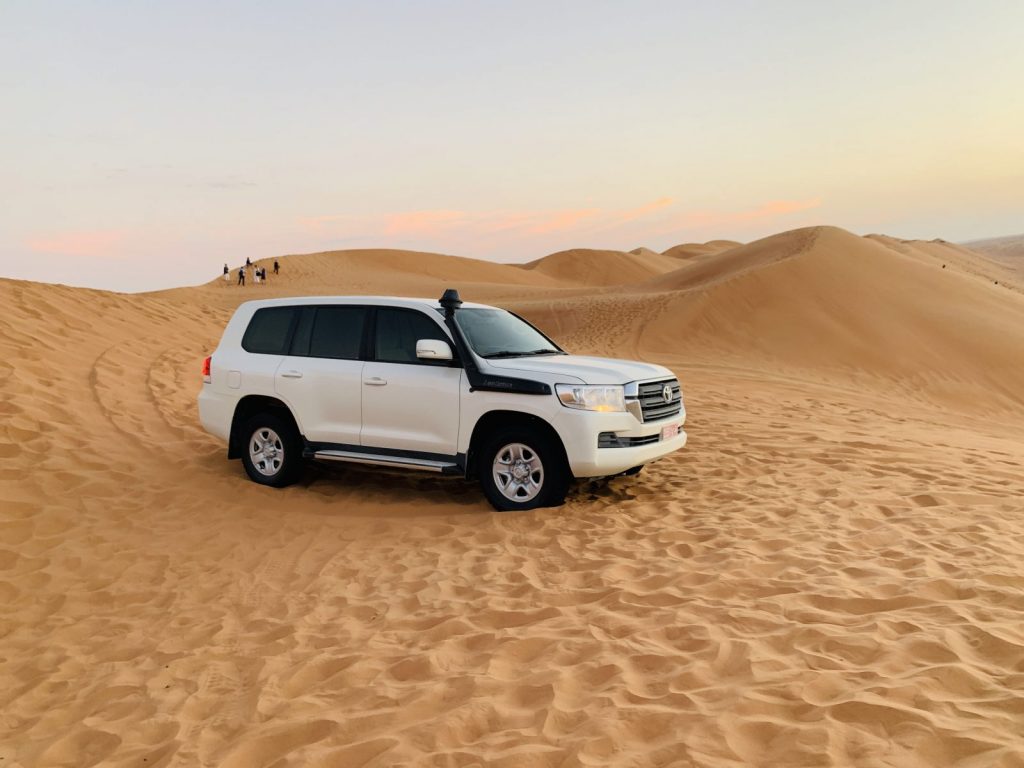 Dune bashing vehicle
Pro Tip: be sure that your windows are fully closed before dune bashing or the interior of your vehicle can get messy!
Dune bashing in Oman
Dune bashing is very exciting and thrilled in real time, and kind of sexy and cool in slo-motion.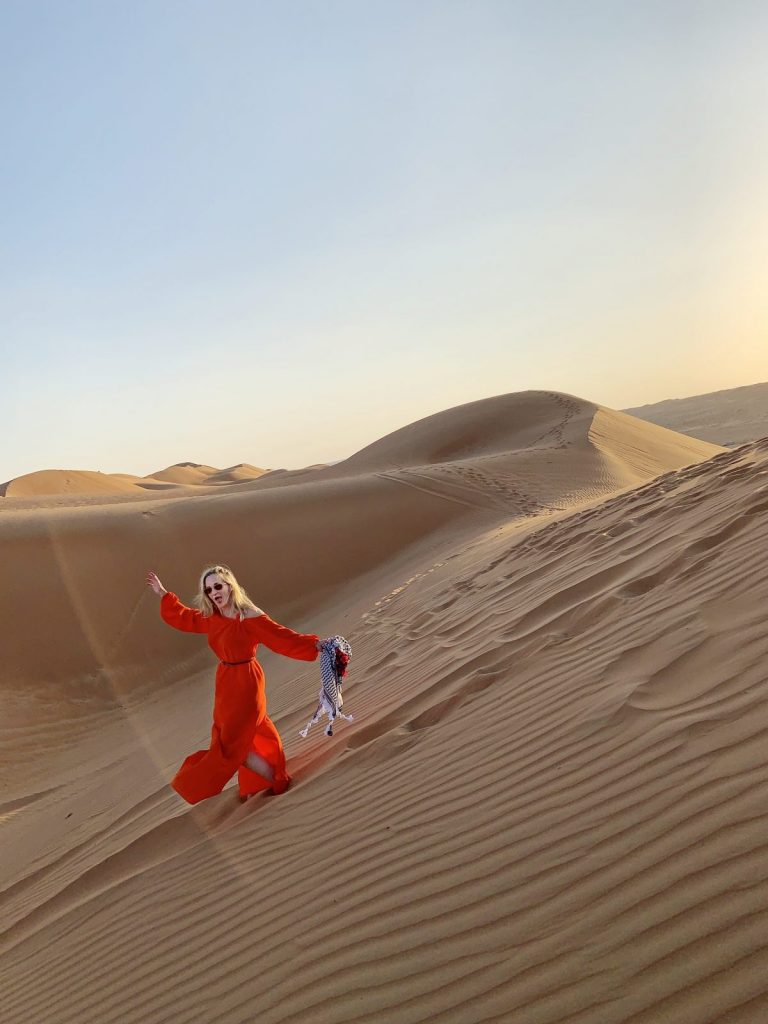 Playing in the dunes
Most of the drive from Muscat to the Sharqiya sands area is painless if uninspired. But the fun really begins once you get off the highway, let some air out of your tires and drive up and down the dunes.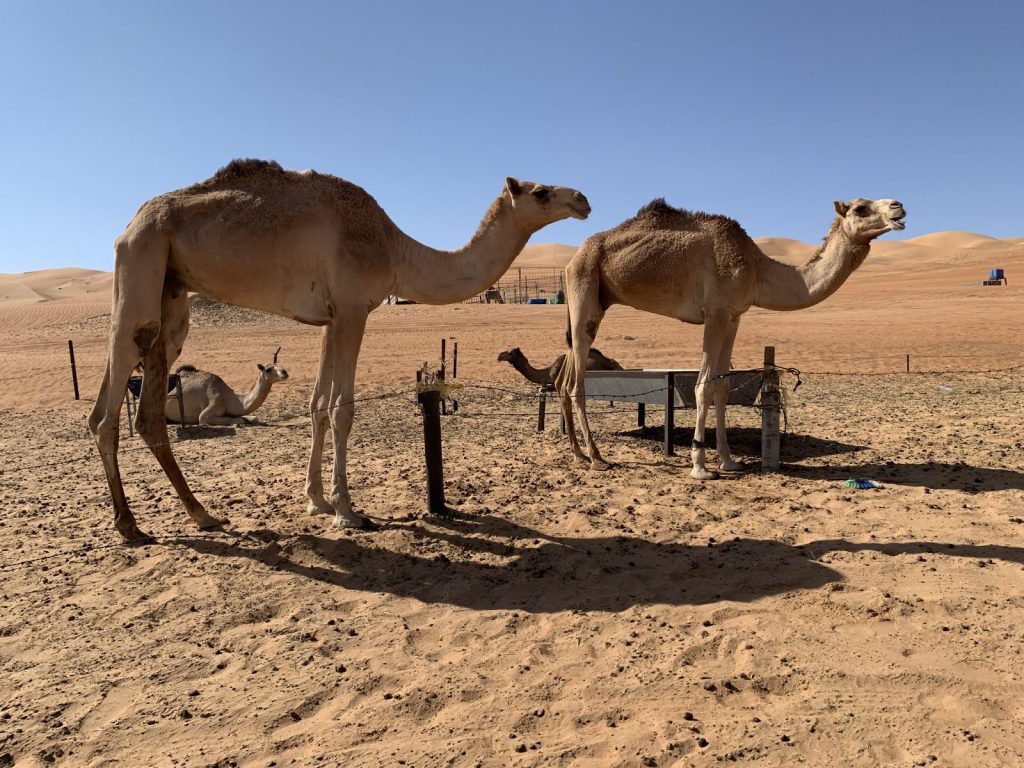 Camels are the bird scooters of the desert
Camel rides are complementary for hotel guests.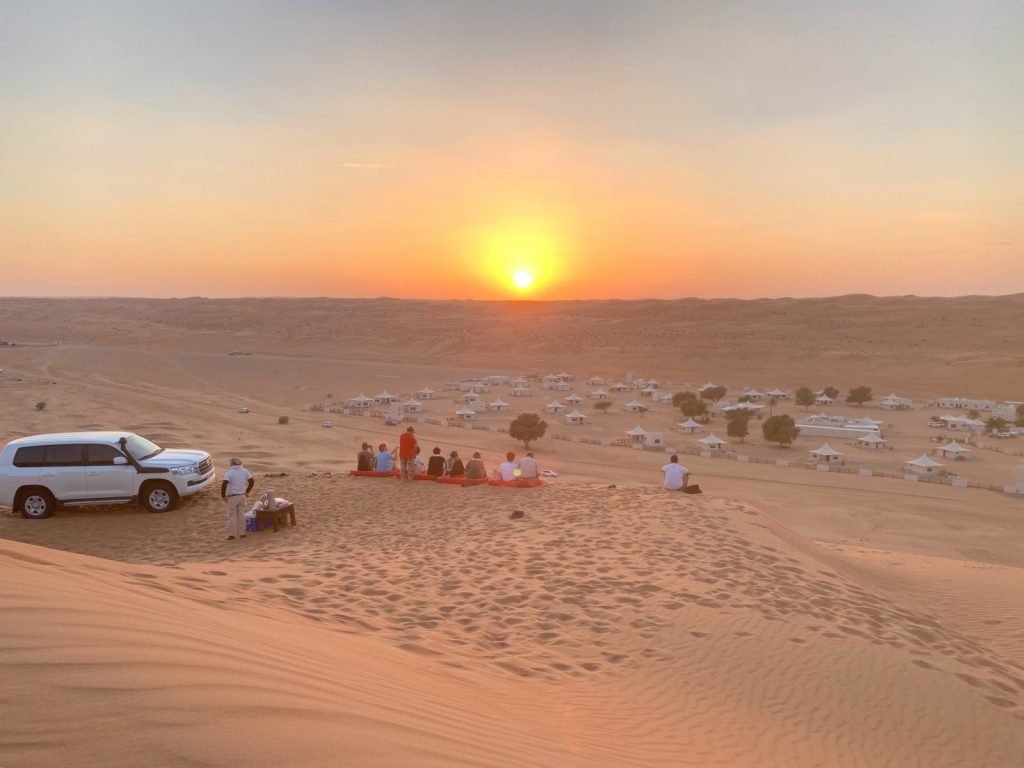 Sunset views over Desert Nights Camp
Food at Desert Nights Camp was good. Meals were buffet style and there were a lot of options for the dinner and breakfast service I experienced. The food was tasty, seasonal and satisfying. There were healthy options and enough dessert options to satisfy those with a sweet tooth.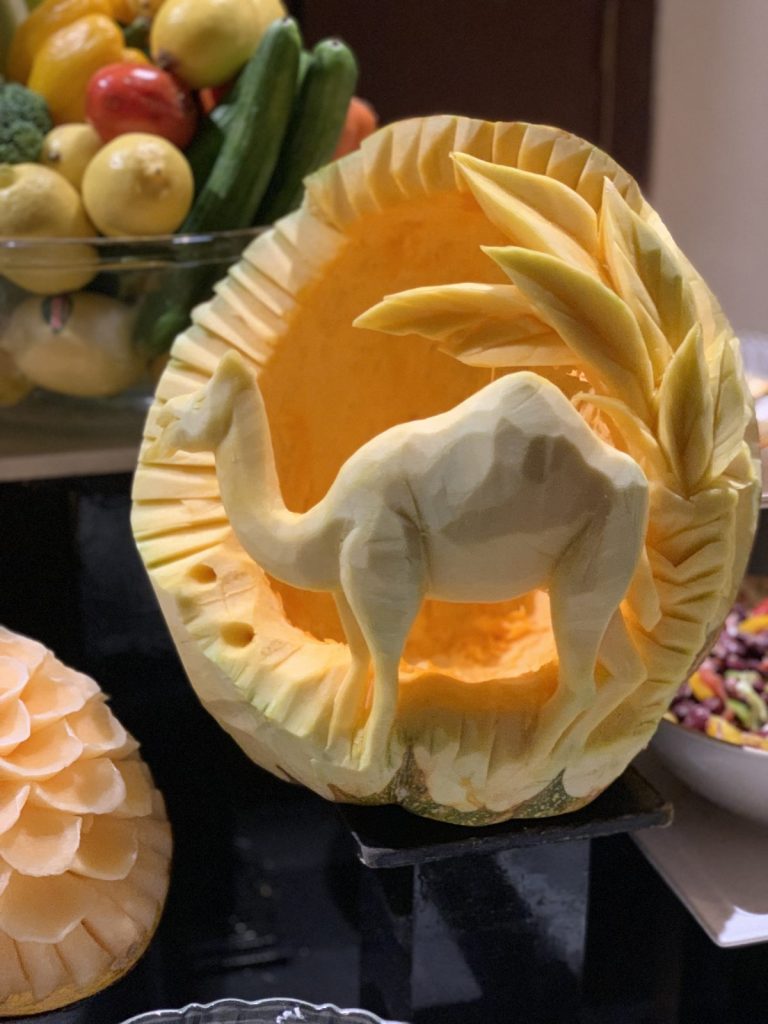 camel carved in cantaloupe
The camel carved into a cantaloupe on the buffet was a nice touch.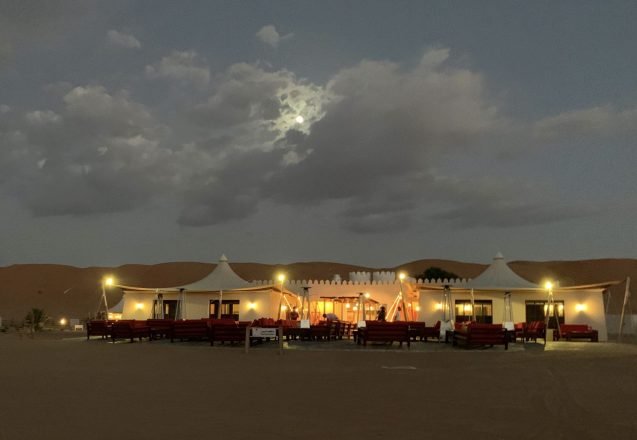 Desert Nights Camp at dusk
The restaurant at Desert Nights is also open to non-guests.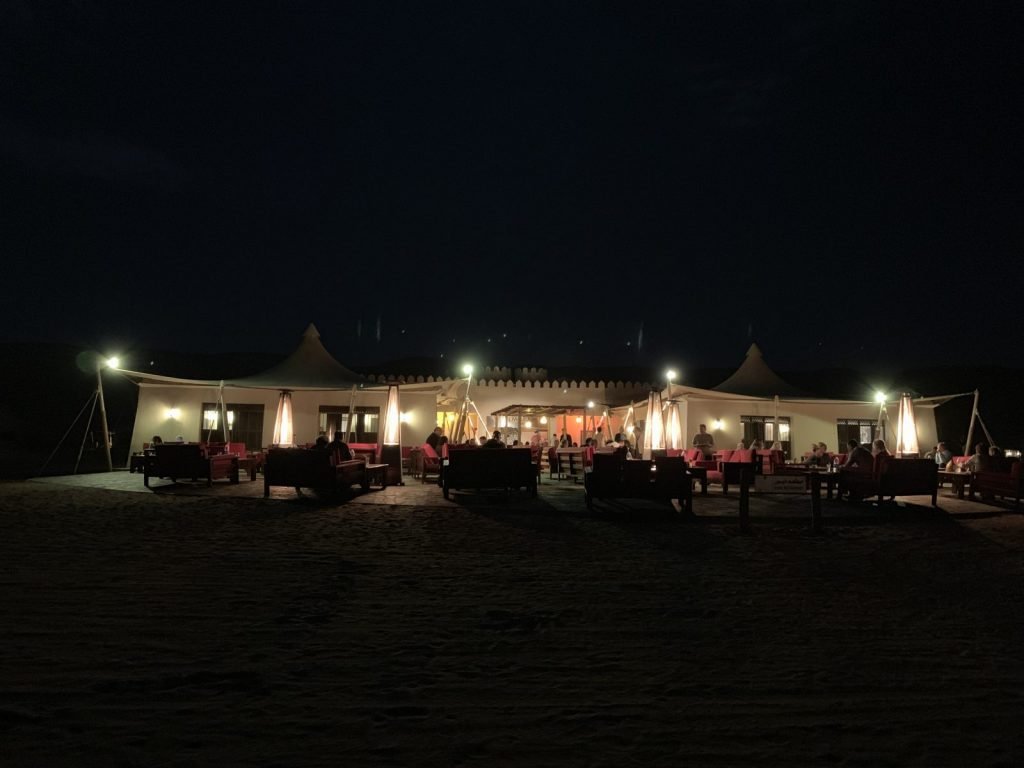 Oman after dark
If you're planning a trip to Oman, dune bashing and a stay at Desert Nights Camp are sure to provide great memories.
Phone: +968 9281 8388
Rates from $311 for a double room
 Our trip was arranged with Thom Bissett.